8Pack Systems


8Pack Hunter, Intel Core i7-7820X @ 4,6 GHz, 2x GTX 1080 Ti SLI, Overclocked PC
Ultimate overclocked PC from GB! 8Pack Hunter with X299
i7-7820X @ 4,6 GHz
2x GTX 1080 Ti (SLI)
32 GB RAM
SSDs of your choice
Custom water cooling
Item number: SIPC-244
EAN: 0000000000000
MPN: SIPC-244
Manufacturer: 8Pack Systems
Product information -
8Pack Hunter, Intel Core i7-7820X @ 4,6 GHz, 2x GTX 1080 Ti SLI, Overclocked PC
Caseking
, Germany's best online PC retailer, is proud to present
8Pack Systems
courtesy of English top seller and partner Overclockers UK. This is an absolutely top-of-the-range prebuilt machine offering ultra high-end equipment designed by the
worldwide number 1 overclocker
multiple world record holder
Ian "8Pack" Parry
. The musclebound Englishman with a knack for premium electronics conceived of and designed every system bearing his name from the ground up - making for the ultimate premium package when it comes to overclocked systems.
As a result, the planning and build time of an authentic
8Pack PC
is a long and arduous process, at the end of which lies a truly customised supercomputer. The combination of
cherry picked components
and
years of experience and the pinnacle of the global overclocking scene
has allowed
8Pack
to create monumental computers that surpass all the usual standards. Unbeaten and one-of-a-kind with extreme performance, this really is something never before scene in the field of system integration!
Made for extreme enthusiasts
that demand the be all and end all in power and appreciate the quality craftsmanship that only overclockers.co.uk can provide.
The
8Pack system
offered here is known as the "
Hunter
", and as such Ian Parry opted for the
top Gigabyte Aorus X299 gaming motherboard
with Intel's X299- chipset as its foundation. The
Intel Core i7-7820X
is a Skylake-X generation processor that comes from the factory clocked at exceptional speeds, but 8Pack here took those speeds and pushed them significantly further, right to the edge of what the CPU is capable of. Clocked at
4,6 GHz
, the processor enjoys a massive overclock as do both of the
Gigabyte GeForce GTX 1080 Ti Aorus graphics cards in SLI
that offer 11 GB GDDR5X-VRAM each. The result? Even the most high-end PC gaming across multi-monitor setups will run astonishingly smoothly.
Achieving the maximum possible overclocks from both GPU and VGAs wouldn normally mean keeping a close eye on temperatures - yet here
8Pack
equips the Hunter system with a
massively powerful water cooling loop
that brings with it extensive reserves of cooling to ensure the hardware never even breaks a sweat. The perfect case for such a massive water-cooled beast of a PC is provided by Phanteks with their
Enthoo Elite
.
32 GB of memory clocked at 3.200 MHz
and SSDs of your choosing round out the Hunter PC.
The Base Configuration of the System:
Cherry picked components courtesy of world overclocking champion Ian "8Pack" Parry - all tuned and overclocked by 8Pack himself!
Specially modified case from Phanteks
High-performance custom water cooling loop (e.g cooler EK Water Blocks) designed to function optimally with these exact components
X299 AORUS Gaming 9 motherboard from Gigabyte with Intel X299 chipset
Water cooled Intel Core i7-7820X (Skylake-X) with 8 cores, Hyper-Threading & max possible OC set to at least 4,6 GHz
2x water cooled and overclocked to the maximum 11 GB Gigabyte GeForce GTX 1080 Ti Aorus graphics cards in SLI
32 GB of Ultra-fast DDR4-RAM (at 3.200 MHz) from Team Group
Up to four SSDs and HDDs of your choosing
Reliable premium PSU with superior efficiency and plenty of power
Assembled to perfection with Thermal Grizzly Kryonaut thermal paste
Max performance achieved at the hands of an overclocking champion!
Microsoft Windows 10 Professional pre-installed for a quick start
Free Games with King Mod Gaming Systems:
Complete systems from Caseking come bundled with the game keys matching the respective current games bundle of the chosen graphics card. Non-qualifying products do not come with game keys. All promotions are limited and only valid while stocks last or until the offer expires. Any recourse to courts of law is excluded. All currently active special offers from AMD, NVIDIA and Intel are listed below:


BullGuard Internet Security for King Mod Gaming Systems:
Every complete system from Caseking comes bundled with BullGuard Internet Security for use on up to 3 devices. The licence lasts one year and allows you to protect yourself against online security threats in the form of viruses and malware. The sophisticated Internet Security Suite from BullGuard offers effective all round protection, maximum security while browsing the internet, while also offering an integrated firewall to go with numerous other functions that combine to successfully protect your system against unwanted intrusions and other direct attacks.
Completely Custom Systems:

NOTHING is standard here! If you have a special wish, let us make it happen! Don't delay, reach us by e-mail at systems@caseking.de or by telephone at +49 (0)30 5268473-07 and we will investigate the technical feasibility of the project and give you a quick answer. Take full advantage of Caseking's huge stock and get a dream system customised to your individual needs, built and tested by the specialists in the Caseking King Mod team!

Caseking's King Mod service will take on the task of building your custom PC and the King Mod experts experts bring the same attention to detail and extensive insider knowledge discerning customers have come to expect over the years to every single system build. Regardless of whether we are talking about pre-installed water coolers, OC motherboard bundles or perfectly soundproofed cases. At Caseking, computers are more than off-the-shelf products: Every complete PC is built according to a code of practice, furnished with the neatest and slickest of cabling, and thereafter runs a gauntlet of extreme performance tests in order to ensure 100% satisfaction.

Shipping, Build Time, Warranty and More Information:

1. Build Time: Please be aware, that the King Mod Service only begins the process of building the system on receipt of your order. The expected standard of build quality requires sufficient time for assembly as well as extensive testing. As a general rule, regardless of order status, you should factor in at least 10 working days before the delivery process can begin. Should this process take any longer, the King Mod team will contact you personally. Providing all necessary components are in stock, if the Express Build Option is selected at the beginning of the build process, we guarantee dispatch within 72 hours for air cooled or AiO water cooled systems. For custom-watercooled systems, it is unfortunately not possible to indicate a general build time and there is also no Express Build Option available, as the construction time here always depends on the individual configuration and must be determined in advance with the experts of the King Mod team. In most cases shipment will be dispatched via UPS, if necessary an alternative shipping provider or forwarding agency will be used.

2. Guarantee: For all of Caseking's own complete systems, Caseking offers a 36 month guarantee, 24 of which include pick-up service. For a justified claim, there must be a technical defect on the PC that has not arisen from usage of the hardware that is outside of specification or that can be traced back to user misuse via proprietary methods or by discussion with a Caseking engineer. Furthermore the delivered system cannot be modified or altered, this includes independently updating the UEFI/BIOS as full functionality can no longer be guaranteed with UEFI/BIOS versions that differ from those originally installed. And as a general rule of thumb, you can't go far wrong with the age-old advice: "Never touch a running system!"

3. Order Production: The illustrations and photographs of computer systems are merely demonstration examples. The final product containing the desired components is built after order placement. The shipped computer may vary from the pictures according to the selection and availability of individual PC components. Under all circumstances however, you will receive a system constructed from the ground up with professionalism and all due care as well as a system where the components are highly tuned and balanced, and that you can be proud to show off at any time, because here at Caseking nothing is standard! When selecting the premium cable management option our engineers will take meticulous care to ensure all cabling in the PC is exceptionally tidy, employing all necessary cable lengths and ties.
Further links for

"8Pack Hunter, Intel Core i7-7820X @ 4,6 GHz, 2x GTX 1080 Ti SLI, Overclocked PC"
Videos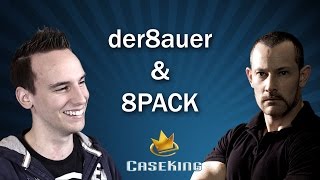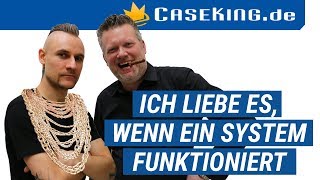 Technical Details
| | |
| --- | --- |
| CPU | Intel Core i9 |
| Graphics chip | NVIDIA GeForce RTX 2080 Ti (2x mit NVLink), NVIDIA GeForce RTX 2080 Ti |
| Cooling | Custom Wasserkühlung |