Aerocool


P7-L240 Komplett-Wasserkühlung - 240mm
Leistungsstarke AiO-Wasserkühlung von Aerocool mit 240er-Radiator
integrierte Pumpe
zwei leise 120er-RGB-LED-Lüfter
Item number: WASE-325
EAN: 4713105958836
MPN: ACLA-P724117.01
Manufacturer: Aerocool
Product information -
P7-L240 Komplett-Wasserkühlung - 240mm
Mit seiner
Komplett-Wasserkühlung P7-L240 setzt Aerocool
erneut ein Zeichen: Das AiO-System für fast alle aktuellen Sockel sieht dank seiner RGB-Beleuchtung nicht nur schick aus, sondern kühlt mit seinen hochwertigen Komponenten äußerst effizient und vor allem leise.
All-in-One-Wasserkühlungssysteme
sind deshalb äußerst beliebt, da einerseits ihre Kühlleistung die von Luftkühlern deutlich übertrifft, andererseits aber der Installationsaufwand dank Vorkonfektionierung und befüllter Auslieferung fast genauso gering ist - auf jeden Fall aber deutlich geringer als bei einer eigens zusammengestellten und aus Einzelteilen montierten traditionellen Wasserkühlung.
Die Features der P7-L240 von Aerocool im Überblick:
Komplettes Wasserkühlungssystem mit einfacher Installation
Kühlleistung von 380 Watt TDP
Kühlkörper aus Kupfer mit kleinsten Lamellen zur effizienten Kühlung
Pumpenmotor mit Kugellager aus Keramik
Doppelte Gehäusewand für nahezu lautlosen Pumpenbetrieb
Einfach nachfüllbares Reservoir mit 250 ml Kapazität
RGB-Beleuchtung für Pumpe und Lüfter
Die P7-L240 von Aerocool im Detail
Der großflächig gestaltete Boden des Kühlkörpers der Aerocool P7-L240 nimmt die Abwärme des Prozessors auf und leitet sie dank Kupfer effizient an die Kühlflüssigkeit weiter. Hier geht Aerocool ungewöhnliche Wege und verpasst dem Kühlkörper eine äußerst feine
Lamellenstruktur mit nur 0,1 mm Breite
. Das optimiert den Abtransport der Wärme vom Heatspreader der CPU und sorgt selbst beim Übertakten des Prozessors für annehmbare Temperaturen.
Für den effizienten Durchfluss der Kühlflüssigkeit sorgt ein Motor, der mit einem Kugellager aus Keramik ausgestattet ist. Dadurch ist das Laufrad des Motors besser ausbalanciert und läuft dadurch leiser. Die
Durchflusskammer ist mit einer doppelten Wand ummantelt
. Das sorgt einerseits für eine Dämpfung der Lautstärke des Motors und andererseits kann der Kreislauf 100 ml mehr Flüssigkeit aufnehmen, was eine weitere Steigerung der Kühleffizienz mit sich bringt. Unter dem einfach zu entfernenden Deckel befindet sich der
leicht zugängliche Flüssigkeitsbehälter
. Dort lässt sich die Flüssigkeit nachfüllen, was der Hersteller alle drei Monate empfiehlt.
Optimale Kühlleistung durch größeren Finnenabstand
Alle Kompakt-WaKü-Systeme vereint die grundlegende Konstruktion: Sie bestehen aus zwei Teilen - dem Kühlkörper und dem Radiator. Der
Radiator beim Aerocool P7-L240 wird an zwei 120er-Lüfter-Slots montiert
- vorzugsweise an der Gehäuseoberseite. Hier hat sich Aerocool für einen etwas größeren Finnenabstand entschieden, für die sogenannten
Low Density Fins
. Der Grund: Die Luft der beiden 120-mm-RGB-LED-Lüfter kann mit weniger Widerstand die Lamellen passieren. Das sorgt einerseits für eine bessere Kühlleistung und andererseits erzeugen die Lüfter dadurch weniger Lärm.
Auch bei den Lüftern greift Aerocool auf eigene Innovationen zurück. Rotorblätter mit speziellen aerodynamischen Eigenschaften erhöhen den Luftdruck für eine verbesserte Kühlung. Zugleich wird dabei der Luftwiderstand verringert und die Lautstärke minimiert.
Entkoppler aus Gummi
reduzieren den Lärm zusätzlich. Die
Rotoren können leicht entfernt werden
, um sie zu säubern. Die RGB-Beleuchtung der Lüfter und dem Deckel des Kühlkörpers kann durch den Controller P7-H1 von Aerocool (LULS-270) gesteuert, der separat erhältlich ist.
Technische Daten:
Maße:
Radiator (mit Lüfter): 274,8 x 52 x 120,5 mm (L x B x H)
Pumpe: 95 x 61,5 x 80,5 mm (L x B x H)
Materialien: Kupfer (Kühlkörper), Aluminium (Radiator)
Max. Kühlkapazität: 380 Watt TDP
Pumpe:
Geschwindigkeit: 2.500 rpm
Spannung: 12 V
Lautstärke: bis zu 25 dB(A)
Anschluss: 4-Pin
Lüfter (Radiator):
Typ: 2x 120-mm-RGB-LED
Drehzahl: 600 bis 1.800 rpm
Fördervolumen: 50,7 bis 121,73 m³/h
Statischer Druck: 0.59 - 1.34 mm H2O
Lautstärke: 10,5 - 31,8 dB(A)
Anschluss: 4-Pin PWM
Sockel Kompatibilität:
Intel: 775, 1366, 115x, 2011(-V3), 2066
AMD: FM1, FM2, AM2(+), AM3(+), AM4
Achtung:
Um die Kompatibilität mit aktuellen Mainboards zu erhöhen, lässt sich der Kühlkörper mit den Anschlüsse für die Schläuche um 90 Grad drehen, um den ersten RAM-Slot frei zu halten. Nichtsdestotrotz ist der Aerocool P7-L240
nicht mit dem ASUS ROG Maximus IX Extreme kompatibel
.
Bei folgenden Mainboards wird beim Einbau der erste RAM-Slot blockiert:
ASUS ROG Maximus IX Formula
ASUS ROG Maximus IX Code
ASUS Maximus VIII Extreme
ASUS ROG Strix X99 Gaming
ASUS X99-E-10G WS
ASUS X99-Deluxe II
ASUS X99-Deluxe U3.1
ASUS Rampage V Extreme U3.1
ASUS Sabertooth X99
ASUS TUF Z270 Mark 1
Gigabyte GA-Z270X-Gaming9
MSI X99A Godlike Gaming Carbon
Further links for

"P7-L240 Komplett-Wasserkühlung - 240mm"
Videos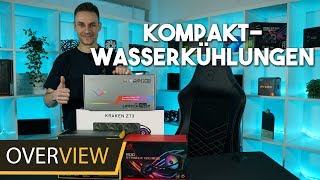 Technical Details
| | |
| --- | --- |
| CPU socket | 1150, 1151, 1155, 1156, 1366, 2011, 2011-V3, 2066, 775, AM2, AM3, AM3+, AM4, FM1, FM2 |
| Radiator size | 240 mm |
| Radiator height (exact) | 27 mm |
| Radiator height with fan (exact) | 52 mm |
| Radiator height | 20 - 29 mm |
| Radiator height with fan | 50 - 69 mm |
| Illumination | yes |
| Illumination colour | RGB (selectable) |
| Included fans | 2x |
| Rotor diameter | 120 mm |
| Fan colour | black, transparent |
| Fan connector | 4 Pin (PWM) |
| Pump connector | 4 Pin (PWM control) |
| Max noise level | 30 - 34 dB(A) |
| CPU cooler type | AiO liquid cooler |
Awards
Pros

+ Easy to install.
+ Performs very well.
+ RGB pump and fans look excellent.
+ Fairly priced.

read more...