Aerocool


Shark Devil Red Edition LED Lüfter - 120mm
Unique and Stylish "Shark Fin" Fan Blade design. 15 fan blades generates High Air Pressure and Air Flow - the most fan blades in the world !!!!
Item number: LUAF-030
EAN: 4710700955437
MPN: ACF3-SK10310.R1
Manufacturer: Aerocool
Product information -
Shark Devil Red Edition LED Lüfter - 120mm
Der Hai ist zweifelsohne eines der erfolgreichsten Raubtiere der Welt. Raffinierte Anpassungen haben dabei entscheidenden Anteil daran, dass er sich am Ende der Nahrungskette platziert hat. Hierzu zählen beispielsweise hoch empfindliche Sinnesorgane zum Aufspüren potentiellen Futters und eine besondere Struktur der Haut, die den Reibungswiderstand reduziert und damit hohe Bewegungsgeschwindigkeiten erlaubt.
Mit der
Shark-Serie
hat sich
Aerocool
daher ein Vorbild mit enormer Strahlkraft für seine neue High-End Lüfterlinie gewählt. Um hoch gesteckten Ansprüchen zu erfüllen, integriert der Hersteller einige wegweisende Merkmale. Mit
15 Lüfterblättern
besitzt der Shark mehr als die meisten anderen Ventilatoren, wovon sich die Entwickler ein besonders gutes Verhältnis aus Fördervolumen zu Lautstärke versprechen.
Demselben Zweck dient die spezielle Struktur der einzelnen Blätter. Diese sind nicht glatt, sondern haben kleine Wülste auf der Oberfläche und Kerben an den Rückseiten, womit derselbe Effekt wie bei der Haut des Hais erzielt werden soll - geringe Verwirbelungen für maximalen Speed. Die Struktur sorgt zugleich für eine besondere Optik, da sich die Ausbuchtungen während der Drehung als drei Ringe zeigen, was gerade durch die rote Beleuchtung dieser Version sichtbar wird.
Und was bringen die Maßnahmen in der Praxis? Bei Standardspannung von 12 V dreht der
120-mm-Lüfter mit 1.500 U/Min
, erzeugt dabei
26,5 dB(A) und transportiert 138,4 m³/h
. Somit eignet er sich hervorragend für durchsatzstarke Systeme mit hohem Kühlbedarf. Dank beiliegendem 7-Volt-Adapter ist der Shark jedoch ebenso Silent-tauglich und erzeugt bei
800 U/Min lediglich 12,6 dB(A)
.
Zusätzlich liegt ein 4-Pol Molex Adapter bei, um den Lüfter direkt über das Netzteil anschließen zu können. Die Kabel sind mit einem schützenden und zugleich optisch ansprechenden Überzug versehen. Die Montage erfolgt mit vibrationsdämpfende Pins, die zusätzlich die Geräuschentwicklung reduzieren.
Technische Details:
Maße: 120 x 120 x 25 mm (BxHxT)
Farbe: schwarz-transparent (Rahmen), rot-transparent (Rotor)
Lautstärke: 26,5 (12 V) und 12,6 dB(A) (7 V)
Drehzahl: 1.500 (12 V) und 800 U/Min (7 V)
Luftdurchsatz: 138,4 (12 V) und 54,5 m³/h (7 V)
Spannung: 12 und 7 V
Startspannung: 9 und 7 V
Leistungsaufnahme: 3,6 (12 V) und 1,56 Watt (7 V)
Stromstärke: 0,3 (12 V) und 0,13 A (7 V)
Statischer Druck: 1,273 (12 V) und 0,305 mm-H2O (7 V)
Beleuchtung: 4x rote LEDs
Anschluss: 3-Pin (inkl. 3-Pin zu 4-Pol Molex Adapter)
Lebenserwartung: 100.000 h
Montage: Anti-Vibrations-Schrauben
Further links for

"Shark Devil Red Edition LED Lüfter - 120mm"
Videos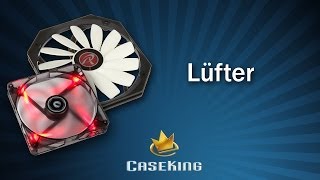 Technical Details
| | |
| --- | --- |
| Primary colour | red |
| Secondary colour | black |
| Fan connector | 3 Pin, Molex (4-Pin) Netzteil Adapter |
| Illumination | yes |
| Illumination colour | red |
| Initial Voltage | 7 V, 9 V |
| Max rpm (exact) | 1500 U/min |
| Min rpm (exact) | 800 U/min |
| Max noise level (exact) | 26,5 dB(A) |
| Min Noise Level (exact) | 12,6 dB(A) |
| Max air volume (exact) | 138,4 m³/h |
| Min air volume (exact) | 54,5 m³/h |
| Max rpm | 1500 - 1999 U/min |
| Min rpm | 750 - 999 U/min |
| Max noise level | 25 - 29 dB(A) |
| Min Noise Level | 10 - 14 dB(A) |
| Max air volume | 125 - 149 m³/h |
| Min air volume | 50 - 74 m³/h |
| Rotor diameter | 120 mm |
| Mounting holes | 120 mm |