Akasa


Apache PWM Lüfter, schwarz - 120mm
Super silent 12cm fan with S-FLOW blades supplying 30% more airflow than a standard fan at the same speed.
Item number: LUAK-029
EAN: 4710614530034
MPN: AK-FN058
Manufacturer: Akasa
Product information -
Apache PWM Lüfter, schwarz - 120mm
Egal ob Gehäuse, Kühler, Lüfter oder Kabel - Akasa führt eine umfangreiche Palette an PC-Zubehör und bereichert die Community seit vielen Jahren mit innovativen und preiswerten Produkten. Nach den sehr erfolgreichen Lüftern der Ultra-Quiet-Serie erweitert Akasa nun sein Angebot um weitere Modelle, die Design und Funktion auf hervorragende Weise verbinden.
Der Apache AH-64 ist der wohl bekannteste Kampfhubschrauber und stellt eines der modernsten Waffensysteme der US-Army dar. Der Helikopter dient nun als prominenter Namensgeber für einen Lüfter von Akasa. Nach der auffälligen Version mit Tarnfleck-Lackierung folgt nun diese dezente Ausgabe in Schwarz.
Beide unterscheidet lediglich die Farbgestaltung, so dass beide eine innovative Konstruktion teilen, die einen leisen und zugleich durchsatzstarken Betrieb erlaubt. So wurde das Lüfterblattdesign gegenüber den Vorgängern vollkommen verändert. Die Oberkante ist nun nicht mehr einfach geschwungen, sondern folgt einer S-Linie. Diese computeroptimierte Form soll für eine Erhöhung des Airflows um sagenhafte 30 Prozent bei gleicher Drehzahl sorgen.
Um die Lautstärkeemission weiter zu reduzieren, wurde ein neues, hydrodynamisches Lager entwickelt, dass mit weniger Reibung nicht nur leiser läuft, sondern auch langlebiger ist. Zusätzlich wurde das Eindringen von Staub mit dem IP54 Standard reduziert.
Hierbei handelt es sich um einen
120-mm-Lüfter mit PWM-Anschluss
. Der
Apache
kann daher über das Mainboard gesteuert werden, sofern dieses über eine entsprechende Funktion verfügt. Drehzahl, Fördervolumen und Lautstärke sind deshalb in einem weiten Spektrum wählbar und können situationsbedingt für eine maximale Kühlung oder extrem leisen Betrieb sorgen. Dabei stehen
98 m³/h
bei maximalen
1.300 U/Min und 6,9 dB(A)
bei minimalen
600 U/Min
zur Verfügung.
Technische Details:
Maße: 120 x 120 x 25 mm
Material: Kunststoff
Farbe: Schwarz
Lautstärke: 6,9 - 16,05 dB(A)
Drehzahl: 600 - 1.300 U/min
Airflow: max. 97,74 m³/h
Statischer Druck: max. 2,64 mm-H2O
Spannung: 12 V
Anschluss: 4-Pin-PWM
Lebenserwartung: 50.000 Stunden
Further links for

"Apache PWM Lüfter, schwarz - 120mm"
Videos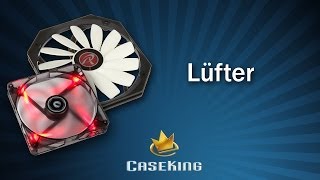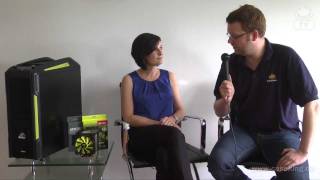 Technical Details
| | |
| --- | --- |
| Rotor diameter | 120 mm |
| Mounting holes | 120 mm |
| Primary colour | black |
| Secondary colour | black |
| Fan connector | 4 Pin (PWM) |
| Illumination | no |
| Max rpm (exact) | 1300 U/min |
| Min rpm (exact) | 600 U/min |
| Max noise level (exact) | 16,05 dB(A) |
| Min Noise Level (exact) | 6,9 dB(A) |
| Max air volume (exact) | 97,74 m³/h |
| Max rpm | 1000 - 1499 U/min |
| Min rpm | 500 - 749 U/min |
| Max noise level | 15 - 19 dB(A) |
| Min Noise Level | 5 - 9 dB(A) |
| Max air volume | 75 - 99 m³/h |
Awards
... the new fan design is really nice but we was really unable to understand why the temperatures we're the same as the NoiseBlocker with the new design I really thought the temperatures would have been different. The build quality of the Apache was the best out of all the fans you won't find you snap the blades easy with this fan.

read more...