Akasa


Flexstor eSATA-Kabel für 2,5-Zoll-SATA-HDD und -SSD
The Akasa Flexstor is an adapter that allows disk drives (HDDs and SSDs ) in the 2.5-inch external drive to connect to a PC or laptop
without the need for an external hard drive enclosure.
Item number: ZUSA-147
EAN: 4710614531864
MPN: AK-CBSA03-80BK
Manufacturer: Akasa
Product information -
Flexstor eSATA-Kabel für 2,5-Zoll-SATA-HDD und -SSD
Egal ob Gehäuse, Kühler, Lüfter oder Kabel - Akasa führt eine umfangreiche Palette an PC-Zubehör und bereichert die Community seit vielen Jahren mit innovativen und preiswerten Produkten.
Bei diesem Produkt handelt es sich um einen Adapter, mit dessen Hilfe Laufwerke (HDDs und SSDs) im 2,5-Zoll-Format extern an einen PC oder Laptop angebunden werden können, ohne dafür ein externes Festplattengehäuse zu benötigen.
An der einen Seite befindet sich dazu ein Anschlusspanel, an dem das Laufwerk angesteckt wird. Davon gehen zwei Kabel zum Rechner ab: Einmal mit USB-2.0-Stecker (80 cm), zum anderen mit einem eSATA-Connector (40 cm).
Über die USB-Leitung wird das Laufwerk mit Strom versorgt (intern würde das direkt per SATA-Power-Stecker erfolgen). Der eSATA-Anschluss übermittelt die Daten zwischen Rechner und angeschlossener Festplatte oder SSD.
Bitte beachten Sie deshalb, dass Ihr PC oder Laptop neben einem freien USB-Port auch einen eSATA-Port aufweisen muss, denn der normale interne SATA-Anschluss und der eSATA-Anschluss sind nicht identisch oder kompatibel.
Viele Laptops weisen aber von Hause aus eine eSATA-Schnittstelle auf und PCs lassen sich entweder über ein geeignetes Frontpanel oder einen Slotblendenadapter für einen der heckseitigen PCI-Slots am Gehäuse erweitern, wie wir sie von Akasa im Sortiment führen (z. B. ZUUS-093 und ZUAD-089).
Technische Details:
Länge: USB 2.0 80 cm, eSATA 40 cm
Farbe: Schwarz
Anschlüsse zum PC:
1x USB 2.0
1x eSATA
Anschlüsse zum Laufwerk (kombiniert):
1x SATA Strom
1x SATA Daten
Further links for

"Flexstor eSATA-Kabel für 2,5-Zoll-SATA-HDD und -SSD"
Videos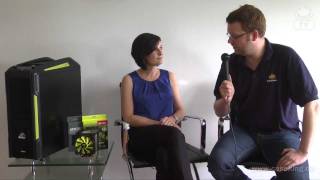 Technical Details
| | |
| --- | --- |
| Cable type | adapter cable |
| Connector 1 (internal) | SATA comboi (power+data) PLUG |
| Connector 2 (ext.) | eSATA PLUG, USB 2.0 Typ A PLUG |
| Cable length | up to 99 cm |
| Cable length (exact) | 40 cm, 80 cm |
| Cable colour | black |
| Connector colour | black |
| Cable sleeved | no |
| Standard / Spezifikation | USB 2.0 |