Akasa


Proslim SATA 3 Kabel 15cm gerade - black
Akasa PROSLIM SATA cables are a perfect cable for system builds with tight fitting environments. Utilising a compact stackable connector
this super flexible cable is neat and manageable.
Item number: ZUSA-151
EAN: 4710614532380
MPN: AK-CBSA05-15BK
Manufacturer: Akasa
Product information -
Proslim SATA 3 Kabel 15cm gerade - black
Der SATA Anschluss ist inzwischen die Standardverbindung für PC-Laufwerke. Interne HDDs und SSDs sowie optische Laufwerke werden fast ausnahmslos über diese Schnittstelle mit dem Mainboard verbunden. Die Vorteile gegenüber dem Vorgänger IDE/ATA liegen dabei nicht nur im höheren Transfervolumen, sondern auch im kleineren Stecker sowie dem schmaleren Kabel. Damit wird das Verlegen der Kabel im Gehäuse einfacher und zugleich der Luftstrom des Systems weniger behindert.
Hierbei handelt es sich um ein 15 cm langes SATA-Kabel in Schwarz mit zwei sehr dünnen, geraden und stapelbaren Steckern. Das macht es sehr flexibel und leicht zu handhaben. Es ist für SATA3 spezifiziert, kann dank Abwärtskompatibiliät jedoch ebenso mit SATA1 und SATA2 genutzt werden. Die ungewöhnlich kurze Auslegung empfiehlt dieses Kabel für den Einsatz in kompakten Gehäusen wie HTPCs, Cubes oder Mini-ITX Modellen. Damit erspart es Kabelsalat. Zusätzlich verfügt das Kabel über eine Abschirmung gegen elektromagnetische Störeinflüsse (EMI).
Technische Details:
Farbe: Schwarz
Anschlüsse:
2x 7-Pol SATA gerade
Kabellänge: 15 cm
Further links for

"Proslim SATA 3 Kabel 15cm gerade - black"
Videos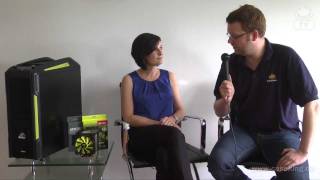 Technical Details
| | |
| --- | --- |
| Cable type | connection cable |
| Connector 1 (internal) | SATA (data) PLUG |
| Connector 2 (internal) | SATA (data) PLUG |
| Cable length | up to 99 cm |
| Cable length (exact) | 15 cm |
| Cable colour | black |
| Connector colour | black |
| Cable sleeved | no |
| Standard / Spezifikation | SATA III (6G) |