Akasa


SATA 3 Kabel 50cm gewinkelt / gerade - UV blue
New Serial ATA revision 3.0 cables designed for ultra fast data transfer up to 6Gb/s. Third generation of SATA technology cables are compliant with new NCQ streaming for high quality audio and video.
Item number: ZUSA-113
EAN: 4710614530553
MPN: AK-CBSA01-05BV
Manufacturer: Akasa
Product information -
SATA 3 Kabel 50cm gewinkelt / gerade - UV blue
SATA geht in die nächste Runde!
Der neue SATA 3.0 Standard erlaubt eine nochmals höhere Bandbreite gegenüber SATA II (3 GB/s) und scheffelt nun sagenhafte 6 GB pro Sekunde über die Leitungen. Damit bleibt genug Spielraum, um selbst schnellste SSDs nicht auszubremsen. Der große Vorteil ist weiterhin die Abwärtskompatibilität zu SATA I+II, da alle Standards gleiche Anschlüsse nutzen.
Rüsten sie sich jetzt schon für die Zukunft aus!
Der SATA Anschluss ist inzwischen die Standardverbindung für PC-Laufwerke. Interne HDDs und SSDs sowie optische Laufwerke werden fast ausnahmslos über diese Schnittstelle mit dem Mainboard verbunden. Die Vorteile gegenüber dem Vorgänger IDE/ATA liegen dabei nicht nur im höheren Transfervolumen, sondern auch im kleineren Stecker sowie dem schmaleren Kabel. Damit wird das Verlegen der Kabel im Gehäuse einfacher und zugleich der Luftstrom weniger behindert.
Hierbei handelt es sich um ein 50 cm langes und rundes SATA 3.0 Kabel mit einem gewinkelten und einem geraden Stecker. Neben den funktionellen Vorzügen besitzt diese Version zudem eine sehr auffällige Gestaltung. So ist die halbtransparente und blau gefärbte Ummantelung UV-aktiv und kann mit entsprechender Beleuchtung (bspw. UV-Kathoden) ebenfalls zum leuchten gebracht werden.
Technische Details:
Farbe: Blau / UV-aktiv
Anschlüsse:
1x 7-Pol SATA 3.0 gerade
1x 7-Pol SATA 3.0 gewinkelt
Kabellänge: 0,5 m
Further links for

"SATA 3 Kabel 50cm gewinkelt / gerade - UV blue"
Videos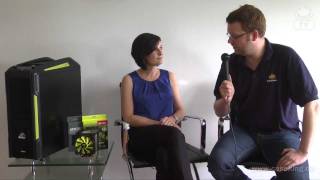 Technical Details
| | |
| --- | --- |
| Cable type | connection cable |
| Connector 1 (internal) | SATA (data) PLUG |
| Connector 2 (internal) | SATA (data) PLUG |
| Connector angled | yes |
| Cable length | up to 99 cm |
| Cable length (exact) | 50 cm |
| Cable colour | UV blue |
| Connector colour | UV blue |
| Cable sleeved | no |
| Standard / Spezifikation | SATA III (6G) |