Akasa


Viper PWM Lüfter, gelb - 140mm
High performance 14cm fan with S-FLOW blades supplying 30% more airflow than a standard fan at the same speed.
Item number: LUAK-033
EAN: 4710614531932
MPN: AK-FN063
Manufacturer: Akasa
Product information -
Viper PWM Lüfter, gelb - 140mm
Vorsicht giftig!
Nachdem der Apache erfolgreich im Revier der High-End-Ventilatoren gewildert hat, ergänzt Akasa seine erstklassige
PWM-Lüfterreihe um den Viper
. Dieser ist bereits vom Venom CPU-Kühler bekannt, wo er seine hervorragende Leistungsfähigkeit bereits unter Beweis stellen konnte und für einen optimalen Kompromiss aus hoher Kühlleistung und geringer Lautstärkeentwicklung sorgt.
Maßgeblich verantwortlich hierfür ist die optimierte Form der Lüfterblätter. Diese sind S-förmig geschwungen, womit mehr Luft bei gleicher Drehzahl befördert werden soll. Dies ermöglicht im Umkehrschluss eine Absenkung der Drehzahl, um bei gleichem Luftdurchsatz die Geräuschentwicklung zu reduzieren.
Ergebnis der Bemühungen ist eine minimale Lautstärke von
12,5 dB(A)
bei
600 U/min
. Über den PWM-Anschluss und ein entsprechendes Mainboard kann der Lüfter jedoch bis auf
1.600 U/min
beschleunigt werden und transportiert dann enorme
187 m³/h
. Somit ergibt sich eine hohe Flexibilität, die es erlaubt, den Viper in Silent- bis hin zu Overclocking-Systemen einzusetzen.
Für eine zusätzliche Reduzierung der Geräuschkulisse liegen vier Gummipins bei. Diese sorgen für eine Entkopplung vom Gehäuse oder Kühler und verhindern damit die Schwingungsübertragung.
Technische Details:
Maße: 140 x 140 x 25 mm (B x H x T)
Farbe: Schwarz, Gelb
Lautstärke: 12,5 - 26,01 dB(A)
Drehzahl: 600 - 1.600 U/min
Luftdurchsatz: max. 186,93 m³/h
Statischer Druck: max. 3,12 mm H2O
Lebenserwartung: ca. 50.000 h
Spannung: 12 V
Anschluss: 4-Pin-PWM
Further links for

"Viper PWM Lüfter, gelb - 140mm"
Videos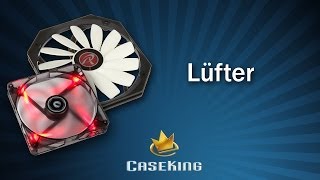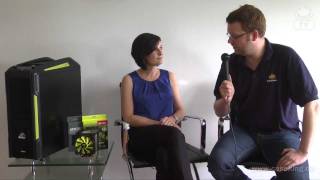 Technical Details
| | |
| --- | --- |
| Rotor diameter | 140 mm |
| Mounting holes | 140 mm |
| Primary colour | yellow |
| Secondary colour | black |
| Fan connector | 4 Pin (PWM) |
| Illumination | no |
| Max rpm (exact) | 1600 U/min |
| Min rpm (exact) | 600 U/min |
| Max noise level (exact) | 26,01 dB(A) |
| Min Noise Level (exact) | 12,5 dB(A) |
| Max air volume (exact) | 186,93 m³/h |
| Max rpm | 1500 - 1999 U/min |
| Min rpm | 500 - 749 U/min |
| Max noise level | 25 - 29 dB(A) |
| Min Noise Level | 10 - 14 dB(A) |
| Max air volume | 175 - 199 m³/h |