AKRACING


Premium V2 Gaming Stuhl - schwarz/braun
Perfect for office workers and gamers
AK Racing seats are a high quality and exciting solution to the various health disorders resulting from bad posture.
Item number: GAZU-119
EAN: 0713228142598
MPN: AK-7001-BB
Manufacturer: AKRACING
Product information -
Premium V2 Gaming Stuhl - schwarz/braun
Dieser besonders luxuriöse schwarz-braune Drehstuhl aus AKRACINGs Premium-Kollektion ist mehr als ein einfaches Büro- oder Computermöbel. Eigentlich wird ihm selbst der Begriff des Drehstuhls kaum gerecht, nein, es handelt sich hier um einen waschechten Gaming Chair, ein hochkomfortables Sitzmöbel also, welches Computerspielen noch viel vergnüglicher macht, Surfen viel entspannter und Office-Arbeit gesundheitsschonender. Dabei sieht der mit PU-Kunstleder bespannte, schwarz-braune Premium auch noch richtig gut aus vor dem PC- oder Schreibtisch.
Die gesundheitlichen Langzeitfolgen, die für Büroarbeiter und ambitionierte Spieler aus einer unzureichenden Sitzergonomie resultieren können, sind nicht zu unterschätzen. Im Bewusstsein dieser Gefahren hat sich die Firma AKRACING daran gemacht, Lösungen zu finden, die einen positiven Beitrag zur Gesunderhaltung leisten können. AKRACING bietet somit einen der besten und effektivsten Ergonomie-Stühle an - sorgsam entwickelt und designt mit Augenmaß für die wichtigen Details.
Die Formgebung des Premium bringt dem Nutzer in jeder Situation Wohlgefühl und Entspannung, so dass das Arbeiten noch effizienter und Gaming-Sessions noch erfolgreicher werden. Denn nicht nur in Bewegung, sondern auch wenn man an einem Tisch Platz nimmt, werden viele Körperbereiche beansprucht - neben der Wirbelsäule auch Handgelenke, Hals und Nacken, Schulterpartie und die Arme. AKRACING weiß genau, welche Positionen die Körperregionen während der Verrichtung im Alltag einnehmen und hat erkannt, dass der ideale Stuhl die Wirbelsäule optimal unterstützen muss.
Der sehr komfortable AKRACING Premium ist inspiriert von und erinnert folglich an das Interieur eines Sportwagens. Kein Zufall, denn auch in einem sportlichen Auto kommt es auf guten Halt und ausgezeichnete Ergonomie an, wenn man längere Distanzen damit unterwegs ist. Dabei fußt der Drehstuhl auf einer starken Basis mit fünf Rollen und enthält im Inneren eine stabile Stahlkonstruktion. Diese ist mit verformungsresistentem Hartschaum ausgepolstert, der beim Premium wiederum mit PU-Kunstleder bezogen ist.
Zur zusätzlichen Stützung im Nacken- und Steißbereich werden zwei farblich passende Kissen mitgeliefert. Der Premium ist für Nutzer mit einem Gewicht bis zu 150 kg freigegeben und bietet alle Anpassungsmöglichkeiten, die für eine optimale Sitzposition wichtig sind. So ist nicht nur die Sitzhöhe mittels eines Drucklufthebers leicht einzustellen, auch die Rückenlehne kann im Winkel variiert (und sogar ganz flachgestellt) werden und sogar die Armlehnen sind hier höhenverstellbar!
Technische Details:
Gesamthöhe (mit Basis): ca. 129,5 - 137 cm
Breite Rückenlehne (Schulterhöhe): ca. 58 cm
Breite Rückenlehne (Beckenhöhe): ca. 53 cm
Breite Sitzfläche: ca. 37,5 cm
Tiefe Sitzfläche: ca. 56 cm
Sitzhöhe: ca. 43 - 51 cm
Höhe Armlehne: ca. 27 - 34 cm
Gewicht: 22 kg
Material: Stahl (Rahmen), Hartschaum (Polsterung), PU-Kunstleder (Bezug)
Farbe: Schwarz, Braun
Maximalbelastung: 150 kg
Features:
Flexible Sitzflächenhöhe
Anpassbarer Winkel der Rückenlehne (bis 90 Grad)
Höhenanpassung der Armlehnen
Inkl. je einem Kissen für unteren Rücken und Hals
Verformungsresistenter Hartschaum
Säule mit langlebigem Druckluftheber (Klasse 4)
Starke 5-Punkt-Basis aus Stahl
Stabile Stahlkonstruktion im Kern
Further links for

"Premium V2 Gaming Stuhl - schwarz/braun"
Videos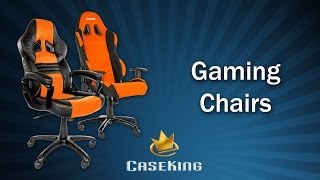 Technical Details
| | |
| --- | --- |
| Primary colour | black |
| Secondary colour | brown |
| Seat cover material | synthetic leather |
| Adjustable back rest | Yes |
| Adjustable armrests | Yes |
| Height adjustment | Yes |
| Adjustable seating angle | Yes |
| Maximalbelastung / Gewichtsbereich (exakt) | 150 kg |
| Weight limit | 126 to 155 kg (277 to 341 lbs) |
| Seatbelt guide | Yes |
| Weight (exact) | Yes |
| Weight | 22 to 24 kg (48.5 to 52.9 lbs) |
| Gesamthöhe, mit Basis (exakt) | 129,5 cm, 137 cm |
| Tiefste Sitzposition, einstellbar (exakt) | 43 cm |
| Höchste Sitzposition, einstellbar (exakt) | 51 cm |
| Breite Sitzfläche innen (exakt) | 37,5 cm |
| Tiefe Sitzfläche (exakt) | 56 cm |
| Total height (including base) | 130 to 139.9 cm (51.1 to 55 inch) |
| Lowest seating position (adjustable) | 40 to 49 cm (15.7 to 19.2 inch) |
| Highest seating position | 50 to 59 cm (19.6 to 23.2 inch) |
| Back rest heigth | 90 to 99 cm (35.4 to 38.9 inch) |
| Back rest width (inner dimension) | 50 to 54 cm (19.6 to 21.2 inch) |
| Back rest width (widest outer dimension) | 55 to 59 cm (21.6 to 23.2 inch) |
| Seat width (inner dimension) | 35 to 39 cm (13.7 to 15.3 inch) |
| Seat depth | 55 to 59 cm (21.6 to 23.2 inch) |
| Head cushion included | Yes |
| Lumbar cushion included | Yes |
| Material base | steel |
Awards
PCGH(11/2014) - AKRacing Premium V2 Gaming Chair

Sportlich, optisch auffällig, komfortabel.

-Comfort -Wide choice of colors -Firm foam -Excellent support -Solidity

read more...

Der AKracing Premium V2 Gaming Chair ist eine absolute Kaufempfehlung. Das Design ist top, die Verarbeitung ebenso und an der Ausstattung gibt es nicht wirklich etwas zu kritisieren. Nicht nur optisch, sondern besonders auch durch seine ergonomischen Eigenschaften kann er auf ganzer Linie überzeugen.

read more...