Alpenföhn


140mm Wing Boost 3 PWM Fan
3rd Gen Wing Boost from Alpenföhn
140 mm fan with PWM connection
max 1.050 RPM
103 m³/h and 22 dB(A)
Item number: LUAL-033
EAN: 4250280363005
MPN: 84000000150
Manufacturer: Alpenföhn
Product information -
140mm Wing Boost 3 PWM Fan
Alpenföhn has impressed customers for years with their range of first-class Wing Boost fans. The family has grown once again with a third generation of fans. The premium quality fans benefit from many of the advantages of their famous predecessors, such as a rubber-coated outer skin that acts as a full-body vibration damper, or the so-called "wing boosts", small notches on the intake side that reduce air turbulence. The fan works more quietly at higher speeds than conventional fan designs would allow.
The Features of the Wing Boost 3 from Alpenföhn at a Glance:
Hydrodynamic bearings for high performance, quiet operation and max durability
Optimised rotor blades deliver the perfect balance between static pressure and airflow
New diffuser ensures more efficient distribution of waste heat
Speed ranges between 400 and 1.050 RPM
4-Pin-PWM connection and Y-splitter
The Details of the Wing Boost 3 from Alpenföhn
In the Wing Boost 3, Alpenföhn opts for hydrodynamic bearings that reduce the noise produced by friction to a minimum, guaranteeing whisper-quiet operation even at low speeds. Rubber decouplers are included to provide vibrations transferring into the case and causing any additional noise.
This improved version in comparison to its predecessor includes an additional guide wheel in the frame that helps exhaust air more efficiently than in previous versions.
Higher Static Pressure at Lower Speeds
The static pressure can thus be increased yet further without having to compromise on noise. And a high static pressure is an advantage just about anywhere in a case, whether on a radiator or a CPU cooler.
It ensures that sufficient air flow is possible even at significantly reduced speeds. The fan can push up to 103 m³/h when the fan spins at full speed (1.050 RPM) without exceeding 22 dB(A). Thanks to PWM support, the speed is determined automatically by compatible motherboards depending on the temperature.
As a "Plus" version, the Wing Boost 3 fans also have another great feature, which Alpenföhn presented for the first time with the introduction of the K2 cooler and its fan. It's a Y-junction on the fan cable, which finally makes it possible to operate up to three PWM fans on just one motherboard header. Now you can always be sure that all fans are controlled automatically and in sync with one another.
Technical Details:
Dimensions: 140 x 140 x 25 mm (W x H x D)
Installation: 140 mm case slots
Material: Plastic, rubber
Colour: Black
Volume: max. 22 dB(A)
RPM: 400 - 1.050 RPM
Airflow Volume: max. 103 m³/h
Voltage: 12 V
Connection: 4-Pin-PWM (with Y-splitter)
Further links for

"140mm Wing Boost 3 PWM Fan"
Videos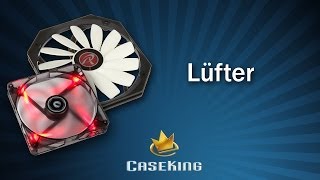 Technical Details
| | |
| --- | --- |
| Rotor diameter | 140 mm |
| Mounting holes | 120 mm |
| Primary colour | black |
| Fan connector | 4 Pin (PWM) |
| Illumination | no |
| Max rpm (exact) | 1050 U/min |
| Min rpm (exact) | 400 U/min |
| Max noise level (exact) | 22 dB(A) |
| Max air volume (exact) | 103 m³/h |
| Max rpm | 1000 - 1499 U/min |
| Min rpm | 250 - 499 U/min |
| Max noise level | 20 - 24 dB(A) |
| Max air volume | 100 - 124 m³/h |