Alpenföhn


Brocken 3 Black Edition CPU Cooler - 2x140mm
Powerful CPU cooler from Alpenföhn in the new White Edition
asymmetric tower-style cooler in white
five nickel-plated 6 mm heatpipes
2x Wing Boost 3 fans with PWM connector
high socket & RAM compatibility
Item number: CPAF-043
EAN: 4250280369458
MPN: 84000000154
Manufacturer: Alpenföhn
Product information -
Brocken 3 Black Edition CPU Cooler - 2x140mm
What happens when you combine the best of two generations of "Brocken" coolers? The Brocken 3 with the best performance yet! The CPU cooler offers a heatsink with a large surface area and aerodynamically optimised fins as well as brushed and anodised top fins, and their fin distance is designed from the ground up for silent operation. In combination with the five 6 mm heatpipes and the two bundled 140 mm PWM Wing Boost 30-series fins, users are able to achieve unparalleled levels of cooling. The RockMount 2 mounting system also provides an optimised yet straightforward installation.
The Alpenföhn Brocken 3 Black Edition CPU Cooler at a Glance:
Black tower-style cooler with up to 220W TDP cooling performance
Five 6 mm heatpipes & optimised cooling fins
2x Wing Boost 3 fans in white with PWM connector in the 140 mm format
Asymmetric construction of the tower cooler for maximum RAM module compatibility
Permafrost high-performance thermal paste
High compatibility with AMD and Intel
RockMount 2 installation system for straightforward installation
Powerful Third-Gen Alpenföhn Brocken Black Edition CPU Cooler
The third generation of the renowned and highly praised Brocken cooler from Alpenföhn is strongly reminiscent of its predecessors, yet it is able to draw on several updates and modifications to result in a marked performance improvement when compared to its predecessors. As such, lessons learned from the successful Brocken 1 & 2 are brought to bear in its construction - along with customer feedback and the input from respected online tech communities.
One particularly striking difference compared to its direct predecessor is that the dual-tower design has become a single tower, the aerodynamic qualities of which have been improved thanks to an optimised fin layout to make for significantly improved acoustics. Moreover, the addition of two Wing Boost 3 140 mm fans, which have a fixed integrated guide wheel for axial airflow alignment, has increased airflow as well as minimised air turbulence. The result is a not inconsiderable increase in fan performance, allowing the maximum speed to be reduced when compared to conventional designs.
Includes Two Wing Boost 3 Fans in White (140 mm) with PWM Connection
The Wing Boost 3 fans impress with the special angle of attack of the fan blades, meaning that they are optimised for lower speeds and, compared to other fans at the same speed, achieve significantly higher flow volume, higher static pressure and higher discharge velocity. In addition, the aerodynamically optimised blade geometry favours the axial orientation of the air flow, offering a corresponding improvement due to the waste heat from the heatsink being given more space to dissipate.
Of course, the 140 mm fan can be connected directly to the installed motherboard via a PWM connector and spins at a speed of between 400 and 1050 RPM depending on the CPU's temperature. Equipped with durable and long-lasting fluid dynamic bearings, a maximum airflow of 103 m³/h is produced at the cost of just 19 dB of noise.
The Gapless H.D.T technology, whereby the heatpipes are integrated directly into the copper base plate is once again used, and this helps to increase heat transfer. Additionally, the Brocken 3 benefits from its asymmetric cooling tower design with the five silver nickel-plated heatpipes rise so high that the radiator is not exactly centred above the baseplate, but slightly offset to the rear.
As a result, not a single RAM slot on most motherboards on the market is blocked by the cooler, even if the fan is mounted at the front - as usual - and thus blows inwards. So nothing stands in the way of a full configuration of RAM modules. All boards that have AMD sockets AM4, AM3(+), AM2(+), FM2(+) and FM1 or Intel sockets 775, 1366, 115x and 2011(V3) or Intel sockets 775, 1366, 115x can be used as motherboards. Thanks to the RockMount 2 mounting system, the installation of Brocken 3 is made even simpler.
Technical Details:
General:
Dimensions (without fans): 146 x 161 x 100 mm (W x H x D)
Dimensions (with fans): 146 x 165 x 150 mm (W x H x D)
Weight (with fans): approx. 1000 g
Material: Copper (baseplate), nickel-plated copper (heatpipes), aluminium (fins)
Colour: Black (cooler), Black (fans)
Heatpipes:
5x Ø 6 mm
Fans:
2x 140 mm (max. 19 dB(A), 400 - 1050 RPM, 103 m³/h)
Connection:
4-Pin PWM
Operating Voltage:
12 V
Compatibility:
Intel Socket: LGA 775, 1366, 115x, 2011(V3)
AMD Socket: AM2(+), AM3(+), AM4, FM2(+), FM1
Further links for

"Brocken 3 Black Edition CPU Cooler - 2x140mm"
Videos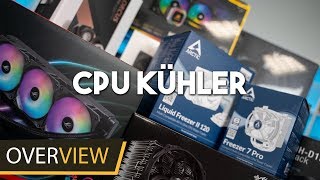 Technical Details
| | |
| --- | --- |
| CPU socket | 1150, 1151, 1155, 1156, 1366, 2011-V3, 2011, 775, AM4, AM3+, AM3, AM2, FM2+, FM2, FM1 |
| CPU cooler type | Single Tower |
| Fan connector | 4 Pin (PWM) |
| CPU cooler width (accurate) | 146 mm |
| CPU cooler height (accurate) | 165 mm |
| CPU cooler depth (accurate) | 150 mm |
| CPU cooler width | 140 to 149 mm |
| CPU cooler height | 160 to 169 mm |
| CPU cooler depth | 150 to 159 mm |
| Material base plate | copper |
| Material heat sink | aluminium |
| Weight in g (exact) | 1.000 |
| Weight in g | 1000 - 1100 g |
| max. RPM (exact) | 1,050 rpm |
| min. RPM (exact) | 400 U/min |
| max. Noise level (exact) | 19 dB(A) |
| max. Air volume (exact) | 103 m³/h |
| max. RPM | 1,000 - 1,499 rpm |
| max. Noise level | 15 - 19 dB(A) |
| max. Air volume | 100 - 124 m³/h |
| TDP | 220 Watt |
| No. of Heatpipes | 5 |
| Heatpipe diameter | 6 mm |
| CPU cooler fan(s) included | 2x 140 mm |
| Heat sink colour | black |
| Fan colour | black |
| Additional fan mounting | no |
| Lighting | no |
| Approved for | active air flow |
Awards
Alpenföhn hat mit dem Brocken 3 in der White Edition einen rundum gelungenen Kühlkörper bei sich im Portfolio. Vor allen Dingen für diejenigen unter euch, die beim PC als Leisetreter unterwegs sind.

Ansonsten vereint der Kühler alle Boni, die schon unter der Brocken 3 hatte.

Hohe Sockel, hohe Kompatibilität, asymmetrische Design, Kinderleichte Montage und ein sehr netter Super Paket mit Schraubendreher dabei. Zweiter Lüfter dabei

read more...

Pro
+ saubere Verarbeitung (Kühlkörper und Lüfter)
+ schicke Beschichtung (Schwarz oder Weiß)
+ sehr gute Kühlleistung
+ zwei leise PWM-Lüfter
+ sichere und einfache Montage
+ hohe Ram-Kompatiblität
+ passt auf alle gängigen Sockeltypen drauf
+ fairer Preis

read more...