Alpenföhn


Brocken 3 CPU Cooler - 140 mm
Powerful CPU cooler made by Alpenföhn
Asymmetric tower cooler
Five nickel-plated 6 mm heat pipes
Wing Boost 3 fan with PWM connector
Excellent socket & RAM compatibility
Item number: CPAF-037
EAN: 4250280332582
MPN: 84000000140
Manufacturer: Alpenföhn
Product information -
Brocken 3 CPU Cooler - 140 mm
What happens when you cross two "Brocken" generations with one another? That's right, the Brocken 3 and even better performance. The CPU cooler features a large heatsink with aerodynamically optimised fins along with brushed- and anodised top fins, and furthermore the fin distances allow no room for misunderstanding: This is a cooler designed from the ground up for silent operation. The combination of five 6 mm heat pipes and the included 140 mm PWM fan from the Wing Boost 3 series ensures gargantuan cooling power. The RockMount mounting system also allows for an easy and uncomplicated installation of the cooler.
The Features of the Alpenföhn Brocken 3:
Tower-style cooler with up to 220W TDP cooling power
Five 6 mm heat pipes & optimised fins
Wing Boost 3 fan with PWM connector and 140 mm format
Asymmetrical design for improved RAM compatibility
High-performance "Permafrost" thermal paste included
High compatibility with AMD and Intel CPU sockets
RockMount mounting system for easy installation
Capable Third-Gen Alpenföhn Brocken CPU Cooler
The third generation of the famed and esteemed Brocken cooler from Alpenföhn resembles its predecessors in terms of aesthetics, but this belies a multitude of innovations that have resulted in a significant improvements in its cooling performance, thereby allowing the Brocken 3 to pull comfortably ahead of its rivals. All the know-how and experience gleaned from the extremely popular Brocken 1 & 2 models, as well as an abundance of feedback from the Alpenföhn online community, have been incorporated into the construction of the Brocken 3.
A striking difference to its direct predecessor becomes apparent in the fact that twin-tower design has reverted to a single tower, however the aerodynamically optimised fins and the adjustments in fin distance have yielded marked improvements in respect to silent operation. The addition of the new Wing Boost 3 140 mm fan, with its fixed integrated fan guide wheel for axially-directed airflow, has also contributed to a reduction in noise levels as well as the minimisation of airflow turbulence. The result is a formidable performance increase of the fan that has resulted in a reduction of its maximum rotational speed (RPM) when compared against alternative layouts.
Wing Boost 3 Fan with PWM Connector
The Wing Boost 3 fan intrigues primarily due to its specially designed blade pitch that is intended for operation at low RPM, and this is what results in a significant increase in flow rate, static pressure, as well as exit velocity when compared to competing fans at identical fan speeds. Apart from that, the aerodynamically optimised blade geometry benefits the axial airflow and the effective removal of exhaust air. This allows the heatsink to exploit a greater surface area for the purposes of efficient heat dissipation.
Naturally the 140 mm fan can be plugged directly into the motherboard via PWM connector and it rotates in accordance with the CPU temperature at speeds of between 400 and 1050 RPM. Equipped with a durable fluid dynamic bearing, the fan's noise level does not exceed a quiet 19 dB even at full speed while also being able to generate an airflow of up to 103 m³/h. Needless to say, a brisk mountain breeze is definitely being provided here atop the Brocken!
Also on board again is the gapless H.D.C. technology (Heatpipe Direct Contact) featuring five nickel-plated 6 mm heatpipes neatly integrated directly into the copper base plate, resulting in improved heat transfer. Furthermore, the Brocken 3 also employs an asymmetrical cooling tower design with long heat pipes that provide plenty of space between the base plate and heatsink, the latter of which is also shifted slightly towards the back rather than being centred above the socket.
Thanks to this design, not a single RAM slot is obstructed by the cooler on most motherboards on the market, not even when the fan is installed on the front side in a "push" configuration as is most commonly done. Nothing stands in your way should you plan on using all of the RAM slots on your board. The latter can sport a PGA socket AM4, AM3(+), AM2(+), FM2(+) and FM1 on AMD's side or an LGA socket 775, 1366, 115x and 2011(-V3) on Intel's side of the market. Once again the tried and tested RockMount mounting system facilitates a smooth and convenient installation.
Technical Details:
General:
Dimensions (without fan): 146 x 161 x 100 mm (W x H x D)
Dimensions (with fan): 146 x 165 x 125 mm (W x H x D)
Weight (with fan): 850 g
Materials: Aluminium (Base Plate), Nickel-plated Copper (Heat Pipes), Aluminium (Fins)
Heat Pipes:
5x Ø 6 mm
Fan:
1x 140 mm (max. 19 dB(A), 400 – 1050 RPM, 103 m³/h)
Connector:
4 Pin PWM
Operating Voltage:
12 V
Compatibility:
Intel Sockets: LGA 775, 1366, 115x, 2011(V3)
AMD Sockets: AM4, AM3(+), AM2(+), FM2(+), FM1
Further links for

"Brocken 3 CPU Cooler - 140 mm"
Videos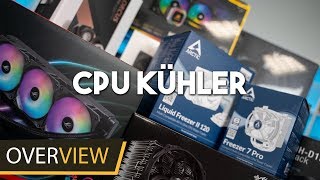 Technical Details
| | |
| --- | --- |
| CPU socket | 1150, 1151, 1155, 1156, 1366, 2011, 2011-V3, 2066, 775, AM3, AM3+, AM4, FM1 |
| CPU cooler type | Single Tower |
| Fan connector | 4 Pin (PWM) |
| CPU cooler width (accurate) | 146 mm |
| CPU cooler height (accurate) | 165 mm |
| CPU cooler depth (accurate) | 125 mm |
| CPU cooler width | 140 to 149 mm |
| CPU cooler height | 160 to 169 mm |
| CPU cooler depth | 120 to 129 mm |
| Material base plate | copper |
| Material heat sink | aluminium |
| Weight in g (exact) | 850 |
| Weight in g | 800 - 900 g |
| Max rpm (exact) | 1050 U/min |
| Min rpm (exact) | 400 U/min |
| Max noise level (exact) | 19 dB(A) |
| Max air volume (exact) | 103 m³/h |
| Max rpm | 1000 - 1499 U/min |
| Min rpm | 250 - 499 U/min |
| Max noise level | 15 - 19 dB(A) |
| Max air volume | 100 - 124 m³/h |
| No. of Heatpipes | 5 |
| Heatpipe diameter | 6 mm |
| CPU cooler fan(s) included | 1x 140 mm |
| Heat sink colour | silver |
| Fan colour | black |
| Additional fan mounting | yes |
| Illumination | no |
| Approved for | active air flow |