Alphacool


Eisbaer LT120 CPU AiO-Wasserkühlung
AiO water cooling
120 mm format from Alphacool
PWM fan
Variable pump performance
Quick fasteners for easy upgrades
Compatible with current AMD & Intel sockets
Item number: WASE-359
EAN: 4251312601164
MPN: 11444
Manufacturer: Alphacool
Product information -
Eisbaer LT120 CPU AiO-Wasserkühlung
From the experts at
Alphacool
comes the modular
AiO Eisbaer
. It heralds the arrival of the
Eisbaer Ready Range
, allowing future products to be easily integrated into an existing system. The
Eisbaer AiOs from Alphacool
are particularly inexpensive and yet still come equipped with high-quality components from Alphacool's proven repertoire, such as the
popular NexXxoS radiator range
, which serves as the basis for the
Eisbaer radiators
.
The Complete Eisbaer LT120 AiO at a Glance:
120 mm copper radiator just 25 mm thick
Solid copper CPU cooler with integrated pump
High-performance 550 to 1.700 RPM 120 mm Eiswind 12 fan
Premium 11/8 mm PVC hoses with woven sleeves
Special quick-release fasteners for easy removal
Pre-filled and easy to refill
Copper Rather than Aluminium: A Proven Design
With the radiator in the
full AiO Eisbaer water cooling, Alphacool relies on long-proven products
. The design of the
NexXxoS radiator series from Alphacool
serves as the foundation, yet with one notable difference: The radiators are
now just 25 mm thick
and as such they fit in cases that do not offer as much space between motherboard and the case. Additionally,
the radiators have two cooling chambers and are made of copper
, which increases the cooling efficiency even further. The low fin density also ensures that the fans provide sufficient cooling even at low RPM.
The
120 mm Eiswind 12 fan
is also from Alphacool and has been specially developed for use on radiators. At
1,66 mm H2O they generate a massive amount of air pressure
in order to force cool air between the fins of the radiator. The fans are controlled via the motherboard's PWM connector,
a PWM Y-Adapter is included in the kit
. This enables the
speed to be set between 550 and 1.700 RPM
.
Efficient Pump and Copper Heat Sink
The underside of the block, which serves as the CPU cooler,
is also made of copper
and has a finely grooved surface on top while the underside is exceptionally smooth to maximise CPU contact. This makes the transfer of heat from the CPU to the heat sink extremely efficient. The
DC-LT Ceramic Ultra Low Noise pump
, which is also from Alphacool, is located on top. It is powered by a 3-pin Molex adapter and achieves a flow rate of 70 litres per hour at a
maximum of 2.600 RPM
. This means it is particularly quiet, and furthermore it can also be
be set to between 7 and 13,5 Volts
.
Because it is an AiO, no additional hoses have to be attached to the AiO during installation. Nevertheless Alphacool has equipped its system
with quick fasteners
to allow the
Eisbaer
to be upgraded quickly and easily. They are compatible with the
Alphacool HF quick fasteners
. The inexpensive
Eisbaer
can be easily extended with further components and hose extensions.
Technical Details:
Compatibility:
Intel: 775 /1156 / 1155 / 1150 / 1151 / 1366 / 2011 / 2011-3 / 2066 / 604 / 771
AMD: 754 / 939 / AM2 / AM2+ / AM3 / AM3+ / AM4 / FM1 / FM2 / FM2+ / 940 / C32 / G34 / optional TR4
Radiator:
Dimensions: 150 x 25 x 120 mm (W x H x D)
Material: Copper
Fins per Inch: 16
Pressure Tested: 1,5 Bar
Thread: 1/4"
Pump:
Rated Speed: 2.600 rpm
Voltage Range: 7 - 13,5 V
Power Consumption: 4 W
Flow Rate: 70 L/h
Flow Height: max. 0,85 m
Connector: 3-Pin
CPU Cooler:
Dimensions (total): 69 x 39 x 69 mm (W x H x D)
Dimensions (bottom of radiator): 56 x 3 x 56 mm (W x H x D)
Material: Copper, injection moulding, aluminium
Thread (In/Out): 2x G1/4"
Fill Port: 1x G1/4"
Fan: Bearings: Sleeve Bearing
Voltage: 12 V
Connector: 4-Pin PWM
Rated Speed: 55 - 1.700 RPM
Air Flow Rate: 108 m³/h
Air Pressure: 1,66 mm H2O
Volume: 29 dB(A)
Quick Release:
Dimensions: 83 x 28 mm (L x W)
Material: Nylon
Connection Size: 11/8 mm
Tubes:
Length: 320 mm
Material: PVC
Size: 11/8 mm
Accessories:
1x Radiator 120 mm
1x 120 mm Eiswind Fan
1x Intel Backplate
1x Intel Bracket
1x AMD Bracket
1x PWM Adapter
1x Thermal Paste
1x Mounting Material
Manufacturer's Guarantee: 5 Years
Further links for

"Eisbaer LT120 CPU AiO-Wasserkühlung"
Videos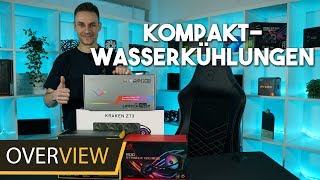 Technical Details
| | |
| --- | --- |
| CPU socket | 1150, 1151, 1155, 1156, 1366, 2011, 2011-V3, 2066, 754, 775, 939, 940, AM2, AM3, AM3+, AM4, C32, FM1, FM2, FM2+, G34, 604, 771 |
| Radiator size | 120 mm |
| Radiator height (exact) | 25 mm |
| Radiator height | 20 - 29 mm |
| Illumination | no |
| Included fans | 1x |
| Rotor diameter | 120 mm |
| Fan connector | 4 Pin (PWM) |
| Pump connector | 3 Pin (voltage control) |
| Max noise level | 25 - 29 dB(A) |
| Tube lenght (exact) | 32 cm |
| Tube lenght | 28 - 32,9 cm |
| CPU cooler type | AiO liquid cooler |