AMD


Ryzen 7 1800X 3,6 GHz (Summit Ridge) Socket AM4 - boxed
Octa-Core CPU of the AMD "Zen" Family
with 3.6 GHz Base and 4.0 GHz Boost Clock
Multi-Threading with 16 virtual Cores
automatic Overclocking via XFR
95 Watts TDP & Unlocked Multiplier
4 MB L2 & 16 MB L3 Cache
Boxed Version without CPU Cooler
Item number: HPAM-116
EAN: 0730143308366
MPN: YD180XBCAEWOF
Manufacturer: AMD
Product information -
Ryzen 7 1800X 3,6 GHz (Summit Ridge) Socket AM4 - boxed
After more than four years of work on the new
"Zen" microarchitecture
for their x86 processors, the beginning of 2017 heralds AMD's fresh attempt at recapturing the high-end segment. After having previously abandoned this front in the eternal battle between David and Goliath, AMD has rolled out the heavy guns in the form of a cutting-edge processor design going by the name of
Ryzen
.
Massive performance improvements in every respect mean that AMD's Ryzen quad-core, hexa-core and octa-core CPUs handily outperform their predecessors and combine innovative features with a pioneering platform as well as cutting-edge I/O interfaces. And yet AMD's new "Zen" architecture is so flexible and versatile that they can be installed into high-end desktop platforms as well as mainstream APUs utilising integrated graphics, and enabling the processors to scale from high-performance servers for data centres all the way down to fan-less mobile platforms, has brought forth an array of performance-enhancing features and characteristics to their intended fields. This is how the chip manufacturer intends to pave the way for a dazzling comeback, and AMD has laid the foundations to this approach for the next few years on the broad shoulders of the
AM4 platform
. As the underdog in the battle for supreme processing power, AMD continues to offer their customers an extremely attractive price-to-performance ratio in the new range of Ryzen CPUs.
The AMD Ryzen 7 1800X 3,6 GHz 8-Core Processor at a Glance:
8 "Zen" cores with a low 95 Watt Thermal Design Power (TDP)
16 Threads thanks to Simultaneous Multithreading (SMT)
Very high single- and multi-thread performance
3,6 GHz Base- & 4,0 GHz Turbo Clock with Precision Boost
With automatic XFR overclocking feature
Unlocked multiplier for manual overclocking (unlocked CPU)
Large memory cache: 4 MB L2 & 16 MB L3
Highly efficient, non-planar 14 Nanometre FinFET transistors
AVX2 instruction set extensions for complex vector calculations
Two AES units for fast and reliable data encryption
Modern AM4 platform with extensive features
Supports energy efficient DDR4-RAM (Dual-Channel)
Attention: Boxed version without CPU cooler
---
AMD Zen - Scalable Architecture with Precision Boost Technology
The AMD Ryzen 7 1800X is a processor hailing from the new "Summit Ridge" generation with eight logical CPU cores that, thanks to Simultaneous Multithreading (SMT), are capable of processing two threads at once on each core. This means that the number of processor cores is effectively supplemented by the addition of eight further virtual cores to make a total of 16 effective cores. The 8-core top-of-the-range model functions at a high clock rate of 3,6 GHz per core which, due to the implementation of Precision Boost, performs real-time tuning in accordance with the performance demands placed on the processor. This holds true in respect to both games and applications, adjusting itself on-the-fly in precise 25 MHz increments within the TDP framework up to a maximum of 4,0 GHz.
In addition to these improvements the chip architecture also produces less heat and operates more quietly than any of its predecessors and is specially designed and optimised to work at high clock frequencies. These optimisations are due in part to the drastic improvements in energy efficiency and the low 95 Watt Thermal Design Power (TDP) of the CPU cores. The impressive specifications of this processor demonstrate the extent to which AMD's time has been invested into research and development. This goes a long way towards explaining the massive single-thread performance increase of up to 52% in terms of
Instructions Per Cycle
(IPC) as well as the manner in which the processor excels in highly parallelised multi-thread applications. These combined factors result in consistent and optimal performance.
The silicon is lithographed in the advanced
14 nm FinFET manufacturing process
with stacked transistors (also known as 3D transistors). This striking reduction in scale has resulted in space being freed up on the processor die, thereby permitting the integration of a total of 4 MB Level 2 Cache and a full 16 MB Level 3 Cache into the centrepiece of the PC. Due to the intelligently controlled cache buffer and thanks to the "Smart Prefetch" predictive algorithms, Ryzen is capable of ensuring instantaneous data access and swift compute performance in all use cases - irrespective of whether the task involves gaming and Virtual Reality or cloud computing and virtualisation.
---
Extended Frequency Range (XFR) for Automatic Overclocking
The days of racking your brains perfecting the art of the manual overclock are at an end as the CPU can control the entire process itself: The AMD Ryzen 7 1800X is equipped with the revolutionary Auto-OC feature known as Extended Frequency Range (XFR) to allow the processor's clock frequency to be drastically increased over the factory-set boost clock, provided sufficient cooling is supplied to the processor. As soon as the integrated CPU sensors detect the need for greater heat dissipation, the Ryzen CPU adjusts its clock rates to the respective cooling solution accordingly.
User intervention is therefore unnecessary -
overclocking has never been so easy!
Depending on whether CPU temperatures are being maintained by a comparably-small air cooler, a large (dual-) tower cooler, a more capable AiO or custom water cooler, or even extreme liquid cooling options like LN2, XFR affords access to premium- and enthusiast-level clock frequencies tailored to the degree of cooling performance provided.
Unlocked CPU: Foolproof Overclocking Thanks to the Unlocked Multiplier
All AMD Ryzen CPUs are "unlocked" and come with - as was the case with the "Black Editions" and "K" variants of earlier product ranges - an unlocked multiplier that allows overclockers to attain relatively high clock rates in a virtually foolproof manner. The aforementioned overclocks are easily achievable via manual alterations to the BIOS or UEFI, or by means of software tools designed for increasing the maximum factory-set boost clocks. Both an overclocking-friendly chipset such as the AMD X370, B350, or X300, as well as additional 3rd party cooling is necessary.
---
Cutting-Edge & Luxuriously-Featured: The AM4 Platform
Motherboards equipped with the AM4 socket serve as the foundation for AMD's range of Ryzen CPUs, and they also offer cutting-edge interfaces. The CPU itself possesses four dedicated PCI-Express 3.0 lanes providing compatibility with modern SATA and PCI-Express SSDs in both M.2 and U.2 formats as well as support for the NVM-Express protocol (NVMe for short). A further 16 PCIe 3.0 lanes deliver abundant bandwidth for even high-end gaming graphics cards. Additional PCIe lanes for data storage, expansion cards and peripheral devices are allocated separately, dependent upon the chipset of the motherboard. The new AM4 platform also supports up-to-date external device interfaces like USB 3.1 Gen 2 with Type A and/or Type C connectors and high data transfer rates of up to 10 Gbit/s.

The CPU's integrated memory controller supports AM4 motherboards as well as speedy and energy-efficient DDR4-RAM in dual-channel mode with or without ECC error correction. Ryzen processors are also continually monitored by AMD's special "Pure Power" sensors. These sensors monitor temperatures, voltages and frequencies in order to perfectly tailor energy usage with an eye to different use case scenarios. Even with respect to SIMD instruction set extension AMD is now pulling up equal to the competition and has now mastered AVX2 (Advanced Vector Extensions), which enable dramatic performance improvements in floating-point calculations in scientific simulations, video-, picture- and audio editing, as well as video games and multimedia applications, in so far as the application supports this feature.

Note: This is a "WOF" boxed version

that does not include a bundled CPU cooler.

All AMD Ryzen CPUs also require an AM4-compatible motherboard.
Technical Details:
Type:
AMD Ryzen 7 1800X
Zen/Summit Ridge
Manufacturing Process: 14 nm FinFET
CPU Cores: 8 / 16 (physical / virtual)
CPU Frequency:
Base Clock: 3,6 GHz
Boost Clock: max. 4,0 GHz (Precision Boost)
OC: 4,0+ GHz (XFR automated)
Level 2 Cache: 4 MB (512 KB per core)
Level 3 Cache: 16 MB (2 MB per core)
Integrated PCI-Express 3.0 Lanes:
x24 (x16 for GPU + x4 for SSD + x4 for Chipset)
RAM:
Memory Controller: internal
Memory Channels: 2
Memory Standard: DDR4 (ECC & non-ECC)
TDP: 95 Watt
Socket Compatibility: AM4
Instruction Set Extensions:
SMT (Simultaneous Multithreading)
X86-64 (64-Bit Processor AMD64)
AMD-V (Compute Virtualisation)
VT-Vi (I/O MMU Virtualisation)
2x AES Units (Encryption)
AVX & AVX2 (Advanced Vector Extensions)
NX-Bit (Virus Protection) & EVP (Extended Virus Protection)
TBT 3.0 (Turbo Core 3.0)
Special Feature:
Unlocked Multiplier
Further links for

"Ryzen 7 1800X 3,6 GHz (Summit Ridge) Socket AM4 - boxed"
Videos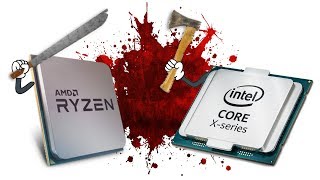 Technical Details
| | |
| --- | --- |
| CPU series | AMD Ryzen 7 |
| CPU architecture | AMD Summit Ridge |
| CPU socket | AM4 |
| Cores | 8 |
| Threads | 16 |
| Hyper- / Multithreading | yes |
| Open multiplier | yes |
| Memory type | DDR4 |
| Memory controller | Dual Channel |
| ECC support | Yes |
| TDP | 95 Watt |
| Packaging | boxed / retail |
Awards
+ AMD processors are competitive again
+ Outstanding performance in heavy multi-threaded apps
+ Cheaper than Intel HEDT processors
+ Single-threaded performance improved
+ Low power draw and excellent power efficiency
+ Platform updated to include latest features (PCIe 3.0, USB 3.1, NVMe)

read more...

Positive Aspekte des RYZEN 7 1800X:

+ Acht Kerne, sehr gute Performance in Multicore-optimierten Benchmarks
+ Sehr guter Stromverbrauch im Idle-Bereich, guter Stromverbrauch unter Last
+ gute Tuning-Möglichkeiten im Bios der Mainboards
+ X370-Chipsatz mit guten Optionen
+ Gutes Preis-Leistungsverhältnis

read more...

AMD's Ryzen X1800 processor at $499 is an excellent choice for anyone who needs eight fast cores, 16 threads, and some pretty astounding multithreaded performance.



read more...

Pros

+ Highly competitive multi-threaded performance
+ Competes against Intel's top tier CPUs
+ Supplied with RGB Cooler
+ Fully featured platform
+ 8/16 cores threads priced lower than the competition
+ Significantly improved performance per watt

read more...

Pros

+ Highly competitive multi-threaded performance
+ Competes against Intel's top tier CPUs
+ Supplied with RGB Cooler
+ Fully featured platform
+ 8/16 cores threads priced lower than the competition
+ Significantly improved performance per watt

read more...

KitGuru says: AMD has kicked through the front door of Intel's HEDT processor party and shown no mercy on the 6C12T and 8C16T chips. Retailing for £500 less than an 8C16T Intel chip which performs similarly makes AMD's Ryzen 7 1800X a relative bargain. We now turn our attention to the even more wallet-friendly Ryzen 7 1700X…

read more...

Es ist richtig, dass der Ryzen 7 1800X speziell in Spielen nicht immer mit den neuesten Intel-CPUs mithält, allerdings kostet er auch nur rund die Hälfte eines Core i7-6900K. Diesem rückt er, je mehr Multithreading und je weniger Inter-Core-Kommunikation und je weniger Speicherperformance eine Anwendung benötigt, teils dicht auf die Pelle, teils liegt er sogar in Front. Wenig verwunderlich ist da, dass das Abschneiden im Cinebench zu den stärksten Teilresultaten der Ryzen-CPU gehört. Auch Video-Transcoding etwa mit x264 meistert der Ryzen 7 1800X mit Bravour und arbeitet dabei vergleichsweise effizient: Der Maximalverbrauch des Gesamtsystems im hochoptimierten y-Cruncher liegt unter der des Intel-Achtkerners. Wir sind gespannt, wie sich hier die Stromspar-Versionen wie etwa der Ryzen 7 1700 schlagen werden.

read more...

For an immature platform still in its infancy, Summit Ridge and by extension Ryzen is a remarkably well rounded solution and like any fine wine, it will only get better with age. While the 16-thread parts are just now blazing a trail that will ultimately shake the CPU industry's pricing foundations, they won't be right for everyone. However, after seeing what the 1800X can accomplish excitement for those six and four core derivatives. But what is clear right now is that Ryzen is indeed the real deal and Intel has been put on notice that AMD is back in the game.

read more...

The Good

+ Massive multi-core performance
+ Aggressive pricing
+ Smart calls on architecture
+ Energy efficient design
+ Gives users honest choice
+ Significant ecosystem support

read more...

Any of the Ryzen 7 series processors will be fine for whatever you want to do with it. Even the cheapest of them all (the Ryzen 7 1700) which we have not reviewed but hopefully will test in the coming weeks, will offer you a nice gaming experience and the raw power to perform serious content creation as well. Today we have seen the first results on the flagship 8-core model, the Ryzen 7 1800X, and we like it just as much as we like the similar product from Intel. The thing is, this CPU is half the price of what Intel is charging, and AMD doesn't have expensive chipsets either so the motherboards will be very affordable as well. What if you are already own a 6 or 8 core Intel processor setup? Honestly, there's little to no reason for you to upgrade considering the performance overall remains at the same level, and that is the brutal honest truth. This also applies for users with a fast quad-core processor like the recent 6700K or 7700K.

read more...

The AMD Ryzen 7 1800X is one of the best chips we've ever tested from the red team, delivering impressive performance, features and overclocking at an even more impressive price that's sure to appeal to content creators and gamers.

read more...

Hot Hardware - AMD Ryzen 7 1800X, 1700X, And 1700 Review And Benchmarks: Zen Brings The Fight Back To Intel

HOT

+ Strong Overall Performance
+ Aggressive Pricing
+ Power Friendly
+ 8-Cores / 16-Threads

We would recommend Ryzen 7 1800X for desktop and heavy workloads, such as rendering and workstation applications, but it isn't as competitive with a diverse range of game titles. Ryzen sets a low pricing bar, and the addition of the new Zen microarchitecture and SMT yield an impressive performance improvement over AMD's previous generation products.

read more...

Der Ryzen 7 1800X macht im Vergleich zu seinen Vorgängern einen beachtlichen Leistungssprung, in Spielen kann er sein ganzes Potenzial aber (noch) nicht immer abrufen. Intel hat dadurch bei den Prozessoren auch mit seinen schnellen Vierkern-CPUs vorerst weiter die Nase vorn, während der 1800X mit seinen acht Kernen eher eine Investition in die Zukunft darstellt.

read more...

AMD Ryzen 7 1800x is an excellent processor with breathtaking multi-core performance at a great price

Superb multithreaded performance and a competitive price tag makes Ryzen 7 1700X to an excellent processor

Advantages

+ Extreme multithreaded performance
+ unlocked overclocking
+ energy Efficient
+ modern platform
+ Very competitive price tag

read more...

From start to finish the Ryzen 7 1800X was a revelation and you can't begin to understand how happy it makes us.

This isn't an AMD processor that you have to find the good points of. This isn't an incrementally better one which requires some give and take. This isn't even a processor when you end up saying "it's good but...". There isn't a but. It's just great. Finally dispensing with the AM3 socket which is so old we think Methuselah had one in his younger days has been a revelation, and the ASUS Prime X370-Pro that we tested on comes with all the very latest technologies. It's current. It's up to date. It isn't an old foundation with an extension hastily bolted to the side. From the ground up it matches anything you might find on the market.

read more...

The performance and platform are great, but what really drove the point home to Intel over the past week or so was the widely publicized benchmark results shown by AMD. It has something to talk about and wants everyone to know about it. For good reason! So much so that before Ryzen was actually available for purchase (not counting pre-orders), Intel took the drastic step of dropping pricing across its line up to try and maintain some market share. AMD hit Intel where it hurts. Price point.

Pros:

+ Performance
+ Overclocking
+ Perf per watt
+ Pricing
+ New platform
+ Improved single thread performance
+ DDR4

read more...

PRO

Perf / price ratio excellent !!!

Low cost platform

Multi-Tasks Performance

Consumption contained

read more...