King Mod Systems


AMD Ryzen 7 3800X 3,9 GHz + Raijintek Orcus Core RGB All-in-One Liquid Cooler - 360mm
Bundle consists of a CPU and an all-in-one liquid cooler
AMD Ryzen 7 3800X octa-core processor
Raijintek Orcus Core RGB 360mm AiO
four Raijintek Auras 12 RGB-LED fans (120 mm)
Item number: CPBU-181
EAN: 0000000000000
Manufacturer: King Mod Systems
Product information -
AMD Ryzen 7 3800X 3,9 GHz + Raijintek Orcus Core RGB All-in-One Liquid Cooler - 360mm
This set includes the powerful octa-core processor
AMD Ryzen 7 3800X
as well as the
Raijintek Orcus Core RGB
all-in-one liquid cooler with a 360mm radiator and four
Raijintek Auras 12 RGB-LED fans
in the 120mm format.
The
AMD Ryzen 7 3800X
from the Matisse family of processors possesses 6 CPU cores and is based on the
"Zen 2" architecture
. After "Zen" and "Zen+" comes the third generation of the Zen microarchitecture which, thanks to the more advanced
7 Nanometer node
, is also able to offer significant clock frequency and performance increases along with many new modern features. Paired with an AMD X570 chipset, the Ryzen 7 3800X supports twice as the total bandwidth as its predecessor thanks to the new
PCI-Express 4.0
standard. All Ryzen 3000 processors use the esteemed AM4 platform and basic compatibility is retained even on older chipsets.
The AMD Ryzen 7 3800X and Raijintek Orcus Core Bundle at a Glance:
AMD Ryzen 7 3800X with 8 cores/16 threads and 3,9 GHz
With auto-overclocking Precision Boost Overdrive to 4.5 GHz
Extremely fast PCI-Express-4.0-Interface (only with AMD X570)
Free multiplier for manual overclocking (unlocked CPU)
Raijintek Orcus Core RGB 360mm all-in-one liquid cooler
With high cooling capacity thanks to 28 mm thick radiator
Four Raijintek Auras 12 RGB LED Fan
With O-type LED ring and RGB lighting
1200 rpm, 67,62 m³/h volume and 0,61 mm H2O static pressure
---
The AMD Ryzen 7 3800X 8-Core CPU with 4,5 GHz Precision Boost 2
The
AMD Ryzen 7 3800X
possesses eight physical CPU cores which, thanks to the new Simultaneous Multithreading (SMT) technology, are each capable of processing two threads simultaneously, effectively doubling the number of cores to 16 with the addition of eight virtual cores. The top eight-core model operates with a high clock rate of 3.9 GHz per core, which adapts precisely to the respective load scenario in real time by means of
Precision Boost 2
and increases from 105 watts to up to 4.5 GHz turbo as part of the Thermal Design Power (TDP).
In combination with an AMD X570 high-end chipset, the
AMD Ryzen 7 3800X
supports the PCI Express standard in version 4.0. The integrated memory controller of the CPU supports fast and energy-efficient
DDR4 memory
in dual-channel mode with a native clock frequency of 3,200 MHz.
The AMD Ryzen 7 3800X is equipped with the
Auto-OC-Feature
Precision Boost Overdrive
, which can increase the processor clock up to 200 MHz beyond the factory set limit of the maximum boost clock, if an AMD X570 motherboard is used and sufficient CPU cooling is ensured. In addition, all AMD Ryzen CPUs are "unlocked" and have a
free multiplier
.
Notes: For PCI-Express 4.0 and Precision Boost Overdrive an AM4 motherboard with AMD X570 chipset is required. Older chipsets of the 300 and 400 series require a BIOS/UEFI update to operate this CPU.
Raijintek Orcus Core RGB Water Cooling
The Orcus Core features a
360mm triple radiator
with a low overall height. Through a transparent window in the cooling block, a small wheel can be seen that serves as a flow indicator. RGB lighting inside the tank indicates speed and temperature. The graphite and ceramic ball bearing provides a maximum flow rate of
66 litres per hour
at
5,000 rpm and a maximum volume of 25 dB(A).
The copper base of the heat sink absorbs the waste heat from the processor and efficiently transfers it to the water. Particularly in compact housings, powerful tower coolers often cannot be used due to space constraints. In the case of the Orcus Core, however, only the flat cooler has to sit directly on the CPU. The radiator can be installed quite freely at an appropriate installation location, taking the hose length into account. Tool-free installation makes installation child's play, but also very safe. Heat conducting paste is already applied to the underside of the cooler, a spare tube is included in the package. Cooling liquid for refilling is also included.
Raijintek Auras 12 RGB LED fan
For the Auras 12 RGB fan series, Raijintek relies on an O-type LED ring that delivers outstanding colours and uniform brightness. Of course, the fans also impress with their performance values, which are quite impressive with a delivery volume of 67.62 m³/h and a maximum of 0.61 mm H2O static pressure at a speed of 1,200 revolutions per minute.
Equipped with special anti-vibration pads in all four corners of the fan, vibrations and noise levels can be minimized, so that the maximum volume of the Aura 12 RGB is only 24.8 dB. A 6-pin cable connects the two fans to the included controller, allowing the 256-colour LED ring to be configured for colour, effect and LED speed. The controller itself is connected to the PC via a SATA port and supplied with power.
Technical Details (Processor):
Type:
AMD Ryzen 7 3800X
Zen 2 / Matisse
Fabrication: 7 nm FinFET (CPU), 12 nm LP (I/O chip)
CPU cores: 8 / 16 (physical / virtual)
CPU clock:
Base clock: 3.9 GHz
Boost clock: max. 4.5 GHz (Precision Boost 2)
Precision Boost Overdrive: +200 MHz Auto-OC (with AMD X570 chipset only)
Level 2 cache: 4 MB (8x 512kB)
Level 3 cache: 32 MB (2x 16MB)
Chipset interface: PCI-Express 4.0 (only with AMD X570 chipset)
Integrated PCI Express lanes: x24 (x16 for GPU + x4 for SSD + x4 for chipset)
Main memory:
Memory controller: internal
Memory channels: 2
Memory Standard: DDR4 (ECC & non-ECC)
native memory clock: 3.200 MHz (without OC)
TDP: 105 Watt
Socket compatibility: AM4
Features & Command Set Extensions:
PCI-Express 4.0 (with AMD X570 chipset only)
Precision Boost 2 (Precision Boost Overdrive with AMD X570)
SMT (Simultaneous Multithreading)
X86-64 (64-bit AMD64 processor)
AMD-V (Compute Virtualization)
VT-Vi (I/O MMU virtualization)
2x AES units (encryption)
AVX & AVX2 (Advanced Vector Extensions)
NX bit (virus protection) & EVP (advanced virus protection)
Turbo Core 3.0 Free multiplier (unlocked) AMD Wraith Prism CPU cooler with RGB LED ring included
Technical details (complete water cooling):
Radiator:
Size: 120 x 28 x 395 mm (W x H x D)
Material: Aluminium
Filling quantity: 210 ml ± 10 %
Pump:
Size: 69.5 x 33 x 40 mm (W x H x D)
Bearing type: Ceramic
Delivery rate: max. 66 litres/h
Delivery head: 1.3 m
Volume: 25 dB(A)
Speed: 5,000 rpm ± 10 % with 12 V
Current strength: 180 mA
Power consumption: 2,2 Watt
Compatibility (Socket):
Intel 775, 1150, 1151, 1155, 1156, 1200, 1366, 2011, 2066
AMD AM2, AM2+, AM3, AM3+, AM4, FM2, FM2+
Hose length: approx. 35 cm
Manufacturer warranty: 2 years
Technical details (fan):
Dimensions: 120 x 120 x 25 mm (W x H x D)
Weight: approx. 330 g
Color: black (frame) / RGB (LEDs)
Bearing type: plain bearing
speed: 1,200 rpm
Delivery volume: max. 67.62 m³/h
Static pressure: max. 0.61 mm H2O
Volume: max. 24.8 dB(A)
Voltage: 12 V
Starting voltage: 6 V
Connection: 6-pin (fan) / SATA (controller)
life expectancy: 40,000 h
Includes:
2x Fan
1x Controller
8x Screws
Further links for

"AMD Ryzen 7 3800X 3,9 GHz + Raijintek Orcus Core RGB All-in-One Liquid Cooler - 360mm"
Videos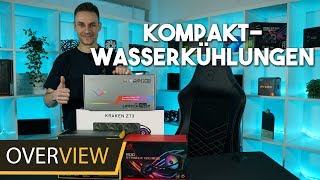 Technical Details
| | |
| --- | --- |
| CPU series | AMD Ryzen 7 |
| CPU architecture | AMD Matisse |
| CPU socket | AM4 |
| Cores | 8 |
| Threads | 16 |
| Hyper- / Multithreading | yes |
| Open multiplier | yes |
| Memory type | DDR4 |
| Memory controller | dual channel |
| TDP | 105 Watt |
Awards
Value for money: The 115 euros of the Core version are certainly a great deal for an all in one from 360 of this quality. So if you already have three good fans or are among those users who end up buying after-market ones even when the kit includes them, this Raijintek Orcus 360 Core is definitely a great deal.

read more...