Wireless microphone from Antlion Audio
Bluetooth dongle with aptX Low Latency
Micro USB charging
12 hours operation
supports HiFi-style headphones
Item number: GAPL-875
EAN: 0761878978586
MPN: GDL-0700
Manufacturer: AntLion Audio
Product information -
ModMic Wireless
"Keep Portland Weird!" is the unofficial motto of the hipster capital of America, Portland in Oregon. And just as unique and innovative, we now have this unusual audio modding product from Antlion Audio, with headquarters in this innovative city. Modding and audio engineering though? In the world of premium audio products, this is a real rarity - until now that is. The exception is the Antlion Audio series of microphones in the form of the ModMic, the wireless version of which was recently released and blends all the advantages of preceding models and builds on them.
The Features of the Antlion ModMic Wireless at a Glance:
Superb sound quality
Bluetooth & aptX Low Latency for lag-free communication
Two microphone modes - directional and non-directional
Up to 12 hours battery & users can also charge while using it
Practical mute button
Incl. USB receiver for Windows / Linux / Mac / PS4
Antlion ModMic Wireless: Highest Sound Quality without the Cables!
So you've just discovered your dream headphones, but a microphone is missing, or you already have your ideal gaming headset and the integrated microphone no longer performs (or sounds) as it should, what to do? In this instance switching over to a completely different brand of cans is easier said than done. No one wants to forfeit the perfect fit, that heavy bass, or the ingenious surround sound just because of the microphone. Prompted by gamers themselves as well as audiophiles everywhere, AntLion Audio has ventured forth with a solution.
The
ModMic Wireless
is a wireless microphone that offers an integrated dual-microphone capsule. Its
directional mode can be switched between uni- and omnidirectional at the touch of a button
. The omnidirectional
studio mode
offers superb sensitivity as well as an expanded frequency range, the
unidirectional mode on the other hand offers improved noise-cancelling
for use in louder environments.
The
ModMic Wireless
comes with a
USB 2.0 Bluetooth transmitter
and communicates with your PC at an
exceptionally low latency of just 34 ms
using Bluetooth and the
Qualcomm aptX Low Latency Codec
. Micro USB 2.0 is used to charge up the wireless microphone and this enables a full
twelve hours of wireless usage in a session
. The microphone can be charged during use as well.
Ingenious Magnetic Clasp with Two Base Clasps
The
Antlion ModMicWireless
is a technically advanced and premium addition to your favourite set of headphones or - equally - a premium supplement to an incomplete headset. Best of all, it is easily attached to the outer shell of your headphones by simply cleaning the intended area with the bundled alcohol wipe, then removing the protective layer from the rear of the base - it closely resembles a button - and then pressing it firmly onto the intended location. The bond will be sufficiently firm after waiting roughly an hour.
Now simply attach the magnetic microphone boom to the base clasp, adjust the swing arm to the right length, and connect the jack at the end of the cable with your PC. The ModMic can be folded 90 degrees up or down, and the boom itself is not only flexible, but also exceptionally adept at maintaining the form you settled on while adjusting it for the perfect fit. The process of removing the microphone is equally as simple due to its magnetism, simply keep the microphone itself on your metal PC case using the magnet or stow it safely away in the bundled carry case.
Technical Details:
Position: Flexible (removable, swings 90 degrees)
Dual-Microphone Capsule (switchable):

1. Directional Characteristics: Omnidirectional (noise-cancelling cardioid microphone)
Frequency range: 20 Hz - 20.000 Hz
Bit-Depth: 16 Bit
Sample rate: 48 KHz
2. Directional characteristic: Unidirectional (sensitive studio microphone)
Frequency range: 20 Hz - 20.000 Hz
Bit depth: 16 Bit
Sample rate: 48 KHz
Connection:
USB Dongle: USB 2.0 Type A
ModMic Wireless: Micro USB 2.0
Includes:
1x ModMic Wireless omni & unidirectional
1x USB Bluetooth Transmitter (Bluetooth with aptX Low Latency, USB 2.0 Type A)
1x Micro-USB charging cable (Micro-USB to USB Type A)
1x USB Extension cable (USB 2.0 Type A)
1x Foam pop filter
2x Base clasps (for headsets/headphones)
1x Counter clasp (for ModMic)
2x Additional adhesive pad
1x Alcohol wipe
1x Instruction manual
1x Case for secure transport

Further links for

"ModMic Wireless"
Videos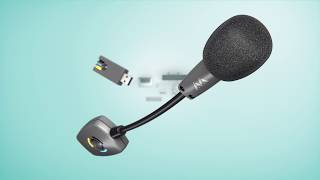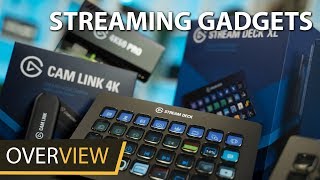 Technical Details
| | |
| --- | --- |
| Frequency Response Microphone | 20 - 20 000 Hz |
Awards
Pros:

High Quality Sound
One Button for all Functions
Long Battery Life
Included carrying case
Can attach to set of headphones

read more...

Pro:
+ Gute Verarbeitung
+ Gute Aufnahmequalität
+ Gute Reichweite
+ Abnehmbar
+ Kompakte Halterung

read more...