Arctic


F8 PWM PST Lüfter - 80mm
The ARCTIC F PWM forward the PWM signal from the CPU to the whole case ventilation system. The entire system is cooled quietly
but still offers the superb performance when needed.
Item number: LUAR-032
EAN: 4895213700870
MPN: AFACO-080P0-GBA01
Manufacturer: Arctic
Product information -
F8 PWM PST Lüfter - 80mm
Arctic
, vormals als Arctic Cooling bekannt, ist vor allem durch seine sehr leisen CPU-Kühler bekannt. Hierzu tragen wesentlich die innovativen Lüfter bei. Deren Nutzung ist aufgrund des speziellen Rahmens jedoch eingeschränkt.
Mit der preiswerten F-Serie bietet Arctic demgegenüber ein herkömmliches Rahmendesign an, welches universell in Gehäusen und auf Kühlern Verwendung findet. Die Besonderheit zeigt sich jedoch bei der Gestaltung der Lüfterblätter. Während herkömmliche Modelle auf sieben Schaufeln setzen, werden hier gleich neun verbaut. Dies erlaubt ein höheres Fördervolumen bei gleichbleibender Drehzahl und damit ähnlicher Lautstärke.
Im Ergebnis schaufelt der 80-mm-Lüfter bis zu 52,7 m³/h, kann die Drehzahl zwischen 700 und 2.000 U/Min variieren und erzeugt dabei eine Lautstärke von maximal 0,3 Sone.
Das eigentliche Kernfeature ist das sogenannte PST - PWM Sharing Technology. Diese ermöglicht die Anbindung weiterer PST-Lüfter von Arctic (nur der jeweils letzte Lüfter der Reihe kann ein beliebiges PWM-Modell sein). Hierzu besitzt der Lüfter einen Abzweig, so dass entsprechend eine nacheinander verknüpfte Reihe mit maximal fünf Ventilatoren möglich wird. Am Mainboard wird nur der erste Lüfter der Kette angeschlossen. Das PWM-Signal dient zur Steuerung aller in Reihe verknüpften Lüfter.
Dies bietet zum einen den Vorteil, dass die PWM-Funktion für mehr Lüfter genutzt werden kann, als die vorhandenen Mainboard-Anschlüsse es eigentlich zulassen würden. Zum anderen sind die Anschlüsse auf einigen Boards zum Teil schwierig zu erreichen, so dass mit dieser Reihenschaltung keine separaten Verlängerungen notwendig werden.
Die Farbgebung des Lüfters folgt dem üblichen Design von Arctic mit schwarzem Rahmen und weißen Lüfterblättern. Im Gegensatz zu anderen, preiswerten Lüftern verbaut Arctic ein hochwertiges Lager. Dieses garantiert nicht nur einen laufruhigen Betrieb, sondern sorgt auch dafür, dass die Lautstärke im Laufe der Zeit nicht zunimmt. Mit einer enormen Garantiezeit von sechs Jahren werden diese Angaben zudem nicht nur versprochen.
Technische Details:
Maße: 80 x 80 x 25 mm
Gewicht: 70 g
Material: Kunststoff
Lautstärke: max. 0,3 Sone / 22,5 dB(A)
Drehzahl: 700 - 2.000 U/Min
Airflow: max. 52,7 m³/h
Spannung: 12 V
Anschlüsse:
4-Pin (PWM + Power)
4-Pin (für zweiten Lüfter)
Garantie: 6 Jahre
Further links for

"F8 PWM PST Lüfter - 80mm"
Videos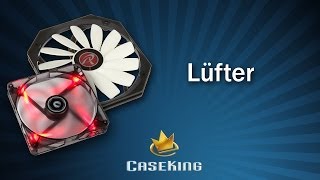 Technical Details
| | |
| --- | --- |
| Rotor diameter | 80 mm |
| Mounting holes | 80 mm |
| Primary colour | white |
| Secondary colour | black |
| Fan connector | 4 Pin (PWM) |
| Illumination | no |
| Max rpm (exact) | 2000 U/min |
| Min rpm (exact) | 700 U/min |
| Max noise level (exact) | 22,5 dB(A), 0,3 Sone |
| Max air volume (exact) | 52,7 m³/h |
| Max rpm | 2000 - 2499 U/min |
| Min rpm | 500 - 749 U/min |
| Max noise level | 20 - 24 dB(A) |
| Max air volume | 25 - 49 m³/h |
| Warranty | 6 years |