Arozzi


Monza Gaming Stuhl - grün
The Arozzi Monza is one cool gaming chair
which has a racing inspired look. High quality
thick padding on the arm wrists
seat and back gives you the highest comfort.
Item number: GAZU-096
EAN: 0713228142444
MPN: MONZA-GN
Manufacturer: Arozzi
Product information -
Monza Gaming Stuhl - grün
Der Monza von Arozzi ist ein waschechter Gaming Chair, also ein Drehstuhl, der sich neben Büro-Aufgaben und Web-Surfing-Vergnügen auch und ganz besonders für ausgedehnte Spiele-Sessions eignet. Die sportlichen Gaming-Anleihen fallen sofort auf den ersten Blick ins Auge, denn der in dieser Version grün-schwarze Arozzi Monza sieht aus, wie einem italienischen Rennwagen entnommen und auf eine Basis von fünf langlebigen Rollen montiert.
Ähnlich wie in einem Sportflitzer ist auch am PC eine gute Ergonomie wichtig, die den Körper optimal stützt und sich zugleich dessen Form in verschiedenen Sitzpositionen genügend anpasst. Das ist beim Arozzi Monza absolut gegeben, denn Sitz- und Rückenpolsterung fallen einerseits angenehm komfortabel aus, während auf der anderen Seite die Rückenlehne so geformt ist, dass sie der Wirbelsäule optimalen Halt gibt und den Körper stützt. Die positive Wirkung ist spürbar!
Dabei sind die Polsterungen mit einem PU-Lederimitat bespannt, was dem Monza ein hochwertiges Aussehen verleiht, dabei aber den Vorteil mit sich bringt, dass der Racing Chair einfach zu pflegen und lange haltbar ist. Um die Arme angenehm ruhen zu lassen, sind hier sogar dick gepolsterte Armstützen vorhanden. So kann man bedenkenlos mehrere Stunden am Computer verbringen, ohne sich wie "gerädert" zu fühlen.
Apropos rädern: Die Basis des Arozzi Monza ist mit fünf "Twin wheel"-Rollen aus beständigem Nylon ausgestattet, dank der Tatsache, dass der Drehstuhl ziemlich leicht ausfällt (nur 15 kg), ist es leicht möglich, sich auf diversen glatten Untergründen hin und her zu bewegen. Darüber hinaus punktet der Monza mit 360-Grad-Rotation, Flexibilität bei der Einstellung der Sitzhöhe (mittels bequemem Druckluftheber) sowie der integrierten Wippfunktion samt "Lock"-Mechanismus. Damit ist der schicke Arozzi Monza die ideale Ergänzung vor jedem Gaming- und Büroschreibtisch.
Technische Details:
Gesamthöhe (mit Basis): ca. 115 - 125 cm
Breite Rückenlehne: ca. 51 cm
Breite Sitzfläche: ca. 53 cm
Tiefe Sitzfläche: ca. 51 cm
Sitzhöhe: ca. 46 - 56 cm
Höhe Rückenlehne: ca. 76 cm
Gewicht: 15 kg
Material: Hartschaum (Polsterung), PU-Kunstleder (Bezug)
Farbe: Grün, Schwarz
Maximalbelastung: 105 kg
Features:
Konstruktion mit geringem Gewicht
Komfortable Polsterung
Ergonomisches Design
Flexible Sitzflächenhöhe
Einstellbare Wippfunktion
PU-Kunstleder für einfache Reinigung
Säule mit Druckluftheber
Stabile 5-Punkt-Basis
Further links for

"Monza Gaming Stuhl - grün"
Videos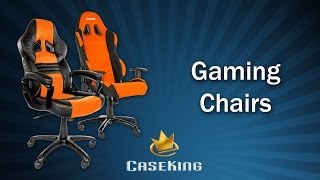 Technical Details
| | |
| --- | --- |
| Primary colour | green |
| Secondary colour | black |
| Seat cover material | synthetic leather |
| Adjustable back rest | No |
| Adjustable armrests | No |
| Height adjustment | Yes |
| Adjustable seating angle | Yes |
| Weight limit | Up to 125 kg (275 lbs) |
| Seatbelt guide | Yes |
| Weight | 14 to 16 kg (30.8 to 35.2 lbs) |
| Lowest seating position (adjustable) | 40 to 49 cm (15.7 to 19.2 inch) |
| Highest seating position | 50 to 59 cm (19.6 to 23.2 inch) |
| Seat width (widest outer dimension) | 50 to 54 cm (19.6 to 21.2 inch) |
| Seat depth | 50 to 54 cm (19.6 to 21.2 inch) |
| Back rest heigth | 70 to 79 cm (27.5 to 31.1 inch) |
| Back rest width (widest outer dimension) | 50 to 54 cm (19.6 to 21.2 inch) |
| Total height (including base) | 120 to 129.9 cm (47.2 to 51.1 inch) |
| Head cushion included | No |
| Lumbar cushion included | No |