ASRock


TRX40 Taichi, AMD TRX40 Mainboard - Sockel sTRX4
Gut ausgestattetes TRX40-Mainboard (ATX)
mit 3x PCIe x16 (x16/x16/x16)
3x M.2 (PCIe 4.0 x4/SATA) und 8x SATA 6G
1x USB-C 3.2 und 1x USB-C 3.1
2x USB 3.1 / 8x USB 3.0 / 2x USB 2.0
max. 256 GB RAM bis 4.666 MHz
RGB-LED-Beleuchtung und ac-WLAN/Bluetooth
1x Gigabit-LAN & 1x 2.5GBase-T
Item number: MBAR-319
EAN: 4717677339918
MPN: 90-MXBBK0-A0UAYZ
Manufacturer: ASRock
Product information -
TRX40 Taichi, AMD TRX40 Mainboard - Sockel sTRX4
Zusammen mit dem
TRX40-Chipsatz
führt AMD den
Sockel sTRX4
für die neuen Ryzen Threadripper-CPUs der 3000-Serie ein. Für die HEDT-Prozessoren mit bis zu 32 Rechenkernen plus Hyper-Threading ist die Kombination aus neuem Chipsatz und Sockel notwendig geworden, da mit der "Zen2"-Architektur und dem 7-nm-Herstellungsverfahren der Threadripper 3000-CPUs diverse Veränderungen gegenüber den Vorgängerserien eingeführt wurden.
Zu den neuen Features der "Castle Peak"-Prozessoren gehört in erster Linie die Unterstützung für den
PCIe 4.0-Standard
sowie ein neuer Speicher-Controller, der vier Speicherkanäle für bis zu 256 GB Kapazität sowie Speicher mit Fehlerkorrektur (ECC) unterstützt. Die TR3000-CPUs bieten 64 PCIe-Lanes im Standard 4.0, der eine doppelt so große Bandbreite gegenüber PCIe 3.0 bietet, von denen weiterhin 12 Lanes direkt für das Anbinden von NVMe-SSDs reserviert werden, während acht Lanes für die Verbindung von CPU und Chipsatz zuständig sind.
Die besonderen Features des ASRock TRX40 Taichi Mainboards im Überblick:
3x PCIe 4.0 x16 (x16/x16/x16) für High-End-Grafikkarten
I/O-Panel mit 1x USB-C 3.1, 2x USB-A 3.1, 4x USB-A 3.0
8x SATA 6Gb/s, 3x M.2 (PCIe, M-Key)
8x DDR4-Speicher bis 4.666 MHz (OC) im Quad-Channel-Modus
BT/WLAN-Modul & 1x 2.5GBase-T & 1x Gb LAN
RGB-LED-Beleuchtung und vier RGB-LED-Headern
Modernes UEFI-BIOS samt Temperaturüberwachung
Das ASRock TRX40 Taichi im Detail:
Optisch ist das
ASRock TRX40 Taichi
bereits an der auffälligen Kühleraustattung und integrierten Lüftern zu erkennen. Die
RGB-LED-Beleuchtung
kann über die Hersteller-Software gesteuert werden und befindet sich auf dem Chipsatz-Kühler, dem I/O-Panel sowie an der rechten Rückseite des PCBs. Für zusätzliche RGB-Komponenten wie Lüfter und LED-Strips bietet das TRX40-Mainboard gleich
mehrere RGB-Header
: zwei 3-Pin-Header für adressierbare und zwei 4-Pin-Header für herkömmliche RGB-LEDs.
Zu den weiteren wichtigen Features des
ASRock TRX40 Taichi
gehören unter anderem ein
WiFi/BT-Modul (Intel WiFi 6 AX200)
sowie
zwei LAN-Ports
. An der I/O-Blende befinden sich zudem
zwei USB-3.1-Typ-A-Ports
,
ein USB-3.2-Typ-C-Port
und
vier USB-3.0-Ports
. USB 3.1 erreicht maximale Geschwindigkeiten von 10 Gbit/s, USB-3.2 satte 20 Gbit/s je Port.
Für Steck- und Erweiterungskarten stellt das ATX-Mainboard gleich
drei PCIe-x16-Slots im 4.0-Standard
zu Verfügung. Diese werden durch einen weiteren PCIe-x1-Slot mit PCIe-4.0-Anbindung ergänzt. Für das Anschließen von Datenträgern wie SSDs und Festplatten werden acht SATA-6G-Anschlüsse (inkl. RAID-Support) sowie
drei M.2-Steckplätze
, die mit jeweils vier PCI-Express-4.0-Lanes direkt an die CPU angebunden sind, bereitgestellt. Ein M.2-Slot ist bereits vom WiFi-/Bluetooth-Modul belegt. Es wird das fortschrittliche NVM-Express-Protokoll unterstützt, das speziell auf hochparallelisierte Datenträgerzugriffe moderner PCIe-SSDs hin optimiert worden ist.
Für die Stromversorgung befinden sich auf dem Mainboard ein 24-Pin-Stromstecker sowie zwei 8-Pin-Stecker. Weitere Header auf dem Mainboard beinhalten: fünf 4-Pin-Header für Lüfter, ein Chassis-Intrusion-Header sowie ein TPM-Header. Weitere Features bietet das
ASRock TRX40 Taichi
in Form von einer DeBug-LED sowie je einem Power- und Reset-Button.
Achtung:
TRX40-Mainboards sind nur mit AMD-Prozessoren der Threadripper-3000-Serie kompatibel. Der Sockel sTRX4 unterscheidet sich durch eine abweichende PIN-Belegung vom Sockel TR4 und ist
nicht kompatibel mit älteren Threadripper-CPUs!
Hinweis:
Aufgrund der Größe der Ryzen Threadripper-CPU unterscheidet sich der Sockel sTR4 stark von herkömmlichen Sockeln. Beim Einsetzen der CPU bitte sorgfältig die Hinweise in der Montageanleitung der CPU bzw. des Mainboards beachten! Es handelt sich um einen LGA-Sockel! Die Pins befinden sich auf dem Sockel, nicht der CPU.
Technische Details:
Format: ATX (305 x 24,4 mm)
Chipsatz: AMD TRX40
Sockel: sTRX4 (für Ryzen Threadripper 3000)
RAM:
8x DDR4 (4.666 MHz) (OC)
Quad-Channel
max. 256 GB
Slots:
3x PCIe 4.0 x16
1x PCIe 4.0 x1
Multi-GPU-Konfigurationen: NVIDIA 3-Way-SLI (x16/x16, x16/x16/x16)
AMD 3-Way-CrossFireX (x16/x16, x16/x16/x16)
Interne Anschlüsse:
8x SATA 6G (RAID 0, 1, 10)
1x M.2/M-Key (PCIe 4.0 x4/SATA, 22110/2280/2260)
1x M.2/M-Key (PCIe 4.0 x4, 2280/2260)
1x M.2/E-Key (PCIe, 2230, belegt mit WiFi+BT-Modul)
1x USB-C 3.1 (20-Pin Key-A Header)
4x USB 3.0 (zwei Header)
2x USB 2.0 (ein Header)
1x Power LED and Speaker Header
2x RGB LED Header
2x Addressable LED Header
1x CPU Fan (4-Pin)
1x CPU Fan/Pumpe (4-Pin)
3x Chassis Fan/Pumpe (4-Pin)
1x Front Panel Audio
1x Dr. Debug with LED
1x Power Button with LED
1x Reset Button with LED
1x Clear CMOS Button
Externe Anschlüsse:
2x WLAN-Antenne
1x PS/2 Maus/Keyboard
2x USB 3.1 Typ A (10 Gb/s)
1x USB 3.2 Typ C (20 Gb/s)
4x USB 3.0 Typ A
1x 2.5GBase-T (Realtek RTL8125AG)
1x Gb LAN (Intel I211-AT)
1x BIOS Flashback Button
1x Optical SPDIF Out Port
5x 3,5-mm-Audiobuchse
Stromversorgung:
1x 24-Pin ATX12V
2x 8-Pin ATX12V
Besonderheiten: integrierte RGB-LED-Beleuchtung
Zubehör:
Schnellanleitung
Support CD
4x SATA Kabel
1x ASRock SLI_HB_Bridge_2S
1x ASRock HYPER QUAD M.2 Karte
1x ASRock WiFi 2.4/5 GHz Antenne
1x ASRock Schraubendreher
6x Schrauben für M.2 Sockel
2x Abstandhalter für M.2 Sockel
Herstellergarantie: 2 Jahre
Further links for

"TRX40 Taichi, AMD TRX40 Mainboard - Sockel sTRX4"
Videos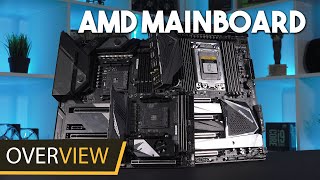 Technical Details
| | |
| --- | --- |
| Motherboard form factor | ATX |
| CPU socket | sTRX4 |
| Motherboard Chipset | AMD TRX40 |
| Memory slots | 8x |
| Memory type | DDR4 |
| max. Memory | 256 GB |
| PCIe (4.0) x16 (mechanisch) | 3x |
| PCIe (4.0) x1 | 1x |
| Fan connectors (4-Pin PWM) | 5x |
| LED Anschlüsse | RGB (4-Pin 5050 12VGRB) 2x, Digital RGB (3-Pin 5VDG) 2x |
| SATA 6G internal | 8x |
| M.2 (PCIe 4.0 x4) | 1x |
| M.2 (PCIe 4.0 x4 / SATA 6G) | 1x |
| USB 3.2 extern (Typ C) | 1x |
| USB 3.1 external (Type A) | 2x |
| USB 3.0 external | 4x |
| USB 3.1 internal | 1x |
| USB 3.0 internal | 4x |
| RJ-45 (LAN) Ports | 2x (in total), 1x 1 Gbit/s, 1x 5 Gbit/s |
| Wifi | yes |
| Illumination | yes |
| Illumination colour | RGB (selectable) |
| LED Kompatibilität | ASRock Polychrome Sync |