ASUS


GLADIUS 2 Origin COD-Edition Gaming Maus
Professionelle Gaming-Maus von ASUS
optischer PixArt PMW 3360 Sensor mit 12.000 DPI
hochwertige Omron-Switches
RGB-LED-Beleuchtung
insgesamt sechs Tasten
Item number: GAMO-763
EAN: 4718017117159
MPN: 90MP00U2-B0UA00
Manufacturer: ASUS
Product information -
GLADIUS 2 Origin COD-Edition Gaming Maus
Mit der Gladius 2 Origin Call of Duty - Black Ops 4 Edition präsentiert ASUS den Nachfolger des Gladius-Modells, der sich natürlich ebenfalls in die Republic-of-Gamers-Serie einreiht, optimal für Rechtshänder ist und mit einigen technischen Verbesserungen daherkommt. Das neue Modell bietet nun einen optischen PixArt PMW 3360 Sensor mit bis zu 12.000 DPI, eine erweiterte RGB-LED-Beleuchtung, langlebigere Tastenschalter sowie eine zusätzliche Taste und ein abnehmbares USB-Kabel. Das Besondere an dieser Call of Duty - Black Ops 4 Edition ist nicht nur das beleuchtete Emblem, sondern auch, dass die RGB-LED-Beleuchtung mit Aktionen im Spiel synchronisieren lässt.

Dabei eignet sich die Gladius 2 Origin Call of Duty - Black Ops 4 Edition vor allem für schnelle FPS-Titel. Das liegt nicht nur am extrem schnellen optischen Sensor, der über 12.000 DPI verfügt und eine Abtastrate von 250 Zoll pro Sekunde sowie eine Beschleunigung von 50 G ermöglicht. Der Sensor arbeitet darüber hinaus bei einer Lift-Off-Distanz von 1,5 mm. Diese Wahnsinnszahlen klingen neben den ganzen Features, die die Gladius 2 Origin bieten kann schon fast wie Beiwerk.
Die ASUS Gladius 2 Origin Call of Duty - Black Ops 4 Edition Gaming-Maus im Überblick:
Optischer PixArt PMW 3360 Sensor mit 12.000 DPI
3-Zonen-RGB-LED-Beleuchtung mit ASUS Aura Support
Hochwertige Omron-Tastenschalter für lange Haltbarkeit
Sechs frei programmierbare Tasten
Abnehmbares USB-Kabel
ROG-Armoury-Schnittstelle
Ergonomische Gaming-Maus mit optischen PixArt Sensor
Die herausragende Ergonomie der Maus wird vor allem durch die beiden Gummibeschichtungen an den Seiten, aber auch durch die voneinander abgetrennten Maustasten sowie die gesamte Formgebung der Maus herausgestellt. Die Oberfläche ist aus Soft-Touch-Materialien gefertigt, die Schwitzen und Kleben an der Maus stark reduzieren.

Im Inneren der Gladius 2 Origin Call of Duty - Black Ops 4 Edition befinden sich japanische Omron-Schalter, die eine Lebensdauer von mindestens 50 Millionen Klicks haben. Mit dem exklusiven Push-Fit-Schaltersockeldesign wird für einen benutzerdefinierten Klick-Widerstand gesorgt, denn die beiden Switches lassen sich mit zwei weiteren Omron-Schaltern, die im Lieferumfang enthalten sind, einfach austauschen, wodurch ein anderer Klick-Widerstand generiert wird.

Die Maus verfügt über sechs Tasten, die dank des internen Speichers allesamt programmierbar sind. Die beiden Tasten an der Seite der Maus ermöglichen eine einfache Handhabung über den Daumen. Das ergonomische Design der Maus funktioniert dabei für die meisten typischen Griffarten eines rechtshändigen Spielers: So lässt sich die Maus optimal bedienen, wenn die ganze Hand auf der Maus liegt, wenn die Hand wie eine Klaue auf die Maus gelegt wird oder wenn nur die beiden Finger auf den Klicktasten anliegen. Zudem sind die beiden Haupt-Maustasten extra voneinander getrennt angelegt, um ein "Verklicken" zu verhindern. Das Scrollrad besitzt einen Alps-Encoder, sodass der Spieler es in ganz präzisen Stufen drehen kann.

Das USB-Kabel lässt sich dabei auch abnehmen. Zudem gibt es hier eine Sicherung, die verhindert, dass man das Kabel aus Versehen ausreißt. Außerdem sind gleich zwei Kabel mitgeliefert. Einmal ein 1 Meter langes normales Kabel zum Transportieren und Mitnehmen, sowie ein umflochtenes 2 m langes Kabel für den Heimgebrauch. Zusätzlich ist eine kleine Transporttasche für die Maus enthalten.

Auch optisch kann die Gladius 2 Origin Call of Duty - Black Ops 4 Edition mit erweiterter RGB-LED-Beleuchtung überzeugen. Es leuchtet daher nicht nur das Logo und Mausrad, sondern auch der Unterboden der Maus. Aufgrund der RGB-LEDs können somit eindrucksvolle Effekte erzeugt werden. Die exklusive ROG Armoury-Schnittstelle erlaubt es zudem Knöpfe, Leistungseinstellungen, Lichteffekte und Oberflächenkalibrierung in unendlich vielen Profilen zu programmieren.

Technische Details:
Maße: 67 x 45 x 126 mm (B x H x T)
Gewicht: 110 g (ohne Kabel)
Farbe: Stahlgrau
Layout: Rechtshändig
Programmierbare Tasten: 7 (inkl. Scroll-Rad)
Sensor: PixArt PMW 3360 (optisch)
Auflösung: 12.000 DPI
Abtastrate: 250 IPS (6,35 m/s)
Beschleunigung: 50 G
Beleuchtung: Multi-Color (Logo, Mausrad, Unterboden)
Anschluss: USB
Lieferumfang:
1x Gladius 2 Origin Call of Duty - Black Ops 4 Edition
1x USB-Kabel (umflochten, 2 m)
1x USB-Kabel (1 m)
2x Omron-Switches
1x ROG-Pouch
1x ROG-Logo-Stickers
Further links for

"GLADIUS 2 Origin COD-Edition Gaming Maus"
Videos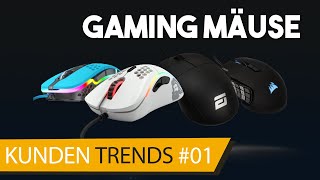 Technical Details
| | |
| --- | --- |
| Form Factor | right-handed |
| Number of Buttons | more than 6 |
| Sensor | optical |
| Sensor Model | Pixart PMW 3360 |
| DPI Adjustment | no |
| DPI max. | 12 000 DPI |
| Cable length | 190 to 209 cm |
| Connectivity | USB |
| Primary colour | black |
| Illumination | yes |
| Illumination colour | orange |
| Adjustable weight | no |
| Weight in g | 100 - 200 g |
| Makro Support | no |
Awards
+ Fantastic sensor performance
+ Top-tier wireless response time
+ Very good buttons
+ Great choice of materials
+ Good build quality
+ Nice-looking RGB lighting with sync for many other ROG products
+ Hot-swappable main buttons, with easy disassembly
+ Comfortable for palm gripping with even large hands

read more...