ASUS


GLADIUS 2 Wireless Gaming Maus
Professionelle kabellose Gaming-Maus von ASUS
optischer Sensor mit 16.000 DPI
hochwertige und wechselbare Omron-Switches
RGB-LED-Beleuchtung
Asus Aura kompatibel
insgesamt sechs Tasten
Item number: GAMO-804
EAN: 4718017060011
MPN: 90MP00Z0-B0UA00
Manufacturer: ASUS
Product information -
GLADIUS 2 Wireless Gaming Maus
Crysis Remastered ab sofort zu ausgewählten ASUS- & ROG-Produkten bei Caseking!
Innerhalb des Aktionszeitraumes bzw. solange der Vorrat reicht gibt es bei Caseking zu qualifizierten ASUS-Produkten aus den den Kategorien Mainboards, Monitore, Headsets, Mäuse, Tastaturen, Netzteile, Wasserkühlung und Gehäuse das Spiel Crysis Remastered mit dazu. Einen Code zur Beantragung direkt bei ASUS erhalten Caseking-Kunden von uns innerhalb von 14 Tagen nach dem Kauf per E-Mail. Das Erscheinungsdatum von Crysis Remastered ist aktuell unbekannt. [Update]
Hinweise:
Das Spiel muss mit dem von uns bereitgestellten Einlösecode direkt bei ASUS beantragt werden. Das Angebot ist limitiert und nur gültig, solange der Vorrat reicht bzw. bis zum Ablaufdatum der Aktion. Der Rechtsweg ist ausgeschlossen. Die Bearbeitungszeit beträgt bis zu 90 Werktage. Nur Kunden mit Wohnsitz in Deutschland und Österreich sind teilnahmeberechtigt. Die Aktion ist auf zwei Aktionsprodukte pro Kunde beschränkt. Ein Aktionsprodukt kann nur an einer Promotion teilnehmen. Nur Endkunden erhalten kostenlose Beigaben. Nicht qualifizierte Produkte sind nicht zum Bezug kostenloser Beigaben berechtigt.
---
Mit der
Gladius 2 Wireless
präsentiert
ASUS
den kabellosen Nachfolger des Gladius-Modells, der sich natürlich ebenfalls in die Republic-of-Gamers-Serie einreiht, optimal für Rechtshänder ist und mit einigen technischen Verbesserungen daherkommt. Das Wireless-Modell bietet einen optischen Sensor der Spitzenklasse mit bis zu 16 000 DPI, eine Aura Sync kompatible RGB-LED-Beleuchtung in drei Zonen, langlebige Omron-Tastenschalter, eine zusätzliche DPI-Taste und ein optionales USB-Kabel.
Die Asus Gladius 2 Wireless Gaming-Maus im Überblick:
Kabellose High-End-Gaming-Maus mit 16 000 DPI-Sensor
Verbindung per 2,4 Ghz Funk, Bluetooth oder USB
2-Zonen-RGB-LED-Beleuchtung mit ASUS Aura Support
Hochwertige Omron-Tastenschalter für lange Haltbarkeit
Push-Fit-Sockeldesign für leichten Austausch der Haupt-Schalter
Sechs frei programmierbare Tasten
ROG-Armoury-Schnittstelle
Ergonomische Gaming-Maus mit optischen High-End-Sensor
Die herausragende Ergonomie der Maus wird vor allem durch die beiden Gummibeschichtungen an den Seiten sowie durch die voneinander getrennten Haupttasten und die Rechtshänder-optimierte Formgebung der Maus erreicht. Das
ergonomische Design der Maus
funktioniert dabei für die meisten typischen Griffarten eines rechtshändigen Spielers: So lässt sich die Maus optimal bedienen, wenn die ganze Hand auf der Maus liegt, wenn die Hand wie eine Klaue auf die Maus gelegt wird oder wenn nur die beiden Finger auf den Klicktasten anliegen. Zudem sind die beiden Haupttasten extra voneinander getrennt angelegt, um ein "Verklicken" zu verhindern.
Mit ihrem
optischen 16 000 DPI-Sensor
, der eine Abtastrate von 400 Zoll pro Sekunde sowie eine Beschleunigung von 50 G eignet sich die
Gladius 2 Wireless
vor allem für schnelle FPS-Titel. Die Polling-Rate von 1000 Hz und die
schnelle Reaktionszeit von nur 1 Millisekunde
tragen ebenfalls zum flüssigen Spielgefühl bei. Im Inneren der
Gladius 2 Wireless
befinden sich japanische
Omron-Schalter
, die eine Lebensdauer von mindestens 50 Millionen Klicks aufweisen und für ihre Langlebigkeit und Zuverlässigkeit bekannt sind. Mit dem exklusiven
Push-Fit-Schaltersockeldesign
wird für einen benutzerdefinierten Klick-Widerstand gesorgt, denn die beiden Switches der Haupttasten lassen sich gegen andere Schalter aus den Omron-Serien D2F und D2FC austauschen. Im Lieferumfang sind bereits zwei Switches mit alternativen Klick-Widerstand enthalten.
Die Maus verfügt insgesamt über sechs programmierbare Tasten. Die beiden Schalter an der Seite der Maus ermöglichen eine einfache Handhabung über den Daumen. Auf der Oberseite der Maus befindet sich ein DPI-Switch um bequem und schnell zwischen unterschiedlichen DPI-Stufen schalten zu können. An der Unterseite ist ein Schalter angebracht, welcher den Wechsel zwischen den Verbindungsarten Bluetooth und 2,4 GHz Funk ermöglicht. Ein Betrieb kann alternativ auch über das beiliegende USB-Kabel erfolgen. Mit diesem kann der Akku auch während der Nutzung geladen werden. Keine akkubedingten Zwangspausen mehr!
Auch optisch kann die
Asus Gladius 2 Wireless
mit ihrer
2-Zonen-RGB-LED-Beleuchtung
überzeugen. Es leuchtet nicht nur das stylische Logo sondern auch das Mausrad. Dank der Asus-Aura-Sync-Kompatibilität kann die Beleuchtung mit anderen Geräten synchronisiert werden. Somit entstehen eindrucksvolle Effekte, die das ganze Gaming-Set erstrahlen lassen. Die exklusive
ROG Armoury-Schnittstelle
erlaubt es zudem Tastenbelegung, Leistungseinstellungen, Lichteffekte und Oberflächenkalibrierung in eigenen Profilen zu programmieren und im Onboard-Speicher der Maus zu hinterlegen. Somit sind alle Einstellungen nicht an nur einen Computer gebunden.
Technische Details:
Maße: 67 x 45 x 126 mm (B x H x T)
Gewicht: 124 g (ohne Kabel)
Farbe: Schwarz
Layout: Rechtshändig
Programmierbare Tasten: 6 (inkl. Scroll-Rad)
Sensor: optisch
Auflösung: 100 bis 16 000 DPI
Abtastrate: 400 IPS (10,16 m/s)
Beschleunigung: 50 G
Pollingrate:
Bluetooth: 125 Hz
2,4 GHz Funk: 1000 Hz
Beleuchtung: 2-Zonen, RGB (Logo, Mausrad)
Anschluss: Drahtlos, USB
Akkulaufzeit:
Bluetooth: bis zu 25 Stunden mit RGB-Beleuchtung, bis zu 57 Stunden ohne RGB-Beleuchtung
2,4 GHz Funk: bis zu 24 Stunden mit RGB-Beleuchtung, bis zu 36 Stunden ohne RGB-Beleuchtung
Lieferumfang:
1x Gladius 2 Wireless Gaming-Maus
USB-Empfänger
1x USB-Kabel (2 m)
2x alternative Omron-Switches
1x ROG-Pouch
1x ROG-Logo-Sticker
Kompatible Omron-Switches:
Omron D2F Serie: D2F, D2F-F, D2F-01, D2F-01F
Omron D2FC Serie: D2FC-3M, D2FC-F-7N, D2FC-F-7N(10M), D2FC-F-7N(20M)
Further links for

"GLADIUS 2 Wireless Gaming Maus"
Videos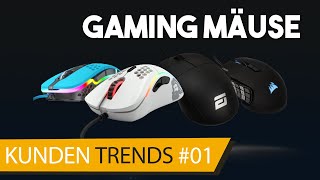 Technical Details
| | |
| --- | --- |
| Form Factor | right-handed |
| Number of Buttons | 6 |
| Sensor | optical |
| DPI Adjustment | yes |
| DPI max. | 16 000 DPI |
| Cable length | wireless |
| Connectivity | USB, Wireless |
| Primary colour | black |
| Illumination | yes |
| Illumination colour | RGB (selectable) |
| Adjustable weight | no |
| Weight in g | 100 - 200 g |
Awards
+ Fantastic sensor performance
+ Top-tier wireless response time
+ Very good buttons
+ Great choice of materials
+ Good build quality
+ Nice-looking RGB lighting with sync for many other ROG products
+ Hot-swappable main buttons, with easy disassembly
+ Comfortable for palm gripping with even large hands

read more...