ASUS


Maximus XI HERO Wi-Fi, Intel Z390 Motherboard, RoG - Socket 1151
ATX motherboard with Z390 chipset
3x PCIe 3.0 x16 (x16/x8/x4) & 3x PCIe x1
5x USB 3.1 / 4x USB 3.0 / 6x USB 2.0
2x M.2 (2x PCIe 3.0 x4) / 6x SATA 6G
digitally addressable RGB-LED lighting

Only compatible with 8th and 9th generation Intel CPUs!
Item number: MBAS-412
EAN: 4718017124133
MPN: 90MB0XR0-M0EAY0
Manufacturer: ASUS
Product information -
Maximus XI HERO Wi-Fi, Intel Z390 Motherboard, RoG - Socket 1151
The Z390 chipset on the
ASUS Maximus XI HERO Wi-Fi
replaces Intel's Z370 chipset for their range of high-end 8th generation processors. Assitionally Z390 motherboards support Intel's new ninth gen Core series processors (Coffee Lake-S refresh). Also introduced are features like chip-side WiFi support - although a WiFi module must still be present - as well as native USB 3.1 support, meaning that these abilities no longer need to be provided by additional chips.
The Features of the ASUS Maximus XI HERO Wi-Fi Motherboard at a Glance:
3x PCIe (3.0) x16 (x16/x8/x4) & 3x PCIe x1
5x USB 3.1 (4x Type A & 1x Type C)
Total of 4x USB 3.0 and 6x USB 2.0 (internal & external)
2x M.2 (2x PCIe 3.0 x4) / 6x SATA 6G
Supports max. 64 GB DDR4-RAM at 4.400 MHz
Integrated LED lighting with RGB-LED header
Integrated WiFi- and Bluetooth modules
The ASUS Maximus XI HERO Wi-Fi in Detail
The
ASUS Maximus XI HERO Wi-Fi
motherboard (ATX) includes a total of
three PCIe x16 slots
, one of which is connected to the chipset via a full 16 lanes, while the others use four/eight lanes. For additional upgrades and expansion cards, the motherboard offers
three PCIe x1 slots
. Additionally multiple graphics cards may be installed on the motherboard simultaneously via AMD CrossFire or NVIDIA's SLI technologies.
The four DIMM slots support up to 64 GB DDR4-RAM in Dual-Channel Mode. The Z390 chipset natively supports frequencies up to 2.666 MHz, and with overclocking, the
ASUS Maximus XI HERO Wi-Fi
is capable of driving
RAM kits up to 4.400 MHz
. For hard drives and SSDs, the board offers six SATA 6G connectors and
two M.2 slots
. Both M.2 slots are connected to the chipset with four PCIe lanes and support the NVMe protocol which enables data transfer rates of nearly 4 GB/s. This makes M.2 PCIe SSDs up to eight times faster than SATA 6G SSDs!
The I/O panel of the
ASUS Maximus XI HERO Wi-Fi
provides one
USB 3.1 Type C connector
. This new kind of USB Type C port is particularly slim and connectors can be plugged in either way. USB 3.1 or USB 3.1 Gen 2 can achieve speeds of up to 10 Gbit/s per port and USB ports with this standard generally support the fast charging function on smartphones and tablets. Furthermore, the I/O panel offers three further USB 3.1 Type A ports, two USB 3.0- and two USB 2.0 ports as well as an HDMI- and a DisplayPort connector. Internally the motherboard provides a generous selection of connectors and headers.
In terms of the special features of the
ASUS Maximus XI HERO Wi-Fi
, it has a striking cooler design and integrated digital RGB-LED lighting. Furthermore the motherboard includes a WiFi module compatible with the 802.11ac standard as well as Bluetooth 5.0 and premium audio quality thanks to the ESS ES9023P chipset. Antennae for the WiFi as well as an SLI Bridge are included with the motherboard.
Only compatible with 8th and 9th generation Intel CPUs!
Technical Details:
Format:
ATX
Chipset:
Intel Z390
Socket:
1151(v2) (for 8th- and 9th Core generation Intel CPUs)
RAM:
4x DDR4 (2.666 MHz, up to 4.400 MHz via OC)
Dual-Channel
Max. 64 GB
Slots (physical):
1x PCIe 3.0 x16
1x PCIe 3.0 x16 (electrical x8)
1x PCIe 3.0 x16 (electrical x4)
Compatible Multi-VGA Configurations: 3-Way AMD CrossFire, 2-Way NVIDIA SLI
3x PCIe 3.0 x1
1x M.2 Key E (vertical, occupied by WiFi/BT Module, incl. 802.11ac)
Internal Connections:
6× SATA 6G
1x M.2 (PCIe 3.0 x4; 2242 / 2260 / 2280 / 22110)
1x M.2 (PCIe 3.0 x2 & SATA; 2242 / 2260 / 2280)
1x USB 3.1 (one header)
2x USB 3.0 (one header)
4x USB 2.0 (two headers)
1x CPU Fan Header (4-Pin)
1x CPU_OPT Fan Header (4-Pin)
1x EXT_FAN Header (5-Pin)
3x Fan-Header (4-Pin)
1x AiO-Pump Header (4-Pin)
1x Pump Connector (4-Pin)
1x EXT_Fan Header (5-Pin)
1x W_PUMP+ Connector (4-Pin)
1x W_IN Header
1x W_OUT Header
1x W_FLOW Header
1x H_AMP Fan Connector
1x TPM Header
1x Thermal Sensor Header
1x Start Button
1x Reset Button
1x Retry Button
1x MemOK! Button
1x Front Panel Audio C
2x AURA RGB Header (4-Pin)
2x AURA Adressable RGB Header (3-Pin)
External Connectors:
1x PS/2 Keyboard/Mouse
4× USB 3.1 (3× Type A and 1x Type C)
2x USB 3.0
2x USB 2.0
1x HDMI 1.4b
1x DisplayPort 1.2
1x Gigabit-LAN (Intel I219-V)
1x S/PDIF
5x Audio (ESS ES9023P)
Power Supply:
1x 24-Pin ATX 12V
1x 8-Pin ATX 12V
1x 4-Pin ATX 12V
Further links for

"Maximus XI HERO Wi-Fi, Intel Z390 Motherboard, RoG - Socket 1151"
Videos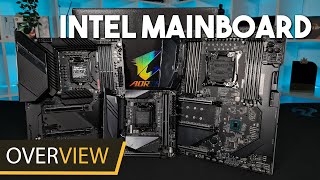 Technical Details
| | |
| --- | --- |
| Motherboard form factor | ATX |
| CPU socket | 1151 |
| Motherboard Chipset | Intel Z390 |
Awards
Pros:

+ Plenty of fan headers with excellent control.
+ Conservative, neutral styling.
+ Good RGB control and ample headers.
+ Excellent UEFI.
+ Smart AI Overclocking tool.
+ Solid M.2 heatsinks.
+ Strong Wi-Fi solution with Multi-Gate Teaming software.
+ Onboard buttons and LEDs.
+ High quality audio solution.

read more...

Positive Eigenschaften des ASUS ROG Maximus XI Hero (Wi-Fi):

+ sehr gute Leistungsfähigkeit mit einer sehr guten CPU-Spannungsversorgung
+ jeweils einmal 8-Pin- und 4-Pin-Stromanschluss für erweitertes Overclocking
+ umfangreiche Ausstattung, u.a. sechs SATA-Schnittstellen und fünf USB-3.1-Gen2-Buchsen
+ PCI-Express-3.0-Unterstützung an drei PEG-Slots
+ sehr gute Gesamtperformance und sehr gute Stabilität
+ hervorragende Energie-Effizienz
+ zwei M.2-Schnittstellen inkl. Passivkühler
+ WLAN-ac (max. 1,73 GBit/s) und Bluetooth 5.0 (nur das Wi-Fi-Modell)

read more...

DD World - ASUS ROG MAXIMUS XI HERO (WI-FI) - Top board with everything?

ASUS ROG MAXIMUS XI HERO (WI-FI) is exactly what you expect it to be. Simply an excellent motherboard for demanding home users in every respect. So, while the Core i5-9600K / i7-9700K and i9-9900K processors are definitely not, and leaving aside their incredible selling price, the Z390 board does not bring anything new, they are definitely better. Must be.

ASUS is spot on with the new Maximus XI HERO. it is a very enjoyable motherboard with a refined BIOS. We like new VRM design and heatsinks that go along with it. A bit of a miss is that ASUS stuck towards 1 Gbps Ethernet. Realtek now has 2.5 Gbps available and Aquantia 10 Gbps Ethernet. The Z390 Maximus XI Hero certainly is a nice looking product, the board kicks in nicely with exactly the right amount of RGB LEDs, and once activated it's just a completely different board to look at. The LEDs give the product really nice looks.

read more...

The Maximus XI Hero topped the list to be discussed for a few reasons. Not only is it a beautiful board, with a good power supply that will also meet a new i9 (more about that soon) and enough connections for practically everything that falls within the reasonable range. That plus a beautiful, not extremely exaggerated appearance will quickly lead to the conclusion that you want it (at least, if you share my opinion that this is wonderful).

But actually the Hero is of course also a kind of icon. That name has been flagship for some time for the normal man, plates like the water-cooled Formula or the x-OC Gene are a niche, and for me it is the successor of my own Hero as well as the successor of what our recent go-to board has been for most of the component tests: the Maximus X Hero. An honor that a board only future if he can handle everything and also performs consistently regardless of what we connect to it, signs that are top without exaggerating.

read more...