ASUS


ROG Strix X570-E Gaming, AMD X570-Mainboard - Sockel AM4
ATX-Mainboard mit AMD X570-Chipsatz
RGB-LED-Beleuchtung & RGB-Header
RAM-OC bis 4.400 MHz
2x M.2 mit PCIe 4.0 x4 / 8x SATA 6G
3x PCIe 4.0 x16

für Ryzen-5000-CPUs kann ein BIOS-Update erforderlich sein
Item number: MBAS-451
EAN: 4718017380515
MPN: 90MB1150-M0EAY0
Manufacturer: ASUS
Product information -
ROG Strix X570-E Gaming, AMD X570-Mainboard - Sockel AM4
Der AMD X570 High-End-Chipsatz unterstützt AMDs Ryzen-3000-Prozessoren (Codename: Matisse) und deren vollständiges Feature-Set, allem voran den PCI-Express-Standard in der Version 4.0 (PCIe 4.0). PCIe 4.0 ist dabei abwärtskompatibel und kann mit allen Erweiterungskarten vorheriger Generationen verwendet werden. Pro PCIe-4.0-Lane ist eine im Vergleich mit PCIe 3.0 doppelt so hohe Datentransferrate möglich, sodass eine über vier PCIe-4.0-Lanes angebundene NVMe-SSD eine theoretische Lese-/Schreibgeschwindigkeit von bis zu 7,8 GB/s erreichen kann. Jedes Mainboard mit dem X570-Chipsatz eignet sich darüber hinaus auch für alle anderen AMD-CPU-Serien für den Sockel AM4.
Hinweis:
Die folgenden Spezifikationen bezüglich der PCIe-Lanes, Anbindung der M.2-Steckplätze und Anbindung der PCIe-Slots beziehen sich auf die Kombination von X570-Chipsatz mit einer Ryzen-CPU der dritten oder vierten Generation (Zen 2 "Matisse" / Zen 3 "Vermeer")! Für die Nutzung eines Ryzen-5000-Prozessors kann ein BIOS-Update erforderlich sein. Dieses wird auf Anfrage von unserem King Mod Service durchgeführt.
Die Features des ASUS ROG Strix X570-E Gaming-Mainboards auf einen Blick:
Umfangreiche RGB-LED-Beleuchtung mit Aura Sync
Insgesamt 4 RGB-LED-Header zum Anschließen von z. B. RGB-Strips
DDR4-Speicher bis 3.200 MHz, mittels RAM-OC bis 4.400 MHZ MHz
1x M.2-Slot mit x4 PCIe-4.0- Anbindung direkt an die CPU
1 weiterer M.2-Slot mit PCIe-4.0-x4-Anbindung über den Chipsatz
3x PCIe 4.0 x16-Slots für High-End-Grafikkarten
USB am I/O-Panel: 7x USB 3.1 Typ A / 1x USB 3.1 Typ C
Interne USB-Anschlüsse: 4x USB 2.0 / 2x USB 3.0 / 1x USB 3.1
Insgesamt 7x 4-Pin-PWM-Header für Lüfter und Pumpen
Das ASUS ROG Strix X570-E Gaming im Detail:
Das
ASUS ROG Strix X570-E Gaming
ist ein Mainboard im ATX-Format und verfügt über eine
umfangreiche RGB-LED-Beleuchtung am Chipsatzkühler sowie der Abdeckung am I/O-Panel
. Die Beleuchtung kann über die
Armoury Crate
-Software des Herstellers gesteuert werden. Weitere RGB-LED-Komponenten können über
zwei 4-Pin-RGB-Header (12V)
sowie
zwei digital adressierbare 3-Pin-RGB-Header (5V)
angeschlossen und gesteuert werden, sofern sie mit der RGB-Software des Mainboards kompatibel sind.
Für Grafikkarten stehen
zwei PCIe-4.0-Slots
im x16-Format zur Verfügung, die direkt über insgesamt 16 PCIe-4.0-Lanes an den Ryzen-3000-Prozessor angebunden sind. Ein weiterer PCIe-x16-Slot ist über
4
Lanes an den Chipsatz angebunden (PCIe 4.0 bei Ryzen 3000; PCIe 3.0 bei allen Vorgängergenerationen). Für Steck- und Erweiterungskarten stehen zusätzlich zwei PCIe-x1-Slots zur Verfügung.
Schnellere Anschlüsse dank PCI-Express 4.0
Die Ryzen-3000-CPUs stellen vier PCIe-4.0-Lanes zur direkten Anbindung von NVMe-SSDs bereit. Bei diesem X570-Mainboard werden diese vier Lanes für die Anbindung eines einzelnen M.2-Slots für NVMe-SSDs genutzt. Über den X570-Chipsatz werden neben
einem weiteren M.2-Steckplatz mit x4-Anbindung
auch acht SATA-6G-Anschlüsse bereitgestellt.
Am I/O-Panel bietet das
ASUS ROG Strix X570-E Gaming
acht USB-3.1-Anschlüsse, einmal mit Typ C und siebenmal mit Typ-A-Buchse
. USB 3.1 bzw. USB 3.1 Gen 2 erreicht maximale Geschwindigkeiten von 10 Gbit/s je Port und USB-Ports mit diesem Standard unterstützen in der Regel die Schnellladefunktion von Smartphones und Tablets, während der neuartige USB-Typ-C-Port besonders dünn ist und beidseitig eingesteckt werden kann.
Weiterhin bietet dieses X570-Mainboard Features wie ein WLAN-/BT-Modul, einen 2,5-Gigabit-LAN-Port, Dual-LAN-Ports mit zwei Netzwerk-Chips (Intel I211AT, Realtek RTL8125-CG), On-Board-Sound (Realtek S1220A Audio Codec), verstärkte PCIe-Slots sowie zahlreiche interne Header. Mit an Bo(a)rd sind zudem OC-Features, eine optimierte Spannungsversorgung, eine Clear-CMOS-Taste sowie ein BIOS-Flashback-Button und Unterstützung für OC-RAM-Kits.
Technische Details:
Format
ATX (305 x 244 mm)
Chipsatz
AMD X570
Sockel:
AM4 (für Pinnacle Ridge / Summit Ridge / Bristol Ridge / Raven Ridge / Matisse / Picasso / Vermeer)
RAM:
4x DDR4 (max. 3.200 MHz, 4.400 MHZ im OC)
Dual-Channel
max. 128 GB
Slots (mit Ryzen 3000 "Matisse" und Ryzen 5000 "Vermeer"):
2x PCIe 4.0 x16 (x16, x8/x8)
1x PCIe 4.0 x16 (elektrisch x4)
Multi-GPU-Konfigurationen: 3-way AMD CrossFire / 2-way NVIDIA SLI
Multi-GPU-Konfigurationen: Quad-GPU CrossFire / Quad-GPU NVIDIA SLI
2x PCIe 4.0 x1
Interne Anschlüsse:
8x SATA 6G (RAID 0, 1, 10)
1x M.2 (M-Key, PCIe 4.0 x4 mit max. 64 Gbit/s und SATA 6G, horizontal, Größen 2242 bis 22110)
1x M.2 (M-Key, PCIe 4.0 x4 mit max. 64 Gbit/s und SATA 6G, horizontal, Größen 2242 bis 22110)
2x USB 3.0 (ein Header)
4x USB 2.0 (zwei Header)
1x USB 3.1 (ein Header)
1x Front-Panel-Connector
1x Temperatursensor-Header
1x Node-Connector
1x Front-Panel-Audio-Connector (AAFP)
1x SPI-TPM-Header
Lüfter-Header:
1x CPU_FAN
1x CPU_OPT
1x AIO_PUMP
1x M.2_FAN
1x W_PUMP+
2x System-Lüfter
RGB-Header
2x 4-Pin RGB-Header (12V)
2x 3-Pin RGB-Header (digital, 5V)
Externe Anschlüsse:
1x HDMI 2.0
1x DisplayPort 1.2
1x USB 3.1 (Typ C, max. 10 Gbit/s)
7x USB 3.1 (Typ A, max. 10 Gbit/s)
1x 2,5-Gigabit-LAN (Realtek RTL8125-CG) 1x Gigabit-LAN (Intel I211-AT)
2x WLAN-Antenne (802.11ax / BT 5.0)
5x Audio (S1220A, 7.1 Sound)
1x Optical S/PDIF Out
BIOS-Flashback-Taste
Stromversorgung:
1x 24-Pin ATX12V
1x 8-Pin ATX12V
1x 4-Pin ATX12V
Lieferumfang:
4 x SATA-6G-Datenkabel
1 x M.2 Montageschrauben
1 x DVD mit Treibern und Utilities
1 x Strix-Türanhänger
1 x ROG Strix-Aufkleber
1 x Satz Kabelbinder
1 x WLAN-Antenne
1 x Verlängerungskabel für RGB-Strips (4-Pin, 80 cm)
1 x Verlängerungskabel für ARGB-Strips (3-Pin)
1 x Temperaturfühler-Kabel
1 x ROG-Dankeschön-Karte
Further links for

"ROG Strix X570-E Gaming, AMD X570-Mainboard - Sockel AM4"
Videos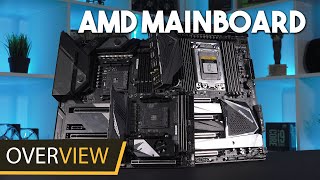 Technical Details
| | |
| --- | --- |
| Motherboard form factor | ATX |
| CPU socket | AM4 |
| Motherboard Chipset | AMD X570 |
| Memory slots | 4x |
| Memory type | DDR4 |
| max. Memory | 128 GB |
| PCIe (4.0) x16 (mechanical) | 3x |
| PCIe (4.0) x1 | 2x |
| Fan connectors (4-Pin PWM) | 7x |
| LED connectors | 2x RGB (4-Pin 5050 12VGRB), 2x Digital RGB (3-Pin 5V/12VDG) |
| SATA 6G internal | 8x |
| M.2 (PCIe 4.0 x4 / SATA 6G) | 2x |
| USB 3.1 internal | 1x |
| USB 3.0 internal | 2x |
| USB 3.1 external (Type C) | 1x |
| USB 3.1 external (Type A) | 7x |
| Display connectors | HDMI, Display Port |
| RJ-45 (LAN) Ports | 1x 1 Gbit/s, 1x 2,5 Gbit/s |
| Wifi & Bluetooth | yes |
| Lighting | yes |
| Lighting colour | RGB (selectable) |
| LED compatibility | ASUS Aura Sync |
| Primary colour | black |
| Secondary colour | grey, silver, white |
Awards
Pros:

+ Market-leading power delivery solution at this £300 price point.
+ Excellent boost frequencies from the latest AGESA ABBA BIOS.
+ 2.5Gb Ethernet.
+ All 10Gbps USB 3.2 Gen 2 on the rear IO.
+ Easy to use UEFI with good features.
+ Excellent fan control capability.
+ Decent chipset cooling solution.
+ Good RGB lighting onboard.

read more...