ASUS


ROG Swift PG258Q 62,23 cm (24,5 Zoll), 240Hz, G-SYNC, TN - DP, HDMI
Schneller Full-HD-Monitor von ASUS
24,5-Zoll-TN-Panel mit G-SYNC
16,7 Mio. Farben & 400 cd/m² Helligkeit
Bildwiederholfrequenz von 240 Hz
1x HDMI / 1x DisplayPort / 2x USB 3.0
EEK B
Gratis Versand mit Gutschein:
ASUS-VKFREI
(Gilt nur für ASUS Monitore)
Item number: TFAS-108
EAN: 4712900518023
MPN: 90LM0360-B01370
Manufacturer: ASUS
Product information -
ROG Swift PG258Q 62,23 cm (24,5 Zoll), 240Hz, G-SYNC, TN - DP, HDMI
Der
ASUS ROG Swift PG258Q
ist ein hochwertiger Gaming-Monitor, der für Enthusiasten und professionelle Gamer geschaffen wurde. Mit einer nahtlosen Bilddarstellung sorgt er für extrem flüssiges Gameplay. Das 24,5-Zoll-Display verfügt über ein schnelles TN-Panel mit Full-HD-Auflösung und nur 1 ms Reaktionszeit. Dank NVIDIA G-SYNC-Technologie und einer extremen Bildwiederholrate von 240 Hz werden Tearing und instabile Frameraten vermieden. Mit einer horizontalen und vertikalen Blickwinkelstabilität von 170°/160° lässt sich das Bild auch wunderbar betrachten, ohne wie bei Standard-Monitoren einzelne Farbtöne zu verlieren. Die Maximalhelligkeit von 400 cd/m², die 16,7 Mio. Farben sowie der statische Kontrast von 1000:1 tragen ebenfalls zu einem hervorragenden Bild bei.
Die Features des ASUS ROG PG258Q 62,2 cm (24,5 Zoll) Monitors im Überblick:
Scharfe Full-HD-Auflösung & 1 ms Reaktionszeit
Schnelles TN-Panel mit 16,7 Millionen Farben
Sehr hohe Bildwiederholfrequenz von 240 Hertz
NVIDIA G-SYNC-Technologie für extrem flüssiges Gameplay
Vielfältige ergonomische Funktionen wie Tilt, Swivel, Pivot & Höhenverstellung
Features wie: Ultra-Low-Blue-Light, Flicker-Free, GamePlus & GameVisual
Der ASUS ROG PG258Q: Gaming-Monitor mit eindrucksvollem Bild & praktischen Features
Der
PG258Q
ist eine ausgezeichnete Wahl für professionelle Gamer und alle die es werden wollen. Mit einer extrem schnellen
Bildwiederholrate von 240 Hertz
lassen sich auch schnellste Bewegungen auf dem Monitor stets flüssig und ohne frustrierende Lags darstellen. Damit behält man in jedem Spiel die Oberhand und ist seinem Gegner immer einen Schritt voraus. Die
Reaktionszeit von nur einer Millisekunde
verhindert zudem störende Schlierenbildung sowie Bewegungsunschärfe. Dank der
NVIDIA-G-SYNC
-Technologie synchronisiert sich die Bildwiederholrate des Monitors mit einer passenden GeForce- Grafikkarte, minimiert dadurch den Input-Lag und eliminiert Tearing komplett.
Damit die dargestellten Inhalte immer im Fokus des Nutzers bleiben, ist das ergonomische ROG-Design höhenverstellbar sowie schwenk-, kipp- und drehbar. Zudem lässt sich dank Kabelmanagement lästiges Kabelgewirr auf dem Schreibtisch vermeiden. Auch eine Befestigungsmöglichkeit nach dem
VESA-Standard 100 x 100 mm
ist selbstverständlich vorhanden. Der Standfuß ist sogar mit einer stylischen LED-Beleuchtung ausgestattet, die wirklich perfekt zum typischen Republic of Gamers Style passt.
Der
PG258Q
bietet an seinem mattschwarzen Gehäuse mit schmalen Rändern eine Vielzahl von Anschlussmöglichkeiten, inklusive
1x HDMI
,
1x DisplayPort
,
2x USB 3.0
sowie einen
3,5-mm-Kopfhöreranschluss
. Aufgrund des speziellen Kühldesigns des
PG258Q
eignet er sich auch perfekt für besonders lange Gaming-Sessions, denn das Entlüftungsdesign erzeugt völlig passiv und geräuschlos einen Luftstrom und kühlt somit effektiv die verbaute Hardware.
Dank ASUS-exklusiver, integrierter Funktionen lässt sich das Gaming-Erlebnis um ein Vielfaches verbessern. Die
ASUS GamePlus
-Technologie ermöglicht auf dem Bildschirm das Einblenden eines Crosshairs, eines Timers oder eines FPS-Counters und bietet sogar ein Feature zur schnellen und komfortablen Displayausrichtung. Die
ASUS GameVisual
-Technologie bietet sechs voreingestellte Bildschirm-Modi, die sich je nach Anwendungsbereich auswählen lassen und Werte wie Farbe, Farbsättigung, Kontrastschärfe oder Helligkeit anpassen. Mit Hilfe der
ASUS Ultra-Low-Blue-Light
-Technologie wird der schädliche blaue Lichtanteil reduziert, was vor allem für die Schonung der Augen von Vorteil ist. Natürlich ist auch hier die Flicker-Free-Technologie mit an Board, die lästiges Bildschirm-Flimmern reduziert und somit zu einem wesentlich komfortableren Gaming-Erlebnis führt.
Technische Details:
Allgemein:
Maße (mit Standfuß): 564,1 x 383,7-503,7 x 253,7 mm (B x H x T)
Maße (ohne Standfuß): 564,1 x 330,6 x 72,5 mm (B x H x T)
Gewicht (mit Standfuß): ca. 5,6 kg
Gewicht (ohne Standfuß): 3,14 kg
Farbe: Schwarz (matt)
Ergonomiefunktionen:
Tilt: +20°/-5°
Swivel: +/-50°
Pivot: ja
Höhenverstellbar: 120 mm
VESA-Standard: 100 x 100 mm (belegt)
Display:
Bildschirmdiagonale: 24,5 Zoll (62,2 cm)
Seitenverhältnis: 16:9
LCD-Panel: TN (matt)
Hintergrundbeleuchtung: White-LED
Maximale Auflösung: 1920 x 1080 Pixel
Bildwiederholfrequenz: 240 Hz
Farben: max. 16,7 Mio. (6 Bit + FRC)
Reaktionszeit: 1 ms (Grau-zu-Grau)
Kontrastverhältnis (statisch): 1.000:1
Maximale Helligkeit: 400 cd/m²
Betrachtungswinkel: 170° horizontal / 160° vertikal
Anschlüsse:
1x DisplayPort
1x HDMI
2x USB 3.0
3,5-mm-Kopfhörer-Anschluss
Herstellergarantie: 3 Jahre
Stromverbrauch (typisch / standby): 65 / < 0,5 Watt
Energieeffizienzklasse: B
auf einer EEK-Skala von A+++ (höchste) bis G (geringste Effizienz)
gemäß der delegierten Verordnung (EU) Nr. 1062/2010 der Kommission (EnVKV)
Further links for

"ROG Swift PG258Q 62,23 cm (24,5 Zoll), 240Hz, G-SYNC, TN - DP, HDMI"
Videos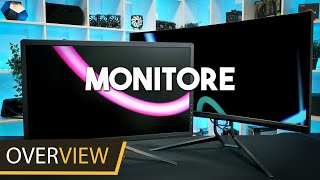 Technical Details
| | |
| --- | --- |
| Screen Size | 25 inch |
| Aspect Ratio | 16:9 |
| Screen resolution | Full HD (1920 x 1080 Pixel) |
| Refresh Rate | 144 Hz and higher, 240 Hz |
| Response time | 1 ms (grey-to-grey) |
| Helligkeit | 400 cd/m² |
| Kontrastverhältnis (statisch) | 1000:1 |
| Kontrastverhältnis (dynamisch) | 50 000 000:1 |
| Betrachtungswinkel | 170° horizontal / 160° vertikal |
| Farbtiefe | 8 Bit (max. 16.7 Mio. Farben) |
| Farbraum | 100% sRGB, 68% Adobe RGB |
| Curved Display | Nein |
| Panel type | TN |
| Display connectors | HDMI, Display Port |
| Height adjustment | yes |
| Pivot | yes |
| VESA Support | 100 x 100 mm |
| Feature | 240 Hz, NVIDIA G-SYNC, USB Hub |
| Speaker | no |
| Energy efficiency class | B |
Awards
Positive Aspekte des ASUS ROG PG258Q:

+ sehr schnell dank 240 Hz
+ keine Schlierenbildung
+ kein wahrnehmbarer Input-Lag
+ gute Bildqualität
+ Gaming-Features im OSD
+ gute Ergonomie-Funktionen

read more...