be quiet!


Dark Power Pro P11 modular Netzteil - 1000 Watt
Starkes 1000-Watt-Netzteil mit 80 PLUS Platinum
Kabelmanagement
83 A Leistung (12 V)
leisem Lüfter & Overclocking-Key
Item number: NEBE-140
EAN: 4260052183793
MPN: BN254
Manufacturer: be quiet!
Product information -
Dark Power Pro P11 modular Netzteil - 1000 Watt
Mit weiteren Innovationen im Detail stellt be quiet! mit den Pro 11 Netzteilen erneut einen hervorragenden Nachfolger der mehrfach prämierten Dark Power-Serie vor. Statt 80 PLUS Gold übertreffen jetzt alle Leistungsstufen 80 PLUS Platinum und erreichen bis zu 94 Prozent Wirkungsgrad. Abgesehen davon bleibt die grundlegende Konstruktion weitgehend bestehen - unter anderem der leise SilentWings Lüfter (jetzt allerdings in der Version Silent Wings 3 mit sechspoligem Motor), der innovative Overclocking-Key und das praktische Kabelmanagement.
Darüber hinaus ist das Netzteil einmal mehr sehr edel und zugleich extravagant gestaltet. Für einen Blickfang sorgt dabei vor allem das Lüftergitter. Doch auch der darunter sitzende 135er SilentWings-3-Lüfter überzeugt mit einer ungewöhnlichen und einzigartigen, stromlinienförmigen Rotorgestaltung und hochwertigem gekapselten FDB-Flüssigkeitslager. Er besitzt eine große Bandbreite an elektronischen und mechanischen Verbesserungen für eine bestmögliche Balance zwischen optimaler Kühlwirkung und einem leisen Betrieb. In Kombination mit dem überarbeiteten Drehzahlprofil arbeitet das Dark Power 11 daher noch leiser als der bei Silent-Freunden beliebte Vorgänger.
Um den maximalen Wirkungsgrad von sagenhaften 94 Prozent zu erreichen, kommt nur erstklassige Elektronik zum Einsatz - unter anderem ein modernes DC-DC-Modul und enorm hochwertige 105° -zertifizierte japanische Kondensatoren. Die Blindleistungskorrektur (PFC) ist mit 99 Prozent ebenfalls nahezu perfekt. Doch auch im Stand-By zeigt sich das Netzteil enorm stark und verbraucht weniger als 0,10 Watt.
Satte 850 Watt stellt diese Version des Dark Power Pro 11 als Dauerleistung zur Verfügung. Die 12-V-Leitung bietet dabei eine kombinierte Stromstärke von enormen 83 Ampere bei einer Gesamtleistung von 1.000 Watt und ist vierfach gesplittet, wobei die Einzelleitungen jeweils 32 bis 40 Ampere bieten. Standardmäßig handelt es sich beim P11 daher um ein Multi-Rail-Netzteil.
Ein bisher einmaliges Ausstattungsmerkmal stellt der sogenannte Overclocking-Key dar. Hierbei handelt es sich um einen Schalter, der es erlaubt, das Netzteil auf Wunsch als Single-Rail-Netzteil zu betreiben. Je nach Schalterstellung wird die 12-V-Leitung entweder vierfach aufgespalten oder als einzige, starke Leitung betrieben. Der Schalter befindet sich dabei auf einer PCI-Blende und kann in einen freien Steckplatz montiert werden. Ein Griff zur Gehäuserückseite und der Modus ist gewechselt.
Der Vorteil: Aufgespaltene 12-V-Schienen bieten eine höhere Betriebssicherheit, sind einzeln jedoch nur begrenzt belastbar. Saugt nun eine einzelne Komponente mehr als eine der gesplitteten Leitungen zulässt - was beim extremen übertakten durchaus vorkommen kann - dann deaktiviert sich das Netzteil. Mit einer einzigen, zusammengeschalteten 12-Volt-Leitung wird die Belastungsgrenze hingegen erst mit der Maximalleistung der kombinierten 12-V-Power erreicht.
Auch das Anschlussarsenal lässt kaum einen Wunsch offen und ist wie bei allen Dark-Power-Modellen modular gestaltet. Dabei ist lediglich der 20+4-Pin Mainboard-Anschluss fest verdrahtet, was maximale Flexibilität und minimalen Kabelsalat garantiert. Selbst Server-Platinen mit zwei CPU-Sockeln und Bedarf an zwei 8-Pin-EPS-Anschlüssen stellen kein Problem dar.
Für die Grafikkarten stehen insgesamt neun PCIe-Stecker bereit, von denen einer 6 Pin und acht weitere 6+2-Pin besitzen. Ebenso spendabel wird die Peripherie mit zehn SATA, acht 4-Pol-Molex und zwei Floppy bedacht.
Eine sehr praktische Lösung stellen zudem vier separate Anschlüsse für Gehäuselüfter dar. Die angeschlossenen Lüfter werden automatisch vom Netzteil gesteuert, womit je nach Belastungszustand eine optimale Kühlung bereit steht und gleichzeitig eine minimale Geräuschbelastung garantiert ist. Damit ist eine zusätzliche Lüftersteuerung oder Spannungsdrosselung nicht mehr notwendig - es sei denn, diese sollen gezielt beeinflusst werden.
Ebenfalls hervorzuheben ist der kostenlose Vor-Ort-Austausch (innerhalb Deutschlands und Frankreichs) im ersten Jahr. Innerhalb von 48 Stunden wird das Netzteil im Falle eines Defekts daher direkt bei Ihnen zu Hause gewechselt. Längere Wartezeiten durch Versand, Herstellerprüfung etc. gehören damit der Vergangenheit an.
Technische Details:
Maße: 150 x 86 x 193 mm (B x H x T)
Lüfter: 135 mm (SilentWings 3, 10,1 - 26,3 dB(A))
Effizienz: mindestens 92/90/89 % bei 50/20/100 % Last und 115 Volt Eingangsspannung, inkl. 80 PLUS Platinum Zertifikat. Effizienz im deutschen 230-Volt-Netz liegt leicht höher.
Aktiv PFC (0,99)
Formfaktor: ATX12V 2.3 / EPS 2.92
Dauerleistung: 1.000 W
+3,3V: 25 A
+5V: 25 A
3,3V+5V: 150 W
+12V1: 32 A
+12V2: 32 A
+12V3: 40 A
+12V4: 40 A
+12V (kombiniert): 996 W / 83 A
-12V: 0,5 A (6 W)
+5Vsb: 3 A (15 W)
Anschluss (fest):
1x 20+4-Pin
Anschlüsse (modular):
1x 8-Pin (EPS12V)
1x 4+4-Pin (ATX12V, EPS12V)
8x 6+2-Pin PCIe
1x 6-Pin PCIe
10x SATA
8x 4-Pol Molex
2x Floppy
4x 4-Pol Molex / 3-Pin für Lüfter
Kabellänge: 60 - 120 cm
Schutzschaltungen:
OVP (Sicherung gegen Über- und Unterspannung)
UVP (Unterspannungsschutz)
SCP (Kurzschluss)
OPP (Überlast)
OTP (Übertemperaturschutz)
OCP (Überstrom auf den Schienen +12, +3,3 und +5 Volt)
Herstellergarantie: 5 Jahre
Further links for

"Dark Power Pro P11 modular Netzteil - 1000 Watt"
Videos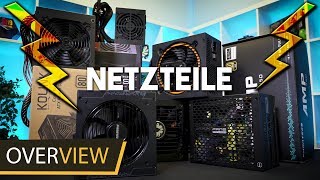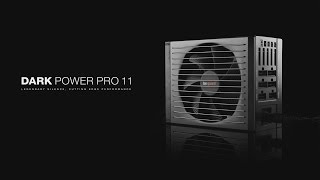 Technical Details
| | |
| --- | --- |
| PSU formfactor | ATX |
| Power category | 851 to 1000 Watt |
| DC output (accurate) | 1000 Watt |
| 12V power | 996 Watt |
| 12V Rail distribution | Single Rail, Multi Rail, switchable |
| modular | yes (semi- or fully-modular), semi-modular |
| semi-passiv | no |
| 6-Pin PCIe | 1x |
| 6+2-Pin PCIe | 8x |
| CPU power supply | 1x 4+4-Pin, 1x 8-Pin |
| 4-Pin connectors | 8x |
| SATA connectors | 10x |
| PCIe cable length max | 40-65 cm |
| CPU cable length max | more than 65 cm |
| 24Pin cable length max | 40-60 cm |
| PSU fan | 135 mm |
| Illumination | no |
| Colour | black |
| Depth | 20 cm |
| Case fan controller | yes |
| Software Interface (digital) | no |
| Efficiency 80Plus | 80 PLUS Platinum |