be quiet!


Lüfter Silent Wings 3 - 140mm
Sehr leiser
nochmals verbesserter 140-mm-Lüfter von be quiet! mit 12V/7V/5V Adapter und Anti-Vibrationsbefestigung
Item number: LUBQ-042
EAN: 4260052184257
MPN: BL065
Manufacturer: be quiet!
Product information -
Lüfter Silent Wings 3 - 140mm
Die
be quiet! Silent Wings 3
Gehäuselüfter kombinieren erneut erstklassige Kühlleistung bei nahezu unhörbarem Betrieb. Die dritte Generation der Silent-Wing-Serie führen den High-End-Anspruch fort und bieten einige Optimierungen im Vergleich zu den Vorgängermodellen. Die schwarzen Silent Wings 3 bieten nicht nur erstklassige Performance, sondern sehen auch noch sehr gut aus, so dass der Montage nichts mehr im Weg stehen sollte.
Die Features der be quiet! Silent Wings 3 Gehäuselüfter
Hochwertiger 6-Pol-Lüftermotor
Langlebiges Fluid-Dynamic-Lager
Einzigartige luftstromoptimierte Lüfterblätter
Gummierter Lüfterrahmen mit trichterförmigen Lufteinlässen
Drei Jahre Herstellergarantie
be quiet! Silent Wings 3: Gehäuselüfter der Superlative
Bereits die Konstruktion des schwarzen Lüfters weicht deutlich vom Standarddesign ab und konnte im Vergleich zum Vorgänger nochmals perfektioniert werden. Die Lüfterblätter sind nicht glatt, sondern mit Rillen versehen, um den Luftstrom zu optimieren. Hierzu trägt außerdem die abgerundete Nabe bei.
Gleiches gilt für den Rahmen. Die Schwingungsdämpfer sind jetzt kinderleicht wechselbar indem sie einfach abgezogen oder aufgestülpt werden. Sie sind jeweils nach vorne und hinten gerichtet und ermöglichen so eine Befestigung, die kaum Vibrationen überträgt. Hierzu werden keine Schrauben genutzt, sondern Kunststoffstifte, die einfach in die grauen Befestigungen geschoben werden.
Zusätzlich wurde ein spezielles Gleitlager aus Kupfer verbaut, dass keinen mechanischen Kontakt zur Achse besitzt und damit leise und langlebig arbeitet. Der Rotor gleitet auf einem Film aus Schmiermittel, von be quiet! FDB (Fluid Dynamic Bearing) genannt. Dies ist ein Hauptgrund für die angegebene Lebensdauer von sagenhaften 300.000 Stunden, was über 34 Jahren Dauerbetrieb entspricht. Ein spezielles IC steuert den Motor und reduziert ebenso die Geräuschentwicklung.
Im 12V Modus wird bei einer Drehzahl von 1.000 U/Min ein Fördervolumen von 101,09 m³/h bei gerade einmal 15,5 dB(A) realisiert, womit gute Kühlleistung mit minimaler Geräuschentwicklung verbunden werden kann. Zusätzlich liegt ein dreigeteilter Spannungsadapter für 12V, 7V und 5V bei, womit Drehzahl und Lautstärke nochmals deutlich gesenkt werden, so dass auch ein Einsatz in Ultra-Silent Systemen möglich wird.
Technische Details:
Maße: 140 x 140 x 25 mm
Material: Kunststoff
Lautstärke: 15,5 dB(A)
Drehzahl: 1.000 U/Min
Airflow: 101,09 m³/h
Luftdruck: 1,08 mm-H2O
Spannung: 4 - 14 V
Stromverbrauch: 0,06 A / 3,60 W
Anschluss: 3-Pin / 12V, 7 V, 5V Adapter
Lebenserwartung: 300.000 Stunden
Garantie: 3 Jahre
Further links for

"Lüfter Silent Wings 3 - 140mm"
Videos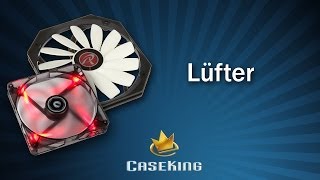 Technical Details
| | |
| --- | --- |
| Rotor diameter | 140 mm |
| Mounting holes | 140 mm |
| Primary colour | black |
| Secondary colour | black |
| Fan connector | 3 Pin, SATA (power) |
| Illumination | no |
| Initial Voltage | 4 V |
| Max rpm (exact) | 1000 U/min |
| Max noise level (exact) | 15,5 dB(A) |
| Max air volume (exact) | 101,9 m³/h |
| Max rpm | 1000 - 1499 U/min |
| Max noise level | 15 - 19 dB(A) |
| Max air volume | 100 - 124 m³/h |
| Warranty | 3 years |