be quiet!


Power Zone Netzteil, 80 PLUS Bronze, modular - 1000 Watt
1.000 Watt starkes Singlerail-Netzteil (83 A) von be quiet! mit vollmodularen Kabeln
80 PLUS Bronze & leisem SilentWings-Lüfter
Item number: NEBE-126
EAN: 4260052183120
MPN: BN213
Manufacturer: be quiet!
Product information -
Power Zone Netzteil, 80 PLUS Bronze, modular - 1000 Watt
be quiet! ist nach eigenen Angaben die Nummer eins in Deutschland, wenn es um Netzteile geht - und das schon seit 2006! Daran lässt sich ablesen, wie viel Vertrauen die Kundschaft in die hochwertigen, in Deutschland designten und auf ihre Qualität kontrollierten Netzteile hat. Dazu kommen die herausragenden Silent-Eigenschaften, für die be quiet! ja auch namentlich steht und die immer wieder anhand von Lüftern, die dann auch in den Netzteilen zum Einsatz kommen, unter Beweis gestellt werden.
In verschiedenen Serien von PSUs (Power Supply Units) richtet sich be quiet! an den Bedürfnissen, Wünschen und Preisvorstellungen der potenziellen Kunden aus. Die "Power Zone"-Serie soll dabei enorme Hochwertigkeit mit völliger Modularität, leisem Betrieb und einem besonders guten Preispunkt vereinen. Um so attraktiv angeboten werden zu können, schraubt be quiet! die maximalen Effizienzwerte nur ein wenig nach unten im Vergleich zur wesentlich teureren "Dark Power"-Reihe.
Dennoch erreicht dieses 1.000 Watt starke "Power Zone"-Netzteil in der Spitze 89 Prozent Wirkungsgrad und ergattert das begehrte 80-PLUS-Zertifikat in der Bronze-Ausführung. Die PSU versorgt auch sehr potente Gaming- und Übertakter-PCs absolut zuverlässig, wofür die zentrale 12-Volt-Leitung satte 83 Ampere Stromstärke auffährt und alleine 996 Watt Leistung erbringen kann. Die Versorgung von Prozessor und Mainboard erfolgt über ein 20+4-Pin-, ein 4+4-Pin- sowie ein 8-Pin-Kabel.
Erfreulicherweise entschied sich be quiet! für die "Power Zone"-Serie, selbst diese Kabel modular, also abnehmbar zu gestalten, wodurch sich das Verlegen innerhalb des Computergehäuses maximal einfach gestaltet. Dank der schwarzen Sleeve-Ummantelung jedes einzelnen Kabelstrangs (inklusive 6x 6+2-Pin-PCI-Express für SLI oder CrossFireX) treten die Leitungen zusätzlich dezent in den Hintergrund. Dies darf man auch für die akustischen Eigenschaften des Power Zone 1.000 Watt attestieren.
Das Netzteil ist mit einem 135 mm großen SilentWings-Lüfter ausgestattet, der automatisch geregelt wird und auch unter Höchstlast nie lauter als mit 37,1 dB(A) zu Werke geht. Zusätzlich sind drei optionale Gehäuselüfter direkt an die PSU anschließbar. Durch das "COOL*OFF"-Feature laufen die Fans nach Herunterfahren des Computers für etwa drei Minuten weiter, um so auch nachträglich noch für eine effektive Restwärmeabfuhr zu sorgen.
Dies kann unter anderem die Lebenszeit von Netzteil und weiteren Systemkomponenten erhöhen und passt mit be quiet!s üppiger Herstellergarantie zusammen, die 5 Jahre währt. Selbstverständlich sind die "Power Zone"-Netzteile zu Intels Haswell-Prozessoren und deren C6- oder C7-Energiesparmodi voll kompatibel.
Technische Details:
Maße: 150 x 86 x 175 mm (B x H x T)
Lüfter: 135 mm (automatische Steuerung; SilentWings, 15,7 - 37,1 dB(A))
Effizienz: max. 89 %, 80 PLUS Bronze Zertifikat
Active PFC
Formfaktor: ATX12V 2.4/EPS12V 2.92
Leistung: 1.000 W
+3,3V: 25 A
+5V: 25 A
+3,3V & +5V: 170 W
+12V: 996 W / 83 A
-12V: 3,6 W / 0,3 A
+5Vsb: 15 W / 3 A
Anschlüsse (abnehmbar):
1x 20+4-Pin ATX12V/EPS12V (max. 600 mm)
1x 4+4-Pin ATX12V/EPS12V (max. 700 mm)
1x 8-Pin EPS12V (max. 700 mm)
6x 6+2-Pin-PCIe (max. 550 mm)
10x SATA (max. 550 mm)
6x 4-Pol-Molex (max. 550 mm)
1x Floppy (max. 550 mm)
3x 3-Pin-Lüfter (max. 600 mm)
Schutzschaltungen:
OVP (Sicherung gegen Über- und Unterspannung)
UVP (Unterspannungsschutz)
SCP (Kurzschluss)
OPP (Überlast)
OTP (Übertemperaturschutz)
OCP (Überstrom auf den Schienen +12, +3,3 und +5 Volt)
Herstellergarantie: 5 Jahre
Further links for

"Power Zone Netzteil, 80 PLUS Bronze, modular - 1000 Watt"
Videos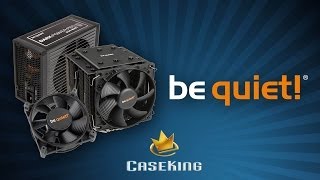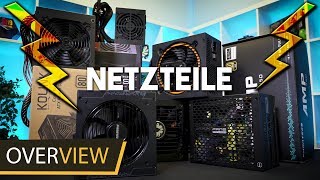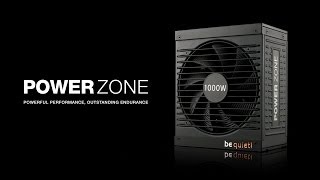 Technical Details
| | |
| --- | --- |
| PSU formfactor | ATX |
| Power category | 851 to 1000 Watt |
| DC output (accurate) | 1000 Watt |
| 12V power | 996 Watt |
| 12V Rail distribution | Single Rail |
| modular | yes (semi- or fully-modular), fully-modular |
| semi-passiv | no |
| 6+2-Pin PCIe | 6x |
| CPU power supply | 1x 4+4-Pin, 1x 8-Pin |
| 4-Pin connectors | 6x |
| SATA connectors | 10x |
| PCIe cable length max | 40-65 cm |
| CPU cable length max | more than 65 cm |
| 24Pin cable length max | 40-60 cm |
| PSU fan | 135 mm |
| Illumination | no |
| Colour | black |
| Depth | 18 cm |
| Case fan controller | yes |
| Software Interface (digital) | no |
| Efficiency 80Plus | 80 PLUS Bronze |
Awards
Auch beim 1000 Watt-Modell aus der Power Zone-Serie hat sich Hersteller be quiet! keine Patzer erlaubt. Die preislich fair kalkulierte PSU punktet mit einer sauberen Verarbeitungsqualität, hochwertigen Komponenten (Innenraum) und einem vollmodularen Kabelmanagement.

read more...