be quiet!


Pure Base 600 Midi-Tower - schwarz Window
Silent-Midi-Tower von be quiet! mit Hartglas-Seitenfenster
zwei vorinstallierte Lüfter & Dämm-Matten in Front/Deckel/Seitenteil
Platz für mehrere große Radiatoren & 3-Stufen-Lüftersteuerung
herausragende Kühlleistung & cooles schwarzes Design
Item number: GEBQ-023
EAN: 4260052185445
MPN: BGW21
Manufacturer: be quiet!
Product information -
Pure Base 600 Midi-Tower - schwarz Window
Mit dem
Pure Base 600 Midi-Tower
startet
be quiet!
eine neue Gehäuseserie, welche die besonders leisen Silent-Base- und die featurebeladenen Dark Base-Gehäuse ergänzt. Die Pure-Base-Serie des Premium-Herstellers kombiniert einen modularen Aufbau mit den üblichen Silent-Features des Herstellers, sodass der Pure Base 600 sowohl für den leisen Betrieb der verbauten Hardware als auch für maximale Kühlperformance konfiguriert werden kann. Der Pure Base 600 ist somit ein echtes Multitalent und verbindet eine Menge Funktionalität mit einem extrem attraktiven Preis-Leistungs-Verhältnis.
Die Features des be quiet! Pure Base 600 Window Midi-Towers im Überblick:
Modulare Abdeckung im Deckel
Elegantes, vollverglastes Seitenfenster aus getöntem Temperglas
Herausnehmbare Laufwerkskäfige
Platz für bis zu 42,5 cm lange Grafikkarten
Viel Platz für Radiatoren in Front & Deckel
Dämmmatten im Deckel, der Front und einer Seite
3-stufige Lüftersteuerung (3-Pin)
Pure Base 600 Window: Modularer Silent-Midi-Tower
Der Midi-Tower nimmt Mainboards in den Formfaktoren ATX, Micro-ATX und Mini-ITX in sich auf. CPU-Kühler können bis zu einer maximalen Höhe von 165 mm installiert werden und Grafikkarten können in den sieben Erweiterungsslots installiert werden und dürfen 280 mm lang sein. Baut man die Festplattenkäfige aus, können sogar 425 mm lange Grafikkarten eingebaut werden. Durch die gezielte Kombination aus einzigartiger Luftstromzuführung und geräuschdämmenden Materialien an der Vorderseite, dem Deckel und dem rechten Seitenteil ist das Pure Base 600 Window ein erstklassiges Gehäuse, ideal für High-End Gaming und leise Systeme.
Edles Design dank Temperglas-Seitenfenster
Das Design des be quiet! Pure Base 600 in der Window-Variante bleibt wie bei den Modellen mit geschlossenem Seitenteil bei einer eleganten und schicken Optik, die einen hochwertigen ersten Eindruck hinterlässt. Neu ist jedoch das stylische vollverglaste Seitenfenster aus getöntem Temperglas, das einen eindrucksvollen Blick auf die verbaute Hardware zulässt. Wie bei den Vorgängern auch, verzichtet be quiet! auf verschnörkelte Gaming-Optik und setzt auf ein elegantes Erscheinungsbild, bietet jedoch mit dem
Tempered Glass-Seitenteil
die idealen Voraussetzungen, um das PC-Interieur per LED-Streifen gekonnt in Szene zu setzen.
Zwei Lüfter sind im Pure Base 600 Window bereits vorinstalliert. Ein 140 mm großer Pure-Wings-2-Lüfter mit 900 U/min an der Front und ein 120 mm großer Pure-Wings-2-Lüfter mit 1200 U/min an der Rückseite - eine 3-Stufen-Lüftersteuerung inklusive! Insgesamt lassen sich zwei 140er bzw. drei 120er Fans im Deckel und der Front installieren. Doch auch Wasserkühlungsradiatoren können statt der Lüfter installiert werden. An der Vorderseite lässt sich maximal ein 360-mm- / 280-mm-Radiator installieren, während an der Rückseite ein 120 mm großer Radiator Platz findet. Der Gehäusedeckel kann einen bis zu 360 mm großen Radiator tragen, in diesem Fall sollte die modulare Abdeckung im Deckel entfernt werden.
Ein exzellentes Kabelmanagement wird durch mehrere Silikon-Öffnungen und reichlich Platz hinter der Mainboard-Wand gewährleistet. Das Netzteil wird unten installiert und darf bis zu 210 mm lang sein. Das I/O-Panel befindet sich auf dem Deckel und bietet einen großen, eleganten Power-Schalter, zwei Audio-Buchsen sowie zwei USB-3.0-Ports sowie die Lüftersteuerung. Im Gehäuseinnenraum befindet sich ein herausnehmbarer Laufwerkskäfig für zwei 5,25-Zoll-Laufwerke sowie Brackets für drei 3,5-Zoll- oder sechs 2,5-Zoll-Laufwerke. Die 3,5-Zoll-Laufwerke werden dabei werkzeuglos in einem Festplattenkäfig installiert, der über Silikon-Antivibrationsschienen vollkommen entkoppelt wird, so dass die Übertragung der Vibration auf den Käfig verhindert wird.
Technische Details:
Maße: 492 x 220 x 470 mm (L x B x H)
Material: Stahl, ABS Kunststoff, Temperglas
Gewicht: ca. 7,5 kg
Farbe: Schwarz
Formfaktor: ATX, Micro-ATX, Mini-ITX
Lüfter insgesamt möglich:
3x 120 / 2x 140 mm (Vorderseite)
1x 120 mm (Rückseite)
3x 120 / 2x 140 mm (Deckel)
Davon vorinstalliert:
1x 140 mm (Vorderseite; Pure Wings 2, max. 900 U/min, 17,1 dB(A), 55,8 m³/h, 0,6 mm H20)
1x 120 mm (Rückseite; Pure Wings 2, max. 1.200 U/min, 16,8 dB(A), 41,7 m³/h, 0,9 mm H20)
Radiator-Mountings:
1x max. 360 / 280 mm (Vorderseite)
1x 120 mm (Rückseite)
1x max. 360 mm (Deckel)
Filter: Vorderseite, Boden (entnehmbar)
Laufwerksschächte:
2x 5,25 Zoll (extern, entnehmbar)
3x 3,5/6x 2,5 Zoll (intern; entnehmbar)
2x 2,5 Zoll (intern)
Netzteil: 1x Standard ATX (optional)
Erweiterungsslots: 7
I/O-Panel:
2x USB 3.0 (interne Anbindung)
1x Lüftersteuerung (3-stufig)
1x je Audio In/Out
Maximale Grafikkartenlänge: 280 mm (ohne jeglichen Verzicht)
Maximale Grafikkartenlänge: 425 mm (ohne HDD-Käfig)
Maximale Netzteillänge: 210 mm
Maximale CPU-Kühler-Höhe: 165 mm
Further links for

"Pure Base 600 Midi-Tower - schwarz Window"
Videos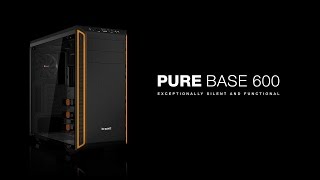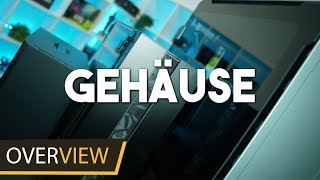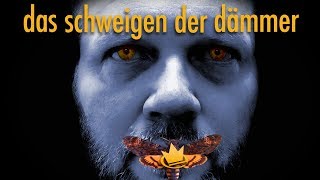 Technical Details
| | |
| --- | --- |
| max. Mainboardformfaktor | ATX |
| Case type | Midi-Tower, Dampened case |
| Form factor | ATX, Micro-ATX, White |
| Colour | black |
| Primary colour | black |
| Secondary colour | black |
| Width (exact) | 492 |
| Height (exact) | 1 Year |
| Depth (exact) | 470 |
| Width | 400 - 500 mm |
| Height | 200 - 300 mm |
| Depth | 400 - 500 mm |
| Weight (exact) | 7,5 |
| Weight | 6 to 8 kg (13.2 to 17.6 lbs) |
| Material | plastic, steel, Tempered Glass / Hartglas |
| max. CPU Kühler Höhe (exakt) | 165 mm |
| max. Grafikkarten Länge (exakt) | 280 mm, 425 mm |
| max. Netzteil Länge (exakt) | 210 mm |
| max. CPU Kühler Höhe | 160 - 179 mm |
| max. Grafikkarten Länge | 200 - 299 mm, 400 - 500 mm |
| max. Netzteil Länge | 200 - 249 mm |
| Side panel | with window |
| Front Door | Green |
| Position I/O | Yes |
| USB 2.0 | 2x |
| USB 3.0 | 2x |
| Audio Out | |
| Audio In | |
| Cardreader | nein |
| Fan controller | yes |
| LCD/TFT Display | nein |
| internal 2,5" | 8x |
| internal 3,5" | 3x |
| external 5,25" | 2x |
| Hot-Swap | nein |
| PCI-Slots | 7 |
| HDD Isolation | ja |
| Motherboard tray | no |
| Case cable management | yes |
| PSU formfactor | ATX |
| PSU position | Hinten Unten |
| Preinstalled fans | 1x 120mm, 1x 140mm |
| 120 mm Fans | Aluminium |
| 140 mm Fans | 4 |
| Fan colour | black |
| Radiator Mounting | 3x Single (120mm), 1x Single (140mm), 2x Dual (240mm), 1x Dual (280mm), 2x Triple (360mm) |
| Filter | yes |
| Dampening | yes |
| Illumination | no |
| Remote control | nein |
| Schlauchdurchführung | nein |
| Serie | Pure Base |
| Volume in L | 50,87 |
| Transport System | nein |
Awards
PROS

- Build Quality
- Tempered Glass Side Panel
- Noise Dampening Coating (Right/Top/Front)
- Radiator Space (Top & Front 240/280/360mm)
- Room For 3x3.5" (or 6x2.5") and 2x2.5" Drives
- Removable Drive Cages
- Space For 165mm Tall CPU Coolers, 210mm Long PSUs and 425mm Long Graphics Cards
- 3 Speed Fan Controller

read more...

Pros

+ Kompatibilität zu Wasserkühlungen sowie leistungsstarker Luftkühlung
+ Tempered glass
+ Staubfilter
+ Lüftersteuerung
+ Platzangebot
+ Qualitativ hochwertige Materialien

read more...

The Bottom Line: be quiet!'s Pure Base 600 mid-tower scores high in all aspects! It's sleek, silent, modular, and best of all, affordable. These are all great reasons to grab one for yourself, and enjoy all the hard work put into this design.



read more...

Our conclusion on the Pure Base 600 Window will not really differ from the conclusion on the Pure Base 600 because we are simply facing the same product but with an additional aesthetic accessory that will appeal to the greatest number. Available from 99.90 € in store, this case is simply a reference and now offers a real plus design. In short, this Pure Base 600 Window is simply excellent.

read more...

Wir waren sehr überrascht das das be quiet Pure Base 600 für den veranschlagten Preis von 70€ soviel Platz für Radiatorfläche bietet. Hier bekommt man für wenig Geld viel geboten. Das Gehäuse bietet dämmende Materialien, herausnehmbare und in der höhe verstellbare Festplattenkäfige, eine drei stufige Lüftersteuerung und Platz hinter dem Mainboardtray für zwei SSDs. Alles in allem bietet be quiet hier ein sehr schönes Gehäuse, in dem es sogar möglich war zwei 360 Radiatoren zu verbauen ohne auf die Festplattenkäfige verzichten zu müssen falls sie gebraucht werden.

Pro:
+Dämmende Materialien
+Preis
+Gute Verarbeitung
+Verstellbare und herrausnehmbare Festplattenkäfige
+Herausnehmbarer Laufwerkskäfig
+Viel Platz für Lüfter oder Radiatoren
+Verstellbare Deckelöffnung
+Lüftersteuerung
+Window-Kit verfügbar

read more...

Pro
+ saubere Verarbeitung
+ ordentliches Platzangebot für einen Midi
+ modularer Innenraum
+ ausreichend Lüfterplätze und Platz für Radiatoren
+ zwei leise Lüfter im Lieferumfang enthalten
+ schlichtes und zeitloses Design
+ gutes Kabelmanagement
+ Silent-Maßnahmen
+ Lüftersteuerung
+ entkoppeltes Seitenfenster aus Glas
+ Preis

read more...

Das Pure Base 600 ist ein schlichtes, funktionales Gehäuse mit (sehr) guten Kühleigenschaften zu einem attraktiven Preis.

read more...

Although the potential of the Pure Base 600, however well I'm still out with the feeling that this housing is most into place in a mid to semi-high-end build, no frills yet cooled, so as to tightly to be solid and especially silent bigger picture. If your goal is you have to be quiet! Pure Base 600 a neat basis for your new build.

read more...

Pro

+ einfache Montage der Hardware
+ faires und gutes Preis-Leistungsverhältnis
+ schalldämmende Features integriert
+ Laufwerks und Komponenten-Entkopplung
+ hochwertig verarbeitetes Chassis und Beschichtung
+ viele Möglichkeiten für Wakü-Einbau
+ 3-Stufenlüftersteuerung integriert

read more...

Mod-your-case - be quiet! - Pure Base 600

Mit dem Pure Base 600 hat be quiet! einen schlichten Midi-Tower in sein Sortiment aufgenommen, welcher die eigenen Gehäusemodelle nach unten hin abrundet und somit für den preisbewussten Käufer ausgelegt sein soll, welcher dennoch nicht auf eine sehr gute Verarbeitungsqualität verzichten will. Das sehr schlicht gehaltene Gehäuse wurde trotz des angestrebten Verkaufspreises nicht nur sehr hochwertig verarbeitet, sondern auch mit einer sehr guten Ausstattung versehen. ...

Pro

+ Schlichtes Design
+ Verarbeitung
+ In verschiedenen Farben erhältlich
+ Kühlmöglichkeiten
+ Platzangebot
+ Sehr gut gedämmt

Mod-your-case - be quiet! - Pure Base 600

Mit dem Pure Base 600 hat be quiet! einen schlichten Midi-Tower in sein Sortiment aufgenommen, welcher die eigenen Gehäusemodelle nach unten hin abrundet und somit für den preisbewussten Käufer ausgelegt sein soll, welcher dennoch nicht auf eine sehr gute Verarbeitungsqualität verzichten will. Das sehr schlicht gehaltene Gehäuse wurde trotz des angestrebten Verkaufspreises nicht nur sehr hochwertig verarbeitet, sondern auch mit einer sehr guten Ausstattung versehen. ...

Pro

+ Schlichtes Design
+ Verarbeitung
+ In verschiedenen Farben erhältlich
+ Kühlmöglichkeiten
+ Platzangebot
+ Sehr gut gedämmt