be quiet!


Pure Wings 2 PWM - 92mm
Hochwertiger 92-mm-Lüfter mit max. 1.900 Umdrehungen pro Minute und PWM-Steuerung für besonders leise Kühlung
Item number: LUBQ-040
EAN: 4260052184394
MPN: BL038
Manufacturer: be quiet!
Product information -
Pure Wings 2 PWM - 92mm
Der deutsche Silent-Experte be quiet! bietet die bekannten Pure Wings 2 jetzt auch in einer PWM-Version an. Vier Modelle versorgen die Nutzer von 80, 92, 120 und 140-Millimeter-Lüftern. Die Pure Wings 2 sind dabei sehr konsequent auf größtmögliche Geräuscharmut bei überzeugender Kühlleistung getrimmt. Die Lüfterblätter besitzen eine strömungsoptimierte Oberflächenstruktur, was zu einem leiseren Luftstrom verhilft. Neun Lüfterblätter fördern mehr Luft und sorgen für erhöhten Luftdruck bei einem beeindruckend leisen Betrieb von 19,6 dB(A). Durch den höheren Luftdruck ist der Pure Wings 2 92mm gerade für den Einsatz auf Wasserkühlungs-Radiatoren oder Luftkühlern prädestiniert.
Der Pure Wings 2 92-Millimeter-Lüfter dreht bei 12 Volt mit 1.900 Umdrehungen und fördert dabei 56 Kubikmeter Luft pro Stunde. Der Spannungsbereich, in dem der Lüfter arbeitet, liegt zwischen 5 und 12 Volt. Die hier angebotene PWM-Version alternativ auch über die Lüftersteuerung des Mainboards über Pulsweitenmodulation geregelt werden. be quiet! verspricht mit der Rifle-Lager-Technologie eine Lebenserwartung von 80.000 Stunden und gibt dafür drei Jahre lang Garantie auf den Lüfter.
Technische Details:
Maße: 92 x 92 x 25 mm
Material: Kunststoff
Lautstärke: 19,6 dB(A)
Drehzahl: 1.900 U/Min.
Fördervolumen: 56 m³/h
Luftdruck: 1,65 mm H2O
Spannung: 5 - 12 V
Stromverbrauch: 1,8 W
Anschluss: 4-Pin
Lebenserwartung: 80.000 Stunden
Garantie: 3 Jahre
Further links for

"Pure Wings 2 PWM - 92mm"
Videos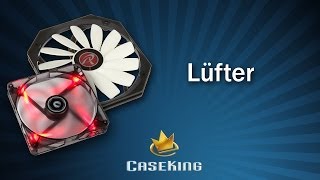 Technical Details
| | |
| --- | --- |
| Rotor diameter | 92 mm |
| Mounting holes | 92 mm |
| Primary colour | black |
| Secondary colour | black |
| Fan connector | 4 Pin (PWM) |
| Illumination | no |
| Initial Voltage | 5 V |
| Max rpm (exact) | 1900 U/min |
| Max noise level (exact) | 19,6 dB(A) |
| Max air volume (exact) | 56 m³/h |
| Max rpm | 1500 - 1999 U/min |
| Max noise level | 15 - 19 dB(A) |
| Max air volume | 50 - 74 m³/h |
| Warranty | 3 years |