be quiet!


Silent Base 601 Midi-Tower - schwarz
Modularer Midi-Tower in Schwarz von be quiet!
Dämmung an Front
Deckel und Seitenteil
zwei vorinstallierte 140-mm-Silent-Wings-Lüfter
inklusive 3x 3-Pin-Controller
3 x 3,5- bzw. 6x 2,5-Zoll-Laufwerke
Item number: GEBQ-035
EAN: 4260052187111
MPN: BG026
Manufacturer: be quiet!
Product information -
Silent Base 601 Midi-Tower - schwarz
Das
Silent Base 601 von von be quiet!
eine Revision des populären Vorgängers Silent Base 600 zu nennen, ist fast schon unfair. Der Nachfolger ist sogar mehr als ein Upgrade, denn er bringt teils grundlegende Neuerungen mit sich, etwa
eine Netzteilabdeckung
. Geblieben ist der flüsterleisen Betrieb, herausragende Kühlleistung, anwenderfreundliche Konzeption mit viel Platz für High-End-Hardware. Herstellertypisch setzt be quiet! wieder auf maximale Geräuschreduktion. Vorinstallierte
Dämm-Matten mit einer Stärke von 10 mm
, kontrollierte Luftströmung, Antivibrations-Montageelemente und Silent-Lüfter sorgen für einen geräuscharmen Betrieb.
Die Features des Silent Base 601 von be quiet!
Funktionaler und besonders leiser Midi-Tower im modernen Design
Seitlich abgeschrägte Lufteinlässe an der Front
Inklusive 1 cm starken Dämmmatten an Front, Deckel und Seitenteilen
Zwei vorinstallierte Pure Wings 2 140mm Lüfter
3-Stufen-Lüftersteuerung kontrolliert bis zu 3 Lüfter
Radiatoren bis 360 Millimeter möglich
Stylisch und funktional und vor allem leise
Optisch braucht sich das neue
Silent Base 601
nicht zu verstecken, die geschlossene Vorderseite ist schlicht gehalten und erscheint in einem mattschwarzen Design. Sie wird dabei auf jeder Seite von abgeschrägten Belüftungsöffnungen umrandet. Die Vorderseite aus Stahl lässt sich problemlos aus den beiden oberseitigen Halterungen herausheben, um an den Luftfilter zu kommen. Die Rückseite der Front ist mit 10 Millimeter dickem Dämmmaterial ausgekleidet. Hinter dem Staubfilter gibt es den ersten von
zwei vorinstallierten 140-mm-Lüftern
aus der geräuscharmen Pure-Wings-Serie von be quiet!
Im Gehäuseinnenraum findet sich darüber hinaus genug Platz für
drei 3,5-Zoll-Laufwerke beziehungsweis sechs 2,5-Zoll-Laufwerke
. Zwei 3,5-Zoll-Laufwerke werden dabei werkzeuglos in einem Festplattenkäfig unter der Netzteilabdeckung installiert, der über Silikon-Antivibrationsschienen vollkommen entkoppelt wird, so dass die Übertragung der Vibration auf den Käfig verhindert wird. Für eine weitere HDD liegt ein Träger bei, der neben dem Mainboard hinter der Vorderseite montiert werden kann. Mit weiteren
optional erhältlichen Trägern lassen sich so bis zu sieben 3,5-Zoll-Laufwerke einbauen, bei 2,5-Zoll-Datenträgern sind es dann 14
.
Viel Raum für gut gekühlte Hardware
Der Midi-Tower nimmt Mainboards in den Formfaktoren
E-ATX, ATX, Micro-ATX und Mini-ITX
in sich auf. Wer einen CPU-Kühler installieren will, kann das dank dem eingelassenen Ausschnitt in der Seitenwand ganz einfach tun, sollte jedoch die maximale Höhe von 185 mm beachten. Grafikkarten können in den sieben Erweiterungsslots installiert werden und dürfen
449 mm lang sein
. Die Tiefe verkürzt sich auf 287 Millimeter, wenn Datenträger den Weg versperren. Mit einem optionalen Riser-Kabel kann eine Grafikkarte auch vertikal verbaut werden.
Zwei Lüfter sind im
Silent Base 601
bereits vorinstalliert. Ein
140 mm großer Pure-Wings-2-Lüfter
mit 1.000 U/min an der Front und an der Rückseite - 3-Stufen-Lüftersteuerung inklusive! Zusätzlich lassen sich noch
zwei 140er bzw. 120er im Deckel, ein 140-mm- oder 120-mm-Lüfter auf der Netzteilabdeckung und ein weiterer 140er oder zwei 120er in der Front installieren
. Wer stattdessen auf eine Wasserkühlung setzt, kann an der Vorderseite
einen 280er oder 360er Radiator
verbauen. Am Deckel passt ein 360-Millimeter Radiator hin, der allerdings samt Lüfter nicht tiefer als 3,4 Zentimeter sein darf. Durch einen seitlich herausnehmbaren Schlitten lassen sich sowohl Radiator als auch Lüfter problemlos befestigen.
Durch die gezielte Kombination aus einzigartiger Luftstromzuführung und geräuschdämmenden Materialien an der Vorderseite und den Seitenteilen ist das
Silent Base 601
ein erstklassiges Gehäuse, ideal für High-End Gaming und leise Systeme. Die innovative Konstruktion der Seitenteile, des Gehäusedeckels sowie des Gehäusebodens sichert eine perfekte Luftzirkulation und reduziert Turbulenzen, was für eine hervorragende Kühlleistung bei geringerer Lüftergeschwindigkeit sowie für einen flüsterleisen Betrieb sorgt. Die Seitenteile lassen sich übrigens per Druckknopf lockern und leicht entfernen - ganz ohne Schrauben.
Ein exzellentes Kabelmanagement wird durch vier Silikon-Öffnungen und reichlich Platz hinter der Mainboard-Wand gewährleistet.
Das Netzteil wird unten installiert und darf bis zu 288 mm lang sein
. Das I/O-Panel befindet sich auf dem Deckel und bietet einen großen, eleganten Power-Schalter, zwei Audio-Buchsen sowie
zwei USB-3.0- und ein USB-2.0-Ports
.
Technische Details:
Maße: 532 x 240 x 514 mm (L x B x H)
Material: Stahl, ABS Kunststoff
Gewicht: ca. 10,5 kg
Farbe: Schwarz
Formfaktor: E-ATX, ATX, Micro-ATX, Mini-ITX
Lüfter insgesamt möglich:
2x 120 / 140 mm (Vorderseite)
1x 120 / 140 mm (Rückseite)
3x 120 / 140 mm (Deckel)
1x 120 / 140 mm (Netzteilabdeckung)
Davon vorinstalliert:
1x 140 mm (Vorderseite; Pure Wings 2, max. 1.000 U/min)
1x 140 mm (Rückseite; Pure Wings 2, max. 1.000 U/min)
Radiator-Mountings:
1x 360 / 280 / 240 / 140 / 120 mm (Vorderseite)
1x 120 / 140 mm (Rückseite)
1x 360 / 240 / 120 mm (Deckel)
Filter: Vorderseite, Boden, Seitenpanel (entnehmbar)
Laufwerksschächte:
3x 3,5 Zoll (intern; werkzeuglos, 7 mit zusätzlichem Zubehör)
6x 2,5 Zoll (intern; werkzeuglos), 14 mit zusätzlichem Zubehör)
Netzteil: 1x Standard ATX (optional)
Erweiterungsslots: 7 + 2 vertikal
I/O-Panel:
2x USB 3.0 (interne Anbindung)
2x USB 2.0 (interne Anbindung)
1x je Audio In/Out
Dämmung: Front, Seitenteile, Deckel
Staubfilter: Front, Boden
Maximale Grafikkartenlänge: 449 mm
Maximale Grafikkartenlänge: 287 mm (mit HDD-Käfig)
Maximale Netzteillänge: 288 mm
Maximale CPU-Kühler-Höhe: 185 mm
Further links for

"Silent Base 601 Midi-Tower - schwarz"
Videos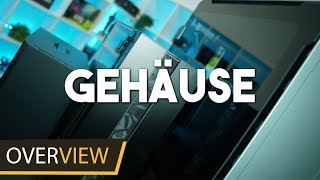 Technical Details
| | |
| --- | --- |
| max. Mainboardformfaktor | E-ATX |
| Case type | Midi-Tower, Dampened case |
| Form factor | E-ATX, ATX, Micro-ATX, White |
| Colour | black |
| Primary colour | black |
| Width (exact) | 240 |
| Height (exact) | Multimedia Buttons |
| Depth (exact) | 532 |
| Width | 200 - 300 mm |
| Height | 500 - 600 mm |
| Depth | 500 - 600 mm |
| Weight (exact) | 10.5 |
| Weight | 10 to 12 kg (22 to 26.4 lbs) |
| Material | plastic, ABS, steel |
| max. CPU Kühler Höhe (exakt) | 185 mm |
| max. Grafikkarten Länge (exakt) | 287 mm, 449 mm |
| max. Netzteil Länge (exakt) | 288 mm |
| max. CPU Kühler Höhe | 180 - 200 mm |
| max. Grafikkarten Länge | 200 - 299 mm, 400 - 500 mm |
| max. Netzteil Länge | 250 - 300 mm |
| Side panel | closed |
| Front Door | Green |
| Position I/O | Deckel |
| USB 2.0 | 2x |
| USB 3.0 | 2x |
| Audio Out | |
| Audio In | |
| Cardreader | nein |
| Fan controller | yes |
| LCD/TFT Display | nein |
| internal 2,5" | 6x |
| internal 3,5" | 3x |
| Hot-Swap | nein |
| PCI-Slots | 7, 7 + 2 |
| Motherboard tray | no |
| Case cable management | yes |
| PSU formfactor | ATX |
| PSU position | Hinten Unten |
| Preinstalled fans | 2x 140mm |
| 120 mm Fans | Aluminium |
| 140 mm Fans | 7 |
| Fan colour | black |
| Radiator Mounting | 1x Single (120mm), 1x Single (140mm), 2x Dual (240mm), 1x Dual (280mm), 2x Triple (360mm) |
| Filter | yes |
| Dampening | yes |
| Illumination | no |
| Remote control | nein |
| Schlauchdurchführung | nein |
| Serie | Silent Base |
| Transport System | nein |