be quiet!


Silent Loop Komplett-Wasserkühlung - 240mm
All-In-One-Wasserkühlung von be quiet!
240-mm-Radiator aus Kupfer
zwei Pure Wings 2 120-mm-Lüfter
schickes Design & leiser Betrieb
kompatibel zu AMD & Intel Sockeln
Item number: WABQ-002
EAN: 4260052185278
MPN: BW002
Manufacturer: be quiet!
Product information -
Silent Loop Komplett-Wasserkühlung - 240mm
be quiet! ist in der Szene bereits einschlägig für seine hochwertigen Netzteile, Lüfter, CPU-Kühler und Gehäuse bekannt und möchte mit der neuen
be quiet! Silent Loop
Komplett-Wasserkühlung nun auch im Wakü-Segment mitmischen. Der Hersteller verwendet dabei hochwertige Komponenten und kombiniert diese mit der berühmten, flüsterleisen be quiet! Technologie für anspruchsvolle Systeme und stark übertaktete Prozessoren. Die innovative und entkoppelte Reverse-Flow-Pumpe ist außerdem für einen beeindruckend leisen und nahezu vibrationsfreien Betrieb geeignet.
Die be quiet! Silent Loop Komplett-Wasserkühlung im Überblick:
Entkoppelte Reverse-Flow-Pumpe für leisen & vibrationsarmen Betrieb
240-mm-Radiator aus Kupfer für extreme Kühlperformance
Zwei be quiet! Pure Wings 2 120-mm-Lüfter sorgen für hohen Luftdruck
Max. 111,3 m³/h Fördervolumen & 2,23 mm H2O statischer Druck
Einfache Handhabung durch flexible Schläuche mit Knickschutz
Kompatibel mit allen gängigen AMD- & Intel-Sockeln
3 Jahre Herstellergarantie
Leistungsstarke Kühlperformance für anspruchsvolle Systeme
Bei der Silent Loop 240, die im 240-mm-Format mit Dualradiator daherkommt, werden die Kühlleistung sowie die dabei entstehende Lautstärke nicht mehr nur über die Lüfterdrehzahl der mitgelieferten 120er-Fans geregelt, sondern zusätzlich auch über die Motorgeschwindigkeit der Pumpe, die maximal bei 2.000 U/min liegen kann. Die Pumpe ist wie gewohnt rückseitig in den CPU-Waterblock integriert, der mit seiner CNC-bearbeiteten und vernickelten Kupferfläche auf dem AMD- oder Intel-Prozessor aufliegt. Durch die vernickelte Bodenplatte ist daher sogar die Verwendung wärmeleitfähiger Flüssigmetallpaste erlaubt, was die Kühlleistung nochmals steigern kann.
Das Design hat be quiet! bei der Silent Loop Komplett-Wasserkühlung relativ schlicht gehalten. Der Kupferradiator ist vollständig schwarz lackiert und wird perfekt von den schwarzen Schläuchen sowie der Kühlerbasis + Pumpe mit einer Rückseite aus gebürstetem Aluminium ergänzt. Zusätzlich ziert den Kühlkörper der be quiet! Schriftzug, was dem ganzen System einen edlen Touch verleiht.
Der Anschluss ans Mainboard erfolgt über 3-Pin, während die Lüfter vom Typ Pure Wings 2 wie üblich mittels 4-Pin-PWM-Anschluss von der Hauptplatine gesteuert werden. Die Lüfter sind wie gewohnt sehr leise und sorgen für einen optimalen statischen Druck (max. 2,23 mm H2O!), damit die einseitige Lüfter-Bestückung des 30 mm dünnen Radiators der Sandwich-Bestückung mit beidseitigen Lüftern in nichts nachsteht.
Die Vorteile einer Komplett-Wasserkühlung liegen klar auf der Hand. Sie ist ausgesprochen kühlstark, arbeitet relativ geräuscharm, ist hochkompatibel (hier: alle modernen Sockel von AMD und Intel), muss nicht gewartet werden und passt in manches kleinere Gehäuse hinein, in denen ausladende Tower-Luftkühler keinen Platz finden. Die Silent Loop 240 kommt vorgefüllt und mit 1g Wärmeleitpaste. Dank 39 cm langer Schläuchen mit Knickschutz lässt sich der Radiator flexibel an zwei nebeneinanderliegenden 120-mm-Lüfterslots im Gehäuse positionieren.
Die hochwertige Kompaktwasserkühlung Silent Loop wird von be quiet! mit einer Herstellergarantie von drei Jahren bedacht, woran abzulesen ist, wie nachhaltig das Prinzip der AiO-Wasserkühlung funktioniert.
Hinweis:
Ein passendes Bracket für die Montage auf dem Sockel AM4 liegt dem Kit
nicht
bei. Über die Webseite des Herstellers kann es als Umrüst-Kit für AM4-Sockel jedoch kostenfrei nachbestellt werden.
Technische Details:
Radiator:
Maße (mit Lüfter): 277 x 124 x 55 mm (B x H x T)
Material: Kupfer (schwarz lackiert)
Pumpe:
Motorgeschwindigkeit: 2.200 U/min
Schlauchlänge: ca. 39 cm
Anschluss: 3-Pin
Lüfter:
Typ: 2x 120 mm (Pure Wings 2)
Drehzahl: max. 2.000 U/Min
Fördervolumen: max. 111,3 m³/h
Statischer Druck: 2,23 mm H2O
Lautstärke(25/50/100% U/Min): 16,1 / 23,8 / 36,9 dB(A)
Anschluss: 4-Pin-PWM
Kompatibilität:
Intel-Sockel: 775, 115x, 1366, 2011(-V3)
AMD-Sockel: AM2(+), AM3(+), FM1, FM2(+)
Herstellergarantie: 3 Jahre
Further links for

"Silent Loop Komplett-Wasserkühlung - 240mm"
Videos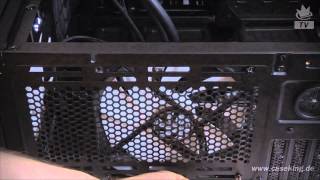 Technical Details
| | |
| --- | --- |
| CPU socket | 1150, 1151, 1155, 1156, 1366, 2011, 2011-V3, 775, AM2, AM3, AM3+, AM4, FM1, FM2, FM2+ |
| Radiator size | 240 mm |
| Radiator height (exact) | 30 mm |
| Radiator height with fan (exact) | 55 mm |
| Radiator height | 30 - 39 mm |
| Radiator height with fan | 50 - 69 mm |
| Illumination | no |
| Included fans | 2x |
| Rotor diameter | 120 mm |
| Fan colour | black |
| Fan connector | 4 Pin (PWM) |
| Pump connector | 3 Pin (voltage control) |
| Max noise level | 35 - 39 dB(A) |
| Tube lenght (exact) | 390 mm |
| Tube lenght | 330 - 400 mm |
| CPU cooler type | AiO liquid cooler |
| Warranty | 3 years |