BitFenix


2-Pin I/O-Panel Verlängerung 30cm - sleeved grün/schwarz
BitFenix Alchemy 2pin I/O extension 30cm - Green
Item number: ZUAD-359
EAN: 4716779442458
MPN: BFA-MSC-2IO30GK-RP
Manufacturer: BitFenix
Product information -
2-Pin I/O-Panel Verlängerung 30cm - sleeved grün/schwarz
Die Vereinbarkeit von Design und Funktionalität ist der wesentliche Anspruch von BitFenix. Mit den erstklassigen Colossus und Survivor Gehäusen zeigt der Hersteller auch gleich, was in der Praxis darunter zu verstehen ist. Nun erweitert BitFenix sein Angebot um Zubehör- und Modding-Artikel der Alchemy Serie.
Hierzu gehört auch ein extrem umfangreiches Sortiment fertig gesleevter Kabel. Dabei stehen Daten- und Stromkabel in vielen Farbversionen zur Auswahl, womit individuelle Design-Lösungen realisierbar sind. Die wesentliche Vorteile gegenüber dem eigenhändigen Sleeven der Kabel bestehen in der garantierten Betriebssicherheit, der sauberen Optik und der hohen Zeitersparnis.
Denn wird aus Versehen ein Kabel verwechselt, wird mit hoher Sicherheit das Netzteil und die angeschlossene Hardware irreparabel zerstört. Und die Garantie geht bei derlei Umbauten ohnehin verloren. Zudem ist das Sleeven sehr zeitaufwändig und nur erfahrenen Moddern gelingt eine gleichmäßige Optik.
Die Besonderheit der BitFenix Kabel besteht zum einen in der Verwendung von Textil-Sleeve. Dieses ist deutlich hochwertiger als die üblichen Kunststoff-Versionen, sehr eng gewebt, absolut blickdicht und weich. Darüber hinaus ist jedes Kabel einzeln mit einem Sleeve ummantelt.
Hierbei handelt es sich um ein internes I/O-Panel Verlängerungskabel mit grünen Sleeves und schwarzen Steckern. Es eignet sich beispielsweise für den Power oder den Reset-Taster und verbindet selbige Anschlüsse zwischen Mainboard und I/O-Panel-Kabel.
Um den gewünschten, optischen Effekt zu erzielen, sollte 1. das normale I/O-Panel-Kabel versteckt verlegt und 2. auch die anderen Kabel im Gehäuse durch entsprechende BitFenix Versionen in derselben Farbgebung ersetzt werden.
Hinweis: Bild 3 und 4 zeigen ein Anwendungsbeispiel beziehungsweise das Farbspektrum der angebotenen BitFenix Kabel, wobei die abgebildeten Kabel sowie die Hardware nicht zum Lieferumfang gehören.
Technische Details:
Länge: 300 mm
Material: Textil-Sleeve
Farbe: Grün (Sleeves), Schwarz (Anschlüsse, Schrumpfschläuche)
Anschlüsse:
1x interner 2-Pin Stecker
1x interne 2-Pin Buchse
Einzel-Sleeves
Further links for

"2-Pin I/O-Panel Verlängerung 30cm - sleeved grün/schwarz"
Videos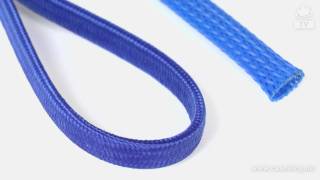 Technical Details
| | |
| --- | --- |
| Cable type | extension |
| Connector 1 (internal) | I/O-Panel (2-Pin) SOCKET |
| Connector 2 (internal) | I/O-Panel (2-Pin) PLUG |
| Cable length | up to 99 cm |
| Cable length (exact) | 30 cm |
| Cable colour | green |
| Connector colour | black |
| Cable sleeved | yes |
Awards
OClab.pl - BitFenix Alchemy sleeved cable

Looking for extensions to their power? want to connect some components of your PC? you're a fan of "modingu"? or just want to make things look aesthetically? Bitfenix Alchemy Multisleeved Cables is what you need.