BitFenix


Phenom Mini-ITX Gehäuse - schwarz
The latest BitFenix small form factor chassis
Phenom Mini-ITX combines an elegantly modern outlook with an incredibly flexible internal structure for a cube design like no other.
Item number: GEBF-109
EAN: 4716779444704
MPN: BFC-PHE-300-KKXKK-RP
Manufacturer: BitFenix
Product information -
Phenom Mini-ITX Gehäuse - schwarz
Ein deutlicher Trend geht derzeit zu besonders kompakten Systemen mit Mainboards in den Formfaktoren Micro-ATX oder Mini-ITX als Grundlage. Die kleinen Rechner sollen aber trotzdem nicht weniger bieten können als ihre großen Pendants in ATX. Damit das möglich ist, kommt es auch und gerade auf geeignete PC-Cases an, denn mit ihnen steht und fällt, ob sich potente Hardware und viele Systemkomponenten auf engem Raum versammeln lassen.
Top-Brand BitFenix hat in diesem Bereich mit den Gehäusen der Prodigy-Serie Pionierarbeit geleistet: massig Optionen, sogar Wakü-Tauglichkeit, gute Belüftung, genialer Style und trotzdem alles als raumsparender Cube realisiert. Entsprechend groß war und ist das Interesse an den schicken kleinen Würfeln. Auf diesem Grundkonzept baut BitFenix nun mit der Phenom-Reihe auf, spendiert den Cases aber ein frisches Äußeres.
Die Gestaltung ist alles in allem als "cleaner" zu bezeichnen, statt FyberFlex-Bögen besteht die Extravaganz bei den Phenoms - viel dezenter freilich - in der leicht angeschrägten Frontpartie, die unten und oben mit abgerundeten Kanten dem Auge schmeichelt. Mesh-Gitter drängt sich beim Phenom-Cube dem Betrachter nicht auf, sondern wird von BitFenix in seitliche Lufteinlässe gelegt, durch welche eine adäquate Zufuhr gewährleistet ist.
Somit bleibt bei dieser schwarzen Version die satte schwarze SofTouch-Fläche der Vorderseite ungebrochen und wird lediglich vom schicken dunklen BitFenix-Logo in der unteren Mitte geziert. Schwarzes Mesh im größeren Stil gibt es dann erst im Deckel, wo es den Einsatz von bis zu zwei optionalen 120-mm-Lüftern oder eines 240er-Dualradiators erlaubt. Im Falle des Phenoms für Mini-ITX darf dieser sogar von der ganz dicken Sorte sein und kann Lüfter in Push-Pull-Konfiguration tragen, wobei dann aber auf den oberen HDD-Käfig verzichtet werden muss.
Damit ist der grundlegende Unterschied zwischen zwei Versionen des BitFenix Phenom angesprochen: die eine Variante ist speziell auf Mini-ITX-Platinen zugeschnitten und kann besonders viele Laufwerke beherbergen, die andere dagegen ist auch auf Micro-ATX-Boards ausgelegt und lässt somit auch den Einsatz von zwei Erweiterungskarten zu, etwa von zwei Grafikkarten, die im CrossFireX- oder SLI-Gespann arbeiten.
Hierbei handelt es sich um die schwarze Phenom-Version für mITX, die für bis zu sechs 3,5-Zoll-Festplatten oder sogar bis zu elf 2,5-Zoll-Datenträger (z. B. SSDs) Platz bietet. Je drei weniger sind es, wenn auf besagten oberen HDD-Cage zugunsten eines Dualradiators verzichtet wird. Möglich macht's BitFenix' "FlexCage"-Feature, das für zwei entnehmbare Laufwerkskäfige im vorderen Gehäusebereich steht. Entfernt man den oberen, ist zudem der ganze Weg für bis zu 32 cm lange Grafikkarten-Monster frei.
Für eine besonders effiziente Raumnutzung wird die Mini-ITX-Platine beim Phenom liegend montiert, entsprechend ragen Prozessor-Kühler (mit max. 175 mm) in die Höhe, statt sich in die Breite zu erstrecken. Für den Abtransport warmer Abluft ist der vorinstallierte 120-mm-Lüfter im Heck zuständig, während vorn ein vorinstallierter Fan gleichen Formats Frischluft einbläst und durch einen optionalen gleich großen Kollegen ergänzt oder einen größeren Lüfter (bis hinauf zu 230 mm) ausgetauscht werden kann.
Das Netzteil holt sich indessen seine eigene Frischluft über den Boden heran und bläst nach hinten Warmluft aus. Das Gehäuse des Stromgebers kann bis zu 16 cm lang ausfallen, es sind somit auch sehr leistungsfähige Netzteile zur Versorgung von High-End-Hardware kein Problem für das BitFenix Phenom für Mini-ITX. Goldrichtig, schließlich stellen die Eigenschaften "kompakt" und "potent" beim Phenom-Cube keine Widersprüche dar - kleines Gehäuse, großes Design!
Technische Details:
Maße (mit Füßen): 250 x 345 x 374 mm (B x H x T)
Maße (ohne Füße): 250 x 333 x 374 mm (B x H x T)
Material: Stahl, Kunststoff, SofTouch
Farbe: Schwarz
Formfaktor: Mini-ITX
Lüfter insgesamt möglich:
1x 230/200/180/140 mm oder 2x 120 mm (Vorderseite)
1x 140/120 mm (Rückseite)
2x 120 mm (Deckel)
Davon vorinstalliert:
1x 120 mm (Vorderseite)
1x 120 mm (Rückseite)
Filter: Netzteil, Front, Deckel
Laufwerksschächte:
bis zu 6x 3,5 Zoll (intern; 5x werkzeuglos)
bis zu 11x 2,5 Zoll (intern, 5x statt 5x 3,5 Zoll)
Netzteil: 1x Standard ATX (optional; max. 160 mm Länge )
Erweiterungsslots: 2
I/O-Panel:
2x USB 3.0 (interner Anschluss)
1x je Audio In/Out
Maximale Grafikkartenlänge (mit HDD-Käfig): 165 mm
Maximale Grafikkartenlänge (ohne HDD-Käfig): 320 mm
Maximale CPU-Kühler-Höhe: 175 mm
Further links for

"Phenom Mini-ITX Gehäuse - schwarz"
Videos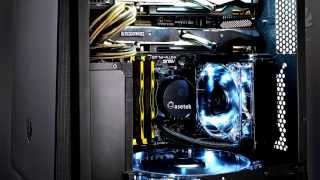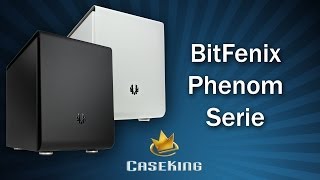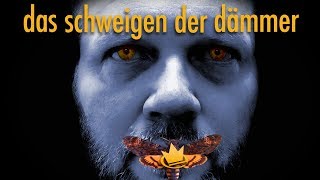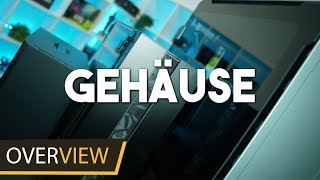 Technical Details
| | |
| --- | --- |
| Case type | Mini case, Cube case |
| max. Mainboardformfaktor | Mini-ITX |
| Form factor | White |
| Colour | black |
| Primary colour | black |
| Secondary colour | black |
| Width (exact) | 250 |
| Height (exact) | 345 |
| Depth (exact) | 374 |
| Width | 200 - 300 mm |
| Height | 300 - 400 mm |
| Depth | 300 - 400 mm |
| Material | plastic, steel |
| max. CPU Kühler Höhe (exakt) | 175 mm |
| max. Grafikkarten Länge (exakt) | 320 mm |
| max. Netzteil Länge (exakt) | 160 mm |
| max. CPU Kühler Höhe | 160 - 179 mm |
| max. Grafikkarten Länge | 300 - 399 mm |
| max. Netzteil Länge | 140 - 199 mm |
| Side panel | closed |
| Front Door | Green |
| Position I/O | Seitlich |
| USB 2.0 | 2x |
| USB 3.0 | 2x |
| Audio Out | |
| Audio In | |
| Cardreader | nein |
| Fan controller | no |
| LCD/TFT Display | nein |
| internal 2,5" | 11x |
| internal 3,5" | 6x |
| Hot-Swap | nein |
| PCI-Slots | 2 |
| HDD Isolation | No |
| Motherboard tray | no |
| Case cable management | yes |
| PSU formfactor | ATX |
| PSU position | Hinten Unten |
| Preinstalled fans | No |
| 120 mm Fans | Hard Plastic |
| 140 mm Fans | 2 |
| 180 mm Fans | No |
| 200 mm Fans | Plastic |
| Lüfter ab 220mm | 1 |
| Fan colour | black |
| Radiator Mounting | 1x Dual (240mm) |
| Filter | yes |
| Dampening | no |
| Illumination | no |
| Remote control | nein |
| Schlauchdurchführung | nein |
| Serie | Phenom |
| Volume in L | 30,86 |
| Transport System | nein |
Awards
PCGameware - BitFenix Phenom MITX Case

There's no doubt in my mind that the BitFenix Phenom MITX case is a great little Small Form Factor case, it looks good, has plenty of flexibility and performs well. Just make sure your Power Supply fits and you pick up one of those Vented Side Panels.

The Phenom Mini-ITX case is sleek, solid, and can house an impressive eleven 2.5" drives and water cooling! The two year old design and its orice may overshadow that through and turn potential customers away. It's your choice.

read more...

Modders and non-Modders will enjoy this little chassis. Plan your build and buy, your only question is which colour.

read more...

Now for the things that I like about the BitFenix Phenom; it's nice and simple on the outside and the inside layout is spacious. It supports both AIO closed loop water cooling and tower air coolers as well. It's much easier to work with compared to the layout in the micro ATX version and you can also turn this into a NAS or storage server thanks to the 5+1 bay drive cages.

read more...

The BitFenix Phenom is flexible cube case which can scale with your build whether it be passive, air, or watercooling. All for an affordable price tag.

read more...

Optisch gefällt uns das Phennom wirklich gut, insbesondere die weiße Version. Die insgesamt gute Verarbeitung und die von Bitfenix bekannte gute Softtouch-Oberfläche lassen das Gehäuse nicht nur gut aussehen, auch von der Haptik her kann der kleine Würfel überzeugen.

read more...

Andrews Reviews - BitFenix Phenom M-ITX

The Phenom M-ITX is feature rich and extremely flexible in terms of it's customisation options. It looks fantastic and is a great iteration of the Prodigy. I love the SofTouch coating which adds a quality feel and look and the chassis itself is well built and sturdy.

It is not the smallest mini-ITX-case on the market, not that odd considering it shares the same exterior as the Phenom m-ATX case, but this means that Bitfenix has managed to make it possible to cram this case full with high-performance components.

read more...

Syndrome-OC - BitFenix Phenom Mini-ITX

BitFenix ​​provided us therefore a case of good quality and particularly ingenious. Its modular HDD cages combined with the ventilation grille above allows a multitude of configuration. So you want to mount a NAS or a PC gamer watercoolé, this case will satisfy you ... and yet we're talking about a Mini-ITX case.

BitFenix has taken the original Prodigy and coupled it with the looks of the Phenom line. The result is a Mini-ITX chassis that can hold large components and a large number of hard drives. It really reminds us more of the original Prodigy in that regard, but its exterior design lacks an external drive bay and has no flexible parts, which has the Phenom Mini-ITX make a much cleaner impression.

read more...

Overall, the Phenom is a great ITX/mATX case which combines plenty interior space, relatively small size, and stylish aesthetics.

read more...

Elektroniktest.dk - BitFenix Phenom

I must say that it is rare that we get home products that are made as well. This small cabinet is so robust, I could not understand the weight of it until I took a side panel and then the thickness of the metal it is made out of.

Mit dem Phenom ITX präsentiert Bitfenix ein preisgünstiges und edles Mini-ITX-Gehäuse. Besonders die Flexibilität im Innenraum überzeugt. Eine Empfehlung für alle die ein gutes und unauffälliges Gehäuse suchen.

read more...

It still surprises me how sturdy the BitFenix Phenom cases are constructed. For some reason, I just don't expect small cases to feel so substantial but the Phenom is very solid. The hinged side panels are very sturdy with no hint of flex, and the panels snap in neatly and securely.


read more...

Hardware Luxx - BitFenix Phenom

BitFenix hat die Phenom-Serie als schlichtere Alternative zu den Prodigy-Modellen entwickelt. Die markanten Griffe fallen weg, übrig bleiben dezente Cube-Gehäuse mit vielfältigen Nutzungsmöglichkeiten. Obwohl das Mini-ITX- und das Micro-ATX-Modell identische Maße haben und äußerlich kaum voneinander zu unterscheiden sind, weicht der Innenaufbau der beiden Modelle doch stark voneinander ab.

Whether you go for the Micro-ATX or the Mini-ITX version of the Phenom will be down to your personal requirements. In simple terms the Mini-ITX offers greater water cooling support but only single GPU. There are also our concerns about the airflow being limited at the front intake to consider. Opt for the Micro-ATX and you lose a bit of radiator headroom but what you save on the cost of the cheaper Micro-ATX motherboards can be put towards a better GPU.

read more...