BitFenix


Shinobi Midi-Tower USB 3.0 - schwarz
Featuring cutting-edge design
maximum expansions options
and superior cooling
Shinobi gives you exactly what you need to exact cold vengeance on your opponents.
Item number: GEBF-011
EAN: 4716779446012
MPN: BFC-SNB-150-KKN1-RP
Manufacturer: BitFenix
Product information -
Shinobi Midi-Tower USB 3.0 - schwarz
Die neue Sternenkrieger Edition von BitFenix: Der Obi Wan Shinobi! Ach nein, der Laserschwert-schwingenden Jedi-Meister hieß irgendwie anders. Aber die Richtung ist in der Tat nicht schlecht, denn "Shinobi" bezeichnet einen Ninja - also jene japanischen Partisanenkämpfer, die im Verborgenen als Spione, Saboteure und Meuchelmörder agierten.
Warum sich die Design-Schmiede BitFenix gerade für diesen Titel bei ihrem neuen Midi-Tower entschieden hat, lässt sich mit der Optik einfach begründen. Denn auch das Gehäuse nimmt gewisse Anleihen am Stealth-ähnlichen Auftrag der Ninjas, wozu vor allem die mattschwarze SofTouch Beschichtung beiträgt, die sich darüber hinaus sehr angenehm anfühlt.
Analog zum strikten Ehrenkodex japanischer Kämpfer bietet der Shinobi jedoch weniger einen aggressiv-militärischen als einen edel-anmutigen Auftritt. Hierzu trägt maßgeblich die klare Linienführung und die saubere Verarbeitung bei. Die Breite der 5,25-Zoll-Frontblenden dient dabei als Grenzmarkierung für zwei schmale Mesh-Streifen, die sich komplett über Front und Deckel ziehen.
Auf diese Weise wird das typische BitFenix Gehäuse-Design mit weitgehend geschlossenen Außenseiten geschickt kombiniert mit der Anforderung eines Frischluftzugangs. Dabei wird die Optik nicht beeinträchtig. Im Gegenteil - die Formgebung wirkt zeitlos elegant wie aus einem Guss. Dies zeigt sich beispielsweise auch beim großen Mesh-Gitter im Deckel. Im Gegensatz zu bekannten Lösungen ist dieses sehr sauber und bündig eingelassen - eine Seltenheit in dieser Preisklasse.
Beim linken Seitenteil differenzieren sich die beiden Versionen des Shinobi, wobei es sich hier um die geschlossene Version handelt. Der Innenraum besticht mit einem modernen Aufbau, bei dem das Mainboard oben, das Netzteil unten verbaut wird. Dies bietet den Vorteil eines separaten Frischluftzugangs für die PSU durch den Boden und damit eine geringere Aufwärmung desselben.
Diverse Aussparungen im Mainboardtray erlauben eine saubere Kabelverlegung sowie eine komfortable CPU-Backplate-Installation. Die Steckkarten können dabei mit Thumb-Screws und somit ohne Werkzeug montiert werden. Neben drei externen 5,25-Zoll-Slots stehen ganze acht interne 3,5-Zoll-Einschübe zur Verfügung. Selbst große RAID-Systeme lassen sich daher im Shinobi verstauen.
Für deren Kühlung sorgt im Auslieferungszustand ein 120-mm-Lüfter an der Rückseite. Zusätzlich lassen sich fünf weitere 120er verbauen - zwei an der Front, zwei im Deckel und einer am Boden. Ebenso vielfältig präsentiert sich das I/O-Panel im vorderen Teil des Deckels, da es gleich zwei USB 3.0 (intern per 20-Pin-Stecker angebunden), zwei USB 2.0 und zwei Audio bietet.
Technische Details:
Maße: 205 x 460 x 490 mm (BxHxT)
Material: Stahl
Farbe: Mattschwarz
Gewicht: 7 kg
Formfaktor: ATX, Micro-ATX, Mini-ITX
Lüfter:
1x 120 mm (Rückseite)
2x 120 mm (Front, optional)
1x 92 mm (Rückseite, optional, statt verbautem 120er)
2x 140/120 mm (Deckel, optional)
1x 120 mm (Boden, optional)
Filter: Front und Boden
Laufwerke:
3x 5,25 Zoll (extern)
1x 3,5 Zoll (extern, im 5,25 Zoll Slot)
8x 3,5 Zoll (intern)
1x 2,5 Zoll (intern, im 5,25 Zoll Slot)
Erweiterungsslots: 7
I/O-Panel:
2x USB 3.0 (interne Anbindung)
2x USB 2.0
1x je Audio In/Out
Maximale Grafikkartenlänge: 320 mm
Maximale CPU-Kühler-Höhe: 160 mm
Features:
Style: unverwechselbares Design, edle SofTouch Oberfläche
Power: max. 6x 120-mm-Lüfter installierbar
Usability: internes Kabelmanagement, 4x USB Anschlüsse
Further links for

"Shinobi Midi-Tower USB 3.0 - schwarz"
Videos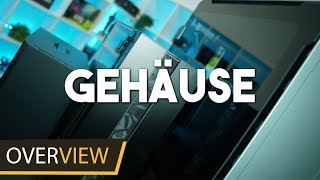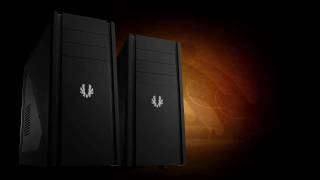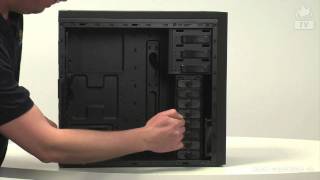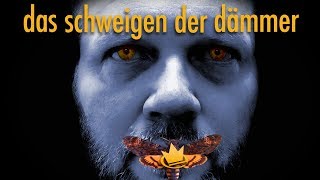 Technical Details
| | |
| --- | --- |
| max. Mainboardformfaktor | ATX |
| Case type | Midi-Tower |
| Form factor | ATX, Micro-ATX, White |
| Colour | black |
| Primary colour | black |
| Secondary colour | silver |
| Width (exact) | Open |
| Height (exact) | 460 |
| Depth (exact) | 490 |
| Width | 200 - 300 mm |
| Height | 400 - 500 mm |
| Depth | 400 - 500 mm |
| Weight (exact) | 7 kg |
| Weight | 6 to 8 kg (13.2 to 17.6 lbs) |
| Material | plastic, steel |
| max. CPU Kühler Höhe (exakt) | 160 mm |
| max. Grafikkarten Länge (exakt) | 320 mm |
| max. CPU Kühler Höhe | 160 - 179 mm |
| max. Grafikkarten Länge | 300 - 399 mm |
| Side panel | closed |
| Front Door | Green |
| Position I/O | Deckel |
| USB 2.0 | 2x |
| USB 3.0 | 2x |
| Audio Out | |
| Audio In | |
| Cardreader | nein |
| Fan controller | no |
| LCD/TFT Display | nein |
| internal 2,5" | 1x |
| internal 3,5" | 8x |
| external 3,5" | 1x |
| external 5,25" | 3x |
| Hot-Swap | nein |
| PCI-Slots | 7 |
| HDD Isolation | No |
| Motherboard tray | no |
| Case cable management | yes |
| PSU formfactor | ATX |
| PSU position | Hinten Unten |
| Preinstalled fans | 1x 120mm |
| 92 mm Fans | 1 |
| 120 mm Fans | 6 |
| 140 mm Fans | 2 |
| Fan colour | black |
| Filter | yes |
| Dampening | no |
| Illumination | no |
| Remote control | nein |
| Schlauchdurchführung | ja |
| Serie | Shinobi |
| Volume in L | 46,21 |
| Transport System | nein |
Awards
Alles in allem bin ich absolut positiv überrascht vom Bitfenix Shinobi und sehr überzeugt, dass es die richtige Wahl für meine PC Beispiele darstellt.
Es bietet viele Innovative Features und macht es so auch dem Unerfahrensten Käufer einfach, sich ein sehr schönes und vor allem sehr leises System zu bauen.

Pro
+ geringer Preis
+ edle Optik
+ Soft Touch Oberfläche
+ einfache Handhabung
+ gute Temperaturwerte
+ sehr leise

read more...

Bythewhay.gr - BitFenix Shinobi

With simple lines and classic black color is ergonomically designed to accommodate your system, providing comfort and rich plant ventilation of the interior.

PCinpact - BitFenix Shinobi

For only € 55, it is an excellent choice for users who want a box in this price range.

PC-Overware.be - BitFenix Shinobi

In conclusion of this test, we got from BitFenix, a more than adequate housing.

Rexware.fr - BitFenix Shinobi

Le Shinobi de Bitefenix est un boitier moyen de tour vendu 65€ avec fenêtre (et 55€ sans). Ce prix très attractif n'empêche pas les très bons points : le Shinobi jouit d'une belle qualité de fabrication et d'une véritable élégance. Le montage se fait facilement souvent sans outils.

CaseUmbau.de - BitFenix Shinobi

Bitfenix hat mit dem Shinobi ihr Gehäuse Portfolio um einen relativ günstigen und einfachen Kandidaten erweitert. Trotzdem ist die Verarbeitung einwandfrei und das Gehäuse gut durchdacht.

Das BitFenix Shinobi ist anders als das Colossus eher für den kleineren Geldbeutel gedacht, allerdings muss der Käufer keine Abstriche bei der Verarbeitung machen, denn diese befindet sich auch beim Shinobi auf einem hohen Niveau. Es sind nirgends scharfe Kanten oder Grate zu finden.

read more...

RealWorldLabs.com - BitFenix Shinobi

o after all of the things mentioned in this review i really can't think of a bad thing to say about the BitFenix Shinobi Window and that's why it walks away with our Editors Real Deal Choice Award. All that's left now is to see a really Ultra-High End PC Case by BitFenix which i hope is not far away.

xtremehardware.it - BitFenix Shinobi

We were really amazed of this case. The "small" BitFenix ​​of Shinobi is a case from a really high-value solutions for which there are usually medium to high-end homes.

overclockear.com - BitFenix Shinobi

And we have to say we ended up very pleased with the Shinobi. Its design makes the airflow is very good, so you do not have to worry about the temperature of any of our components.

Alles in allem finden wir das getestete Shinobi Gehäuse von BitFenix "gut" gelungen. Besonders heraus gestochen hat das Layout des Gehäuses, dieses konnte in fast allen Bereichen überzeugen

read more...

Hardware-Infos.com - BitFenix Shinobi

Das BitFenix Shinobi ist ein sehr gelungenes Gehäuse, das die Messlatte im Low-Budget-Segment deutlich anhebt. Denn sein gesamtes Konzept ist stimmig, die Qualität erfüllt gehobene Ansprüche und der Preis ist verschwindend gering.

InfoHw.com - BitFenix Shinobi Midi-Tower

Overall, the new product BitFenix ​​follows all the standards to which we have used the manufacturer, and the Shinobi has an incredibly simple and visually appealing. The equipment and number of functions are also features to retain, with the chassis provide everything you would expect from such a solution.

Für die gute Verarbeitungsqualität und Ausstattung bei gleichzeitig sehr fairem Preis hat sich das BitFenix Shinobi unsere Auszeichnung als "Hartware Redaktionstipp" verdient.

read more...

The Shinobi Window may not have everything, but for the price it is being offered at, it is full to the gills with bang for the buck in a mid tower chassis.

read more...

BitFenix zeigt mit dem Shinobi, dass man bei einem günstigen Gehäuse nicht unbedingt auf eine solide Verarbeitung und eine ansprechende Haptik verzichten muss. Die logische Konsequenz ist die Empfehlung der Redaktion in Verbindung mit dem begehrten ComputerBase Award.

read more...

Mit dem Shinobi liefert BitFenix ein schlichtes, aber dennoch schickes Low-Budget-Gehäuse, welches sich gerade für Einsteiger gut eignet. Sowohl Verarbeitung, als auch Design und Lautstärke sorgen für einige Pluspunkte

read more...

BitFenix beweist erneut, dass sie wissen was sie tun bzw. was sie bauen. Der Shinobi Midi Tower ist ein hochwertiges Gehäuse mit einer Menge an Stauraum für Festplatten, bietet einen ausreichenden Airflow mit superleisen Lüftern

read more...

The BitFenix ​​Shinobi has a first class finish and an excellent price

read more...

Syndrome-OC.net - BitFenix Shinobi

Finally, we assign the maximum score for its finish, its layout and its very good value for money. Note that the case comes in two versions: with or without side window.

Hardwareluxx [printed] 03/2011 - BitFenix Shinobi

Den besten Eindruck hinterlässt das BitFenix Shinobi, dass eine vorbildliche Ausstattung und gute Verarbeitung bietet.

Moddingbase.de - BitFenix Shinobi (Videoreview)

Gold

hwsilenzioso.it - BitFenix Shinobi

BitFenix ​​did a great job with Shinobi, this case has many virtues and few faults and goes to meet the main demands from both gamers that require a system effectively cooled and expanded,

Hardwaremax - BitFenix Shinobi

Bitfenix ist es gelungen mit dem Shinobi ein preisgünstiges aber sehr hochwertiges Gehäuse zu liefern. Die Soft-Touch Oberfläche wertet das ganze Gehäuse noch einmal ordentlich auf. Auch die silent Eigenschaften konnten uns gefallen

Overall, the new case of BitFenix ​​is ​​entirely satisfactory. It was a good little look, a window overlooking the courtyard, a fast and efficient with good bindings, and even a cable connection management pushed for the category.

read more...

We are really pleased with this case, and especially satisfied with the cable management features of this case, as once you've tidied everything up, you can gaze through the window and take a look at your handy work.

read more...

PCkoloji.com - BitFenix Shinobi

BitFenix ​​really done a good job. Although the level of input for the special exterior paint finish and black interior are not missing.

The bottom line is, Shinobi is a very roomy, feature laiden mid-tower that is great for cable management and comes at a very attractive price-point. It comes recommended by Vortez.

read more...

Ingame - BitFenix Shinobi

Die Jungs von BitFenix wissen wie man ein Gehäuse baut und mit ihrer letzten Kreation, dem BitFenix Shinobi beweisen sie es ein weiteres mal! Ohne viele unnütze Extras schaffen sie es, ein hübsches und schlichtes Design mit einer gut ausbalancierten Nutzbarkeit zu vereinen.

clunk.org - BitFenix Shinobi

The Shinobi comes with plenty of cooling options, our tests showed that the addition of a side fan to the supplied front and rear fans on the Shinobi Window will give the optimum cooling for the least expenditure.