BitFenix


Shogun Midi-Tower, Tempered Glass - schwarz Window
Schwarzer Midi-Tower von BitFenix
abgerundete Aluminium-Komponenten
zwei getönte Hartglas-Seitenfenster
3x 120-mm-Lüfter vorinstalliert
360-mm-Radiator-Support
Mainboards bis E-ATX-Formfaktor
Item number: GEBF-180
EAN: 4712883216206
MPN: BFC-SOG-600-KKWSK-RP
Manufacturer: BitFenix
Product information -
Shogun Midi-Tower, Tempered Glass - schwarz Window
Der Name "Shogun" steht für einen japanischen Militärtitel, welcher einen Anführer aus dem Kriegeradel der Samurai bezeichnet und seine Gegner in Ehrfurcht erzittern lässt. Gleichermaßen verhält es sich mit dem
BitFenix Shogun Midi-Tower
, der nicht nur Kraft, Stärke und absolute Kontrolle symbolisiert, sondern dem Nutzer auch den entscheidenden Vorteil über Sieg oder Niederlage gibt, indem er mächtige Gaming-Hardware aufnehmen kann. Dabei vereint das schwarze Gehäuse hochwertige Aluminium-Komponenten mit getönten Seitenfenstern aus edlem Temperglas und bietet Platz für E-ATX-Mainboards sowie hocheffiziente Luft- oder Wasserkühlungen.
Der BitFenix Shogun Midi-Tower im Überblick:
Schwarzer Midi-Tower mit Aluminium-Komponenten
Zwei große Seitenfenster aus getöntem Temperglas
Platz für Mainboards mit E-ATX-Formfaktor und kleiner
LED-Beleuchtung an den beiden Front-SSDs (mit RGB-Controller / ASUS Aura Ready)
Viel Platz für Luft- und Wasserkühlungen
Drei vorinstallierte 120-mm-Lüfter
CPU-Kühler mit einer maximalen Höhe von 175 mm
Grafikkarten bis 410 mm & Netzteile bis 250 mm Länge
Bis zu sechs HDDs & vier SSDs oder zehn SSDs
Design, Temperglas-Seitenfenster und Beleuchtung im BitFenix Shogun
Anreiz und auch Selbstanspruch beim BitFenix Shogun war es ganz offensichtlich, ein vollwertiges Gehäuse zu gestalten, welches sich als Multimedia-Zentrale oder als Gaming-PC optisch perfekt in seine Umgebung integriert. Mit einem schwarzen BitFenix Shogun auf dem Lowboard - oder auch neben dem Schreibtisch - wird jeder geschmackvoll eingerichtete Raum noch edler, noch eleganter, noch unverwechselbarer. Die Designer haben dies in erster Linie durch die beiden Sidepanels erreicht, die jeweils aus einem Stück Temperglas gefertigt sind und deren Oberfläche stark dunkel getönt ist. In Kombination mit dem abgerundeten Aluminium-Top- und Boden-Panel in Schwarz ergibt sich somit ein eindrucksvolles Gesamtbild, das in dieser Preisklasse seinesgleichen sucht.
Die übrigens werkzeuglos abnehmbaren Seitenteile ermöglichen trotz der starken Tönung einen Einblick auf die im Inneren verbaute Hardware, vor allem wenn dort mit einer LED-Beleuchtung gearbeitet wird. Passend dazu setzt BitFenix auf einen von ASUS Aura zertifizierten RGB-LED-Controller, der die SSDs in den zwei Chroma-Slots in angemessener Art und Weise präsentieren kann. Das beleuchtbare SSD-Bracket gibt dem Nutzer somit die Möglichkeit die SSDs in jeder beliebigen Farbe zu beleuchten und der restlichen Farbgebung des Systems anzupassen. Ein wirklich einzigartiges Features, was es so in dieser Form noch nicht gegeben hat. Über einen Button am I/O-Panel lässt sich die Beleuchtung zudem ausschalten, doch wer möchte das schon?
Luft- oder Wasserkühlung im BitFenix Shogun
Für einen aktiven Luftstrom sind ein vorinstallierter 120-mm-Lüfter an der Rückseite und zwei 120-mm-Lüfter an der Front zuständig, die entweder durch 140-mm-Modelle ausgetauscht oder durch weitere Lüfter im Deckel ergänzt werden können. Die Vollausstattung des Shogun mit bis zu fünf Lüftern würde einen ausgezeichneten Airflow erzeugen, der auch sehr potente Gaming-Hardware entsprechend zuverlässig herunterkühlt.
Dank der relativ großen Ausmaße des Midi-Towers lässt sich aber auch eine effektive Wasserkühlung verbauen. Der Deckel nimmt dabei einen Radiator bis maximal 360 Millimeter auf, wohingegen die Front Platz für maximal einen 280-Millimeter-Radiator bietet. Sogar an der Rückseite ist Platz für einen 140-Millimeter-Radiator.
Gute Ausstattung und viel Platz für Gaming-Hardware
Das Innere des knapp 14 kg schweren BitFenix Shogun erweist sich als angenehm geräumig, denn neben der Hauptplatine im Formfaktor E-ATX, ATX, Micro-ATX oder Mini-ITX können auch leistungsfähige Netzteile (bis 250 mm), Pixelboliden bis 41 cm Länge sowie CPU-Kühler bis 17,5 cm Höhe untergebracht werden.
Die modularen Festplattenkäfige bieten Platz für maximal sechs 3,5-Zoll-Datenträger, die bei Bedarf gegen 2,5-Zoll-Datenträger ausgetauscht werden können. Zwei weitere 2,5-Zoll-Slots befinden sich hinter der linken Scheibe am unteren Ende des Shogun Gehäuses und werden durch die LED-Beleuchtung eindrucksvoll in Szene gesetzt. Als wäre das noch nicht genug, befinden sich außerdem zwei 2,5-Zoll-Slots auf der Rückseite des Mainboard-Trays, wo sich übrigens genug Platz (25 mm) für sinnvolles Kabelmanagement befindet.
Die Usability hat BitFenix beim Shogun insgesamt sehr hoch ansetzen können, die Staubfilter halten magnetisch und lassen sich entsprechend leicht entfernen, die Seitenteile sind ebenso tool-less abnehmbar wie die Thumbscrews der sieben PCI-Slots. Außerdem ist das Shogun mit Mainboard-Abstandshaltern ausgestattet und besitzt einen großen Cutout im Tray zum unkomplizierten Kühlerwechsel. Das I/O-Panel im vorderen Teil des Deckels verfügt über je zwei USB-3.0- und USB-2.0-Ports, HD-Audioanschlüsse sowie Power- & Reset-Button.
Technische Details:
Maße: 250 x 565 x 525 mm (B x H x T)
Gewicht: ca. 14,15 kg
Material: Stahl, Aluminium, Kunststoff, Glas
Farbe: Schwarz
Formfaktor: E-ATX, ATX, Micro-ATX, Mini-ITX
Lüfter insgesamt möglich:
2x 140 mm oder 3x 120 mm (Vorderseite)
1x 140 mm oder 1x 120 mm (Rückseite)
2x 140 mm oder 3x 120 mm (Deckel)
Davon vorinstalliert:
1x 120 mm (Rückseite)
2x 120 mm (Vorderseite)
Radiator-Mountings:
1x max. 280 mm (Vorderseite)
1x max. 140 mm (Rückseite)
1x max. 360 mm (Deckel)
Filter: Vorderseite, Netzteil
Laufwerksschächte:
6x 3,5/2,5 Zoll (modular)
4x 2,5 Zoll (2x Chroma SSDs & 2x Mainboard-Tray-Rückseite)
Netzteil: 1x Standard ATX & EPS 12V
Erweiterungsslots: 7
I/O-Panel:
2x USB 3.0
2x USB 2.0
1x je Audio In/Out
1x je Power- und Reset-Button
Maximale Grafikkartenlänge: 410 mm
Maximale CPU-Kühler-Höhe: 175 mm
Maximale Netzteil-Länge: 250 mm
Further links for

"Shogun Midi-Tower, Tempered Glass - schwarz Window"
Videos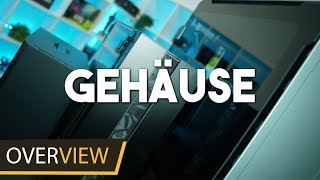 Technical Details
| | |
| --- | --- |
| Case type | Midi-Tower |
| max. Motherboard form factor | E-ATX |
| compatible Motherboard form factors | E-ATX, ATX, Micro-ATX, White |
| Colour | black |
| Primary colour | black |
| Secondary colour | silver |
| Width (exact) | 250 |
| Height (exact) | 565 |
| Depth (exact) | RAID Support |
| Width | 200 - 300 mm |
| Height | 500 - 600 mm |
| Depth | 500 - 600 mm |
| Weight (exact) | 14,15 |
| Weight | 14 to 16 kg (30.8 to 35.2 lbs) |
| Material | plastic, aluminium, steel, Tempered Glass / Hartglas |
| max. CPU cooler height (exact) | 175 mm |
| max. GPU lenght (exact) | 410 mm |
| max. PSU lenght (exact) | 250 mm |
| max. CPU cooler height | 160 - 179 mm |
| max. GPU lenght | 400 - 500 mm |
| max. PSU lenght | 250 - 300 mm |
| Side panel | with window |
| Front Door | Green |
| Position I/O | Deckel |
| USB 2.0 | 4x |
| USB 3.0 | 2x |
| Audio Out | |
| Audio In | |
| Cardreader | nein |
| Fan controller | no |
| LCD/TFT Display | nein |
| internal 2,5" | 4x |
| internal 3,5" | 6x |
| Hot-Swap | nein |
| PCI-Slots | 7 |
| Motherboard tray | no |
| Case cable management | yes |
| PSU formfactor | ATX |
| PSU position | rear bottom |
| Preinstalled fans | 3x 120 mm |
| 120 mm Fans | Aluminium |
| 140 mm Fans | No |
| Fan colour | black |
| Radiator Mounting | 1x Single (120 mm), 1x Single (140 mm), 1x Dual (240 mm), 2x Dual (280 mm), 1x Triple (360 mm) |
| Filter | yes |
| Dampening | no |
| Lighting | yes |
| Lighting colour | RGB (selectable) |
| LED compatibility | ASUS Aura Sync |
| Remote control | nein |
| Schlauchdurchführung | nein |
| Serie | Shongun |
| Content Volume in L | 74.16 |
| Transport System | nein |
Awards
The Shogun is very well made, thoughtfully designed, and the result is a great looking build without a lot of effort. It is very large for a mid-tower, though EATX support explains some of the bulk. In all, an excellent choice if you need a larger case and are seeking a tempered-glass option.

read more...

Pros

+ Stunning aluminium exterior panels
+ Tempered glass side panels
+ RGB LED SSD mount
+ Asus AURA Sync support
+ Excellent cable routing/management
+ 3 x 120mm fans pre-installed
+ Competitively priced for spec/size/materials
+ Ideal for high-end gaming builds and water cooling

read more...

Pros:

+ Large interior.
+ Easily able to liquid cool.
+ Host 1 x 360 Radiator.
+ Acrylic window.
+ RGB LED SSD Chroma.
+ Raised up to prevent dust.
+ Soft look.
+ Aluminium Chassis.
+ Cable management space 25mm.

KitGuru says: The Bitfenix Shogun Case is a monster case with plenty of space for a new system build. There are plenty of features and the support for the latest Asus motherboards will prove popular. Just don't be expecting to move it around to LAN parties, as it is very heavy!

read more...

+ Very good build quality
+ Excellent use of materials
+ Glass side panels with different levels of tint
+ Cool LED-equipped SSD bracket
+ Support trays for GPUs
+ Lots of space for cable management
+ Extension plate for motherboard tray to accommodate the E-ATX form factor is included
+ Tool-less HDD trays
+ Can hold a total of 11 hard drives
+ Plenty of space for large CPU coolers
+ Long PSUs will fit nicely
+ Excellent liquid-cooling possibilities
+ RGB LED elements may be controlled via the chassis or the software of a compatible motherboard
+ Velcro strips for cable management

read more...

We can assure you how the Bitfenix Shogun looks impressive, robust, valued, just like the famous Japanese commander to whom he clearly recalls
Beautiful tempered glass panels, first-class quality materials, artwork assemblage, maximum modularity, excellent cable management

read more...

Well

+ Very solid build quality
+ Hardened glass on both sides
+ Unique design both inside and out
+ Plenty of space for hard drives and cooling
+ GPU holders / supports
+ Oceans of space for cables
+ Supports ASUS Aura light
+ Many metal parts ...

read more...

In Summe ist BitFenix mit dem massiv anmutenden Shogun ein gutes Gehäuse gelungen. Das liegt nicht zuletzt an den beiden Echtglasseitenteilen und den beiden SSD-Schaukästen mit RGB-LED-Beleuchtung, die ohne Zweifel das optische Highlight des breiten Midi-Towers sind. Mit Aura-Sync-Zertifizierung lassen sie sich auf Wunsch in das RGB-LED-Ökosystem von Asus einbinden.

Auch im Praxistest schlägt sich das Shogun gut. In beiden Testszenarien werden gute Temperaturwerte erreicht, bei anliegenden 5 Volt sind die Lüfter zudem absolut geräuschlos.

+ Gutes Kabelmanagement
+ Drei Lüfter im Lieferumgang
+ Erweiterbarer Mainboardtray
+ Beleuchtete SSD-Schauplätze
+ Insgesamt sehr hohe Modularität
+ Zwei Seitenteile aus getöntem Echtglas
+ Größere interne Wasserkühlung möglich

read more...

HardwaremAx - BITFENIX SHOGUN

Das erste Flaggschiff seit Jahren aus dem Hause BitFenix konnte uns insgesamt durchaus überzeugen. Nicht nur der modulare und flexible Innenraum macht eine gute Figur, sondern auch das besondere Äußere. Die runden Formen in Zusammenspiel mit dem schrägen, dynamischen Echtglasfenster machen die Optik aufregend, ohne es zu übertreiben. Abgerundet wird dies durch die optionale SSD-Beleuchtung. Da zudem weitestgehend auf Kunststoff verzichtet wurde, überzeugen Haptik und Qualität vollkommen.

Pros:

- High quality materials used
- Dual tempered glass side panels
- Lots of modular options

read more...

PCGameware - BitFenix Shogun Case

Overall the BitFenix Shogun offers up a really good Case that ticks pretty much all of the boxes that most of us Gaming enthusiasts would want. It looks good, will house quite the gaming rig and shows off your hardware to its fullest extent. It does this while keeping the hardware cool and it does all of this at a reasonable price.

Positiv:
+ Gute Verarbeitungsqualität
+ Seitenteile aus Echtglas
+ Modularer Aufbau
+ Drei vorinstallierte leise Lüfter
+ Halterungen für lange und schwere Grafikkarten
+ Viel Platz für Hardware oder sogar E-ATX
+ Aura LED System für SSDs
+ Frontanschlüsse (Audio, 2x USB 2.0, 2x USB 3.0)

read more...

Plenty of space, it looks brilliant, one of the best I've seen so far

read more...

Pros:

+ Supports E-ATX motherboards
+ Dual tempered glass side panel
+ RGB capable LED lighting feature
+ Supports large 280mm and 360mm radiators
+ Adjustable GPU support brackets and HDD cages



read more...

If not for the HD Audio cable, the chassis could have gone gold! Modularity, sleek and elegant appearance, high-end materials, top-end build quality, expandability to EATX, and cost are all terrific reasons to appreciate and desire the Shogun Super Mid-Tower chassis from BitFenix.



read more...

In conclusion, the BitFenix Shogun is a nice chassi suitable for any use, offered at a very competitive price for the quality of materials.

Pro
+ Quality of materials
+ Internal structure
+ high modularity
+ Chroma SSD
+ Price

read more...

The BitFenix Shogun feels like it was designed with the intention of making it worth your money. The extra features like the RGB shroud, VGA supports, and E-ATX shield aren't necessary, but it's reassuring to know that they're there. Buyers should budget for at least one additional 140mm fan, and perhaps replacements for the stock 120mm fans as well (as they're essentially placeholders) ... The thick aluminum dust cover arches at the top and bottom represent the enclosure pretty well: sturdy, good-looking, and functional. For a flashy, high-end system that could benefit from a pane of tempered glass, the Shogun is a good choice.

read more...

Techicize - BITFENIX SHOGUN MIDI TOWER TEMPERED GLASS GAMING CASE

POSITIVE
+ Sleek Design
+ Clever RGB elements
+ Tons of cooling options
+ E-ATX Support
+ GPU bracing system
+ Classy tempered panels

Looking for a case that's able to accommodate your next gaming rig, that room to grow, elements you won't see elsewhere? All with a reasonable price...this is the oneAfter much debate... we're granting GOLD

If I had to pick a mid-tower that oozes style, design and features right now I'd put the BitFenix Shogun highly on my short-list, that's the honest truth. Style wise it might not be for everybody, but I do tend to think that many people will agree with me, this one is a beauty. This kind of beauty comes at a price of 160 USD/euro. Honestly, fot what you are receiving I feel this is money well spent. The magic is to be found in the see-trough design with the tempered glass side panel, the all dark interior and that lovely lover compartment where you can hide your PSU. it is a mid-tower chassis that can hold 360 radiators as well.

read more...

Pro

+ Design
+ Quality and Materials
+ Double bulkhead Tempered Glass and Aluminum
+ front radiator support up to 240 mm and 360 mm top
+ Tray for two SSD and SSD BitFenix ??Chroma System

read more...

Mod-your-case - BitFenix Shogun


Pro
+ Sehr gute Verarbeitung
+ Ausstattung
+ Design
+ Kompatibilität
+ Fast vollständig werkzeuglose Montage

Main advantages
+ Tempered glass sides
+ Allows triple upper and double front radiator
+ Compatible with heatsinks up to 175 mm in height
+ Allows graphics up to 410 mm
+ Offers 3 large GPU brackets
+ 6 bays 3.5 "/2.5" + 5 bays 2.5 "
+ RGB LED lighting in front bays
+ Control button for lighting

read more...

FAZIT 1,50

+ Sehr niedrige Temperaturen von CPU/GPU/Wandler
+ Sehr leise Lüfter mitfgeliefert/seht gut Dämmung
- Ausstattung: keine Lüftersteuerung

Wer auf der Suche nach einem hochwertigen, gut ausgestatteten Hardware-Heim mit guter Kühlung bei geringer Geräuschkulisse ist, hat hier ein mit rund 150 auch nicht zu hoch bezahltes, empfehlenswertes Gehäuse gefunden. Die Schulnote "Sehr gut minus" ist hier voll gerechtfertigt.

read more...