BitFenix


Spectre 120mm Lüfter rote LED - schwarz
With a unique sickle fan black design and proprietary technology
the BitFenix Spectre LED fan is perfect for keeping your system icy cool with aggressive looks and minimal noise.
Item number: LUBF-017
EAN: 4716779440201
MPN: BFF-BLF-12025R-RP
Manufacturer: BitFenix
Product information -
Spectre 120mm Lüfter rote LED - schwarz
Die Vereinbarkeit von Design und Funktionalität ist der wesentliche Anspruch von BitFenix. Mit den erstklassigen Colossus und Survivor Gehäusen zeigt der Hersteller auch gleich, was in der Praxis darunter zu verstehen ist. Nun erweitert BitFenix sein Angebot um Zubehör- und Modding-Artikel, welche analog zu den Gehäusen weit mehr können, als nur schön auszusehen.
Dies gilt auch für die Lüfter der Spectre Serie, die in vielfältigen Versionen angeboten werden. Hierbei handelt es sich um einen schwarz-transparenten 120-mm-Lüfter, der bei unter 20 dB(A) Geräuschentwicklung ein Volumen von 73,5 m³/h durch den Rotor schaufelt. Als Besonderheit kann die rote Beleuchtung des Spectre unabhängig von der Drehzahl deaktiviert werden. Derartige Lösungen gab es bisher nur bei einigen Gehäusen und kann nun erstmals nachgerüstet werden.
Hierzu verfügt der Lüfter neben einem 3-Pin Anschluss zur Stromversorgung und gegebenenfalls zur Regelung der Drehzahl über einen zusätzlichen 2-Pin. Dieser kann entweder mit dem Survivor-Case oder dem Hydra System von BitFenix verbunden werden, womit sogar die Beleuchtung mehrerer Lüfter gleichzeitig gesteuert werden kann.
Technische Details:
Maße: 120 x 120 x 25 mm (B x H x T)
Farbe: Schwarz (transparent)
Lautstärke: < 20 dB(A)
Drehzahl: 1.000 U/min*
Fördervolumen: 73,5 m³/h
Luftdruck: 0,62 mm-H2O
Spannung: 12 V
Anschlüsse:
1x 3-Pin (Stromversorgung/Steuerung)
1x 2-Pin (LED-Kontrolle)
Kabellänge:
3-Pin: ca. 50 cm
2-Pin (abnehmbar): ca. 85 cm
Beleuchtung: 4x Red LEDs
Further links for

"Spectre 120mm Lüfter rote LED - schwarz"
Videos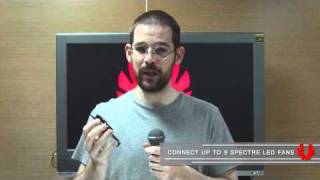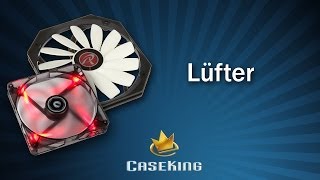 Technical Details
| | |
| --- | --- |
| Rotor diameter | 120 mm |
| Mounting holes | 120 mm |
| Primary colour | black |
| Secondary colour | black |
| Fan connector | 3 Pin |
| Illumination | yes |
| Illumination colour | red |
| Max rpm (exact) | 1000 U/min |
| Max noise level (exact) | 20 dB(A) |
| Max air volume (exact) | 73,5 m³/h |
| Max rpm | 1000 - 1499 U/min |
| Max noise level | 15 - 19 dB(A) |
| Max air volume | 50 - 74 m³/h |
Awards
Syndrome-OC.net - BitFenix Spectre LED

Add to that a pair of fans Spectrum LED and wrap inside your box of Aqua strip and admire your beautiful config worthy of the most beautiful Christmas trees.