BitsPower


Anschluss gerade G1/4 Zoll AG auf 13mm ID - schwarz matt
This is the finest made fittings we have ever offered! Now in a Black Matte Surface treatment! This is a replacement barb for any product that use G 1/4" fittings.
Item number: WAAD-193
EAN: 4711946743253
MPN: BP-MBWP-C01
Manufacturer: BitsPower
Product information -
Anschluss gerade G1/4 Zoll AG auf 13mm ID - schwarz matt
Zur Verbindung der einzelnen Komponenten der Wasserkühlung ist die Wahl der richtigen Anschlüsse und deren ausreichende Anzahl essentiell. Sonst wird der Einbau schnell zum Frusterlebnis, wenn der Zusammenbau an den falschen oder zu wenigen Verbindungsstücken scheitert und sich aufgrund dessen verzögert.
Bitspower bietet hierzu ein umfassendes Sortiment, welches für jeden Anspruch die passende Lösung bereit hält - egal ob Adapter, direkte Schlauchanschlüsse, Winkel oder Verteiler. Die Ausführung ist jeweils massiv und verfügt über einen Dichtungsring. Damit bleiben die Anschlüsse dicht und gewährleisten eine hohe Langzeithaltbarkeit.
Dies ist ein gerader und matt-schwarzer G1/4 Zoll Steckanschluss (Fitting) für Schläuche mit 1/2 Zoll bzw. 13mm Innendurchmesser im Real Hi-Flow Design. Da keine Überwurfmutter verwendet wird, können beliebige Schlauchstärken und somit Außendurchmesser genutzt werden.
Zur Fixierung der Schläuche auf dem Anschluss empfehlen wir sicherheitshalber einen Kabelbinder oder eine Schlauchschelle.
Hinweis:
Wir empfehlen für die Installation und Demontage des Anschlusses einen 15-mm-Maulschlüssel. Bitte beachten Sie, dass auch beim Einsatz von Werkzeug der Anschluss nur handfest angezogen werden darf. Unser Werkzeug
finden Sie hier
.
Technische Details:
Material: Messing
Farbe: matt Schwarz
Gewinde: G1/4 Zoll
Geeignet für: 13 mm Schlauch (Innendurchmesser)
Further links for

"Anschluss gerade G1/4 Zoll AG auf 13mm ID - schwarz matt"
Videos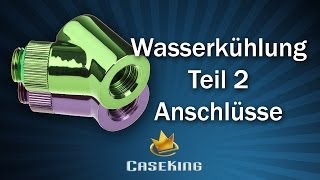 Technical Details
| | |
| --- | --- |
| Purpose | Schlauch- / Tubeanschluss |
| Water cooling connector type | screw connection, plug connection |
| Wakü-Anschlüsse | G1/4" Aussengewinde, Schlauchanschluss 16/13 mm, Schlauchanschluss 19/13 mm |
| Inner Diameter | 13 mm |
| Suitable for Hardtubing | nein |
| Angle | gerade, kein Winkel |
| Rotatable | nein |
| Connector color | black matt |
| Material | Messing |
| Set | nein |