BitsPower


T-Adapter G1/4 auf 2x IG 1/4 Zoll - drehbar, shiny silver
Bitspower now offers a rotary fitting made of chromed brass. This "T" shiny fitting accessory to use for tight water-cooling situations.
Item number: WAAD-020
EAN: 4711946734640
MPN: BP-TR-C
Manufacturer: BitsPower
Product information -
T-Adapter G1/4 auf 2x IG 1/4 Zoll - drehbar, shiny silver
Zur Verbindung der einzelnen Komponenten der Wasserkühlung ist die Wahl der richtigen Anschlüsse und deren ausreichende Anzahl essentiell. Sonst wird der Einbau schnell zum Frusterlebnis, wenn der Zusammenbau an den falschen oder zu wenigen Verbindungsstücken scheitert und sich aufgrund dessen verzögert.
Bitspower bietet hierzu ein umfassendes Sortiment, welches für jeden Anspruch die passende Lösung bereit hält - egal ob Adapter, direkte Schlauchanschlüsse, Winkel oder Verteiler. Die Ausführung ist jeweils massiv und verfügt über einen Dichtungsring. Damit bleiben die Anschlüsse dicht und gewährleisten eine hohe Langzeithaltbarkeit.
Hierbei handelt es sich um einen massiven, würfelförmigen T-Adapter von G1/4 Zoll Außengewinde auf zwei G1/4 Zoll Innengewinde, womit sich Aufspaltungen des Kühlkreislaufes realisieren lassen. Außen- und Innengewinde bilden dabei eine T-Form und stehen im 90 Grad Winkel zueinander. Der Anschluss ist zudem auf Seiten des Außengewindes drehbar gelagert, so dass neben der einfachen Installation zugleich eine präzise Ausrichtung der beiden Innengewinde möglich ist. Neben der sehr ungewöhnlichen Würfelform sorgen zwei dekorative, gegenüberliegende Tribals für einen hervorragenden Blickfang.
Hinweis:
Die Drehfunktion der Anschlüsse sollte immer im ausgebauten Zustand genutzt werden, da diese konstruktionsbedingt relativ schwergängig ist. Im eingebauten Zustand sollte keine Kraft auf Anschlüsse ausgeübt werden, um die Anschlüsse selbst und die daran befindlichen Kühler nicht zu beschädigen.
Technische Details:
Material: vernickeltes Messing
Anschlüsse:
Außengewinde: 1x G1/4 Zoll
Innengewinde: 2x G1/4 Zoll
Further links for

"T-Adapter G1/4 auf 2x IG 1/4 Zoll - drehbar, shiny silver"
Videos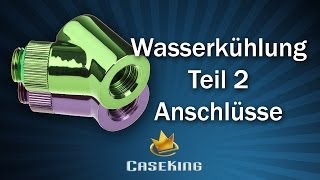 Technical Details
| | |
| --- | --- |
| Outer Diameter | universell (G1/4"-Innengewinde) |
| Inner Diameter | universell (G1/4"-Innengewinde) |
| Water cooling connector type | adapter |
| Set | nein |
| Suitable for Hardtubing | nein |
| Angle | 90° |
| Rotatable | ja |
| Purpose | Adapter mit G1/4"-Innengewinde, Winkel, Y-/T-Stück |
| Connector color | silver glossy |