CableMod


C-Series AXi, HXi, TX/CX/CS-M & RM Cable Kit - rot
Compatible with Corsair® AXi
HXi & RM power supplies
Item number: ZUAD-489
EAN: 0630158275045
MPN: CM-CSI-FKIT-KR
Manufacturer: CableMod
Product information -
C-Series AXi, HXi, TX/CX/CS-M & RM Cable Kit - rot
Gesleevte Kabel sind nicht nur etwas für Modding-Experten, zumindest heute nicht mehr. Früher nahmen nur absolute Enthusiasten das aufwendige und ziemlich risikoreiche Ummanteln der dünnen und dicken Leitungen im PC in Angriff - und erhoben das Handwerk manchmal regelrecht zur Kunst. Auch dank CableMod kann heute aber jeder PC-Nutzer mit dem richtigen Netzteil ein Künstler sein! Denn die Komplettsets, die von CableMod für spezielle Netzteilserien mit abnehmbaren Kabeln angeboten werden, sind enorm hochwertig!
Jede einzelne Ader eines Kabelstrangs ist hier von einem eigenen Sleeve umgeben, was fantastisch aussieht und eine maximale Flexibilität des gesamten Kabels gewährleistet. Störrische Kabel, die einfach nicht dorthin wollen, wo sie hin sollen? Schnee von gestern! CableMods Material für die Sleevings nennt sich "ModFlex", ein speziell entworfenes Textilgewebe, das auch den höchsten Ansprüchen erfahrener Modder genügt, da es weicher und biegsamer ist als Nylon-Umhüllungen, aber trotzdem unvergleichlich eng gewebt und deshalb hundertprozentig blickdicht.
Die Verarbeitung von CableMods sleeved cables ist dabei tadellos, was optisch wie haptisch sofort angenehm auffällt, wenn man die Kabel zum ersten Mal in die Hand nimmt. Ebenfalls ein absolutes Plus im Vergleich zu manchem Konkurrenten: CableMod verzichtet komplett auf Schrumpfschläuche an den Übergängen zwischen Adern und Steckern. Die farbigen ModFlex-Umhüllungen gehen stattdessen direkt bis in die schwarzen Anschlüsse hinein, so dass keine schnöden Heatshrinks den perfekten visuellen Eindruck stören.
Ein großer Vorteil gegenüber ummantelten Verlängerungskabeln besteht bei den CableMod-Kits darin, dass sie direkt die normalen Anschlusskabel ersetzen, die bei den kompatiblen modularen Netzteilen mitgeliefert werden. Um also einen einheitlichen und besonders hochwertigen Kabel-Look zu erhalten, müssen nicht erst die Originalkabel im Gehäuse versteckt verlegt werden, die ja mindestens an der Schnittstelle zum Netzteil immer ein wenig zu sehen sind.
Bei dem hier angebotenen roten Cable Kit handelt es sich um einen Satz aus insgesamt 16 Kabeln, deren einzelne Adern mit rotem ModFlex-Gewebe gesleevt sind. Das Set ist kompatibel zu den Corsair-Netzteilen der Baureihen AXi, HXi, HX, TX-M, CX-M, CS-M sowie RM und die Kabelstränge passen genau in die dafür vorgesehenen Buchsen an der Power Supply Unit. Die genaue Anzahl der Kabel und Anschlüsse sowie deren Länge sind den technischen Details zu entnehmen.
Hinweise:
Bitte beachten Sie, dass das hier angebotene Kabelset ausschließlich für die angegebenen Netzteilmodelle mit modularem Kabelmanagement von Corsair nutzbar ist!
Bild 6 zeigt exemplarisch einige der angebotenen Farbvarianten, es werden hier aber lediglich die in den technischen Details konkret genannten Kabel angeboten.
Technische Details:
Material Sleeves: Textil (ModFlex)
Farbe: Rot (Sleeves), Schwarz (Stecker)
Kompatibilität Netzteile:
Corsair AXi Serie: AX760i, AX860i, AX1200i, AX1500i
Corsair AX Serie*: AX760, AX850
Corsair HXi Serie: HX450i, HX750i, HX850i, HX1000i
Corsair HX Serie: HX650, HX750, HX850, HX1050
Corsair TX-M Serie: TX550M, TX650M, TX750M, TX850M
Corsair CX-M Serie: CX430M, CX500M, CX600M, CX750M
Corsair CS-M Serie: CS550M, CS650M, CS750M, CS850M
Corsair RM Serie: RM450, RM550, RM650, RM750, RM850, RM1000
Kabel:
1x 20+4-Pin ATX12V/EPS12V (580 mm ohne Stecker)
2x 4+4-Pin ATX12V/EPS12V (680 mm ohne Stecker)
4x 6+2-Pin PCIe (580 mm ohne Stecker)
2x Dual-6+2-Pin PCIe (1./2. Anschluss: 580/670 mm ohne Stecker)
1x Quad-SATA (1./2./3./4. Anschluss: 530/630/740/840 mm ohne Stecker)
1x Quad-SATA (1./2./3./4. Anschluss: 380/480/590/700 mm ohne Stecker)
2x Dual-SATA (1./2. Anschluss: 380/490 mm ohne Stecker)
1x Triple-4-Pol Molex (1./2./3. Anschluss: 520/610/710 mm ohne Stecker)
2x Dual-4-Pol Molex (1./2. Anschluss: 370/470 mm ohne Stecker)
1x Adapter von 4-Pol Molex zu Floppy (100 mm ohne Stecker, kein Sleeve, schwarze Einzel-Kunststoff-Ummantelung)
Hinweis:
*Die Netzteilmodelle AX760 und AX860 der Corsair AX-Serie sind eingeschränkt mit diesem Kabelset kompatibel und erfordern ein separat erhältliches 24-Pin-ATX-Kabel. Wenden Sie sich dazu bei Bedarf bitte direkt an den CableMod-Support.
Further links for

"C-Series AXi, HXi, TX/CX/CS-M & RM Cable Kit - rot"
Videos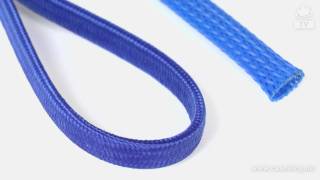 Technical Details
| | |
| --- | --- |
| Cable type | cable set |
| Cable colour | red |
| Connector colour | black |
| Cable sleeved | yes, Individually sleeved |
Awards
The CableMod sheathed cable kit has an excellent finish, the jacket is good quality and do not lets the cables it covers, even with white sheath as in our test.

read more...

Watermod -

Offered around 80EUR, it sheathed cable kit replacement for your power supply is of the highest quality for a reasonable price compared to other cladding solutions and without any inconvenience level assembly or loss of warranty. The record is clean, the cables will fit into the tightest cases, brief as good points or so.

If one of the variations already available suits you, though, then these are some of the best-looking pre-braided kits money can buy.

read more...

The CableMod signed cables are clearly a technical success. They are, as announced by the brand, very high standard. Thanks to their flexibility, installation is very easy, and the result is visually pleasing.

read more...