King Mod Systems


CK Express System Gaming Advanced, i5-7600, RX 580
Immediate delivery: Gaming PC in the InWin 703
Intel i5-7600 & MSI B250 motherboard
AMD Radeon RX 580
8 GB DDR4 RAM
250 GB SSD & 1 TB HDD
80 PLUS Gold power supply
BitFenix fans with red LED lighting
Item number: CKPC-016
EAN: 0000000000000
MPN: CKPC-016
Manufacturer: King Mod Systems
Product information -
CK Express System Gaming Advanced, i5-7600, RX 580
Forming the foundation of the
CK Express System Gaming Advanced
is an extremely stylish InWin 703 Midi-Tower in black-red which, thanks to its window, offers a view of all the powerful gaming hardware at work within. This system comes with a B150 motherboard and a modern Skylake processor from Intel with a 3,3 GHz base clock and a turbo clock of up to 3,9 GHz. This cutting-edge four-core processor offers sufficient performance for any game, even at high resolutions. Moreover the system truly comes into its own when paired with a performance-oriented graphics card like the AMD Radeon RX 480 and fast DDR4 RAM as it is here.
High-End Gaming PC for the Best Games Today
The supplied high-performance 250 GB SSD suffices to store the operating system and your favourite games, and an additional 1.024 GB hard drive is installed for additional multimedia and games. The premium power supply is especially energy-efficient and comes 80 PLUS Gold certified. The CPU cooling is provided by an Alpenföhn Ben Nevis in conjunction with a BitFenix PWM fan illuminated in red with a 120 mm-wide frame. Three additional BitFenix case fans with red LEDs provide the case with optimal airflow and contribute further to the black and red colour theme.
Technical Details:
Express System: Immediate dispatch after receipt of payment & immediate pick-up available in the shop
Stylish InWin 703 Midi-Tower in black-red wit a large viewing window
Intel Core i5-6600 Skylake processor with 4 cores, 6 MB L3 Cache, 3,3 GHz base clock & 3,9 GHz Turbo clock
Durable socket 1151 motherboard Intel-B150 chipset and extensive connectivity
Excellent CPU cooling thanks to the Alpenföhn Ben Nevis CPU cooler and BitFenix 120 mm fan (PWM) with red LED lighting
Three further BitFenix case fans (120 mm) ensure optimal airflow and add to the colour theme of the case with their red LED lighting
Top gaming graphics card: AMD Radeon RX 480 with 8 GB GDDR5 VRAM for smooth gaming
Fast DDR4 RAM (2.400 MHz) in an 8 GB kit (Dual-Channel)
Lightning-fast 250 GB SSD Samsung 850 EVO as the primary storage device
Additional 1.024 GB Western Digital hard drive for secondary data storage
Reliable, high-efficiency (80 PLUS Gold) premium power supply & plenty of power (500 Watt)
Assembled to the highest standards with Thermal Grizzly Hydronaut thermal paste
Note: A compatible operating system e.g. the up-to-date Microsoft Windows 10, can be selected in our software section (click here)!
Free Games with King Mod Gaming Systems:
Complete systems from Caseking come bundled with the game keys matching the respective current games bundle of the chosen graphics card. Non-qualifying products do not come with game keys. All promotions are limited and only valid while stocks last or until the offer expires. Any recourse to courts of law is excluded. All currently active special offers from AMD, NVIDIA and Intel are listed below:


Pre-Assembled & Dispatch-Ready Express Systems:
The system offered here is an
Express System
, which means that the King Mod service has pre-assembled, tweaked and intensively tested the PC in the configuration referred to below. This is what allows Caseking to dispatch the order immediately after receipt of payment. Immediate pick-up in the shop is possible when paying with cash or debit card. Nevertheless, if you do have a special request and would like to invest more time in your build, we are available at any time via e-mail at systems@caseking.de or via telephone on +49 (0)30 5268473-07. We will look into the technical feasibility of your request and give you further information, or you can take a look at our customisable
Complete Systems
and
PC Configuration Tool
.
Caseking's King Mod service will take on the task of building your custom PC - and the King Mod experts experts bring the same attention to detail and extensive insider knowledge discerning customers have come to expect over the years to every single system build. Regardless of whether we are talking about pre-installed water coolers, OC motherboard bundles or perfectly soundproofed cases. At Caseking, computers are more than off-the-shelf products: Every complete PC is built according to a code of practice, furnished with the neatest and slickest of cabling, and thereafter runs a gauntlet of extreme performance tests in order to ensure 100% satisfaction.
Notes on Express Systems with Immediate Dispatch or Pick-Up:
1. Delivery Time:
Caseking is known for individually-built and customer-configured dream PCs. But for customers in a hurry, our King Mod service has a range of
dispatch-ready
Express Systems
available. These computers are assembled in advance, however they come with exactly the same amount of care and attention to detail as well as extensive testing - and consequently these systems are ready to be dispatched as soon as payment is received. In most cases shipment will be dispatched
via UPS
, if necessary an alternative
shipping provider
or forwarding agency will be used.
Immediate pick-up
is also possible at our shop in Berlin-Charlottenburg at any time providing the good are in stock.
2. Guarantee:
For all of Caseking's own complete systems, Caseking offers a
36 month guarantee, 24 of which include pick-up service
. For a justified claim, there must be a technical defect on the PC that has not arisen from usage of the hardware that is outside of specification or that can be traced back to user misuse via proprietary methods or by discussion with a Caseking engineer. Furthermore the delivered system cannot be modified or altered, this includes independently updating the UEFI/BIOS as full functionality can no longer be guaranteed with UEFI/BIOS versions that differ from those originally installed. And as a general rule of thumb, you can't go far wrong with the age-old advice: "Never touch a running system!".
3. Disclaimer:
The illustrations and photographs of computer systems are merely demonstration examples. The shipped computer may vary from the pictures according to the selection and availability of individual PC components. Under all circumstances however, you will receive a system constructed from the ground up with professionalism and all due care - as well as a system where the components are highly tuned and balanced, and that you can be proud to show off at any time, because here at Caseking nothing is standard!
Further links for

"CK Express System Gaming Advanced, i5-7600, RX 580"
Videos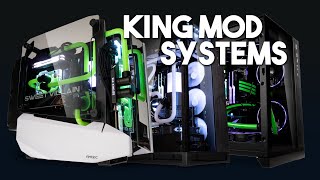 Technical Details
| | |
| --- | --- |
| CPU | Intel Core i5 |
| Graphics chip | AMD Radeon RX 580 |
| Cooling | Luftkühlung |