King Mod Systems


CK Express System Gaming Enthusiast, Intel i7-8700K, GTX 1070
Sofort lieferbar: Superstarker Gaming-Express-PC im Enthoo Pro:
i7-8700K @ 3.7 GHz
NVIDIA GeForce GTX 1070
16 GB DDR4 @ 2400 MHz
250-GB M.2 SSD
80Plus Platinum Netzteil
Windows 10 Home Advanced
Item number: CKPC-044
MPN: CKPC-044
Manufacturer: King Mod Systems
Product information -
CK Express System Gaming Enthusiast, Intel i7-8700K, GTX 1070
Das kräftige
CK Express System Gaming Enthusiast
wird im mondänen
Midi-Tower PHANTEKS Enthoo Evolv
ausgeliefert, der nicht nur mit einer besonders guten Kühlung für einen leisen Betrieb glänzt, sondern wegen seinem Seitenteil aus Temperglas auch noch den Blick auf die sehr leistungsstarken Parts im Innenraum freigibt. Dabei handelt es sich um ein
Z370-Mainboard
und einen Coffee Lake-Prozessor von Intel, der mit 3,7 GHz getaktet wird. Die ultrastarke Sechskern-CPU mit Hyper-Threading zur Abarbeitung von zwölf Threads gleichzeitig wird durch Raijinteks beliebte Komplettwasserkühlung Orcus Core RGB auf Silent-Niveau gekühlt, und ist so effektiv, dass selbst High-End-Grafikkarten wie die verbaute NVIDIA GeForce GTX 1070 mit 8 GB GDDR5X-Grafikspeicher niemals ausgebremst werden. In Verbindung mit schnellem DDR4-RAM samt roten LEDs werden auch anspruchsvollste Games auf voller Grafikleistung gemeistert.
Leistungsstarker High-End Gaming PC für aktuelle Top-Spiele
Für ein Betriebssystem und die liebsten Spiele steckt außerdem eine ausgezeichnete 250-GB-M.2 SSD im Rechner. Die Stromversorgung übernimmt ein sehr hochwertiges und besonders energieeffizientes Netzteil mit 80Plus Platinum Standard. Für eine stylische Beleuchtung sorgt das Strimer 24-Pin RGB Mainboardkabel von Lian Li. Ergänzt wird die leuchtende Farbenpracht durch ein magnetischen LED-Strip Alchemy 2.0 von Bitfenix mit 30 violett leuchtenden LEDs. Damit gleich losgelegt werden kann, ist Windows 10 Home Advanced bereits vorinstalliert.
Technische Details des Systems:
Express System: Unmittelbarer Versand nach Zahlungseingang & Sofort-Abholung im Ladengeschäft möglich
Stilvoller Midi-Tower PHANTEKS Enthoo Evolv in Schwarz mit Seitenteil aus Temperglas
Intel Core i7-8700K (Kaby Lake) mit 6 Kernen, Hyper-Threading, 12 MB L3-Cache & 3,7 GHz
MSI Z370 Gaming Pro Carbon mit Intel-Z370-Chipsatz
Komplett-Wasserkühlung mit 240-mm-Radiator & 2x leisen 120-mm-Lüftern
High-End-Gaming-Grafikkarte NVIDIA GeForce GTX 1070 mit 8.192 MB GDDR5X
Schneller DDR4-Arbeitsspeicher (2.400 MHz) im 16-GB-Kit
Pfeilschnelle M.2 SSD mit 250 GB Volumen als primärer Datenspeicher
Zuverlässiges Qualitätsnetzteil mit hoher Effizienz & viel Power (550 Watt)
Perfekt gebaut unter Nutzung von Thermal Grizzly Hydronaut Wärmeleitpaste
Inklusive Windows 10 Home Advanced
Gratis-Spiele zum King Mod Gaming-System:
Jedem Komplettsystem von Caseking liegen die zur jeweils ausgewählten bzw. verbauten Grafikkarte gehörenden Gutscheincodes der aktuellen Spielebundles bei. Nicht qualifizierten Produkten werden keine Gutscheine beigefügt. Nur Endkunden erhalten kostenlose Beigaben. Alle Promotion-Aktionen sind limitiert und nur gültig, solange der Vorrat reicht oder bis das Angebot beendet wird. Der Rechtsweg ist ausgeschlossen. Nachfolgend sind alle momentan aktiven Gutscheinaktionen von AMD, NVIDIA und Intel aufgeführt:
AMD Ryzen CPUs & Radeon GPUs: 3 Monate Xbox Game Pass für PC. Mehr Infos
NVIDIA GeForce RTX 2080 Ti, 2080, 2070, 2060: Wolfenstein: Youngblood. Mehr Infos
NVIDIA GeForce GTX 1080 (Ti), 1070 (Ti), 1060: Shadow of the Tomb Raider. Mehr Infos
BullGuard Internet Security zum King Mod Gaming-System:
Jedem Komplettsystem von Caseking liegt BullGuard Internet Security zur Nutzung auf 3 Endgeräten bei. Digitale Gefahren in Form von Viren und Malware können über die 1-jährige Lizenzdauer erfolgreich abgewehrt werden. Die umfangreiche Internet Security-Suite von BullGuard bietet einen effektiven Rundumschutz, der höchste Sicherheit beim Surfen gewährleistet und in Kombination mit der integrierten Firewall und zahlreichen weiteren Funktionen das System vor unerwünschten Zugriffen und direkten Angriffen von außen beschützt.
Bereits fertig montiertes & sofort versandfertiges Express-System:

Beim hier angebotenen Rechner handelt es sich um ein Express System, das bedeutet, dass der King-Mod-Service den PC in der unten angegebenen Konfiguration bereits vorab zusammenbaut, einstellt und intensiv testet, um ihn direkt nach der Bestellung bzw. dem Zahlungseingang an Sie ausliefern zu können. Auch Sofortabholungen im Ladengeschäft sind so bei Bar- und EC-Kartenzahlung möglich. Dennoch gilt, wenn Sie spezielle Wünsche haben und dafür etwas mehr Zeit investieren möchten, dass Sie uns jederzeit gern per Mail an [email protected] oder per Telefon unter +49 (0)30 4036642-07 kontaktieren können - wir prüfen die technische Machbarkeit und geben Ihnen rasch Auskunft oder Sie werfen einen Blick auf unsere individuell konfigurierbaren Komplett-Systeme und PC-Konfiguratoren.

Den akkuraten Zusammenbau übernimmt für Sie Casekings King Mod Service - dessen PC-Experten gehen an jeden einzelnen Komplett-Rechner mit derselben Liebe zum Detail und dem umfangreichen Insider-Know-How heran, welche anspruchsvollste Kunden seit Jahren gewohnt sind, egal ob von vormontierten Wasserkühlern, OC-Aufrüst-Bundles oder perfekt gedämmten Gehäusen. Computer sind hier keine Einheitsware: Jeder Komplett-PC wird nach allen Regeln der Kunst montiert, absolut sauber verkabelt und anschließend intensiv auf Herz und Nieren geprüft, um Sie hundertprozentig zufriedenzustellen.

Hinweise zum Express-System mit Sofortversand oder Sofortabholung:

1. Lieferzeit: Caseking ist dafür bekannt, individuell zusammengestellte und nach Kundenwünschen konfigurierte Traumsysteme anzubieten. Doch für Kunden, die es besonders eilig haben, haben wir vom King-Mod-Service bereits vorab montierte und komplett versandfertige Express Systeme im Programm. Die Rechner werden im Vorfeld selbstverständlich ebenfalls liebevoll per Hand zusammengesetzt und anschließend intensiv getestet, damit sie bei einer Bestellung direkt nach Zahlungseingang verschickt werden können. Der Versand erfolgt in den meisten Fällen per UPS, kann je nach den Erfordernissen bei einem System aber auch durch einen anderen Versanddienstleister oder per Spedition erfolgen. Auch eine Sofort-Abholung in unserem Ladengeschäft in Berlin-Charlottenburg ist daher bei Warenbestand jederzeit möglich! Achtung: CK Express-Systeme sind nur dann sofort versandfertig, wenn sie als "lagernd" angezeigt werden. Es ist ebenfalls zu beachten, dass wir bei Vorkasse-Zahlungen keine Artikelreservierung vornehmen und erst auf den Zahlungseingang warten müssen, wodurch sich der Versand verzögert. Der Warenbestand kann über die Stückzahlanzeige geprüft werden.

2. Garantie: Für alle eigenen Komplettsysteme übernimmt Caseking eine 36-monatige Garantie, 24 Monate davon mit Pick-up & Return-Service. Voraussetzung für die Inanspruchnahme ist, dass ein technischer Defekt am PC-System vorliegt, der nicht auf unsachgemäßen Gebrauch der Hardware durch den Nutzer zurückzuführen ist und der zunächst mit einem Caseking-Techniker besprochen wurde. Zudem darf das ausgelieferte System nicht modifiziert werden und es sollte von einem eigenmächtigen UEFI/BIOS-Update abgesehen werden, da mit einem abweichenden UEFI/BIOS der volle Funktionsumfang nicht mehr garantiert werden kann. Außerdem gilt die berühmte Technik-Weisheit: Never touch a running system!

3. Änderungsvorbehalt: Die Abbildungen des Computersystems stellen lediglich eine Beispielkonfiguration dar. Je nach Verfügbarkeit der einzelnen PC-Komponenten kann der an Sie ausgelieferte Rechner geringfügig von den Bildern abweichen. In jedem Fall erhalten Sie ein fachmännisch und mit aller Sorgfalt montiertes PC-System, das Sie wegen der gut aufeinander abgestimmten Hardware und der hochwertigen Bauteile jederzeit stolz präsentieren können - denn hier ist nichts Standard!
Further links for

"CK Express System Gaming Enthusiast, Intel i7-8700K, GTX 1070"
Videos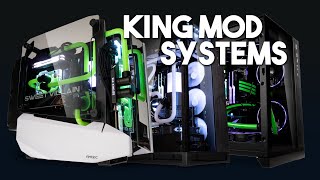 Technical Details
| | |
| --- | --- |
| CPU | Intel Core i7 |
| Graphics chip | NVIDIA GeForce GTX 1070 |
| Cooling | Komplett-Wasserkühlung (AiO) |