Corsair


Carbide 200R Midi-Tower - schwarz
Carbide Series 200R is compact
but it's designed to let you build high-performance systems with massive storage
extra graphics performance
and superior cooling and ventilation.
Item number: GECS-017
EAN: 0843591033251
MPN: CC-9011023-WW
Manufacturer: Corsair
Product information -
Carbide 200R Midi-Tower - schwarz
Corsair baut seine Carbide-Serie kontinuierlich aus und bietet dabei für jeden Anspruch die passende Lösung. Mit Hochleistungs-Arbeitsspeicher konnten sich die US-Amerikaner einen Namen in der Übertakterszene und unter den enthusiastischen Anwendern der Computergemeinde machen. Hohes OC-Potenzial und enorme Zuverlässigkeit sind dabei stets die hervorstechenden Attribute der Speichermodule. Mittlerweile produziert Corsair allerdings auch hochwertige Netzteile, SSDs, Wasserkühlungen und nicht zuletzt optisch und funktional herausragende Gehäuse.
Unterhalb der High-End-Serie Obsidian und der Modelle der Graphite-Reihe bietet Corsair mit seiner Palette von Carbide-Gehäusen bezahlbare Cases mit überzeugenden Ausstattungsmerkmalen für das Mittelklasse-Segment an. Das 200R löst das 300er-Modell als kleinstes Modell innerhalb der Carbide-Serie ab. Das Compact ATX Case passt sich seinen größeren Brüdern optisch schlicht und elegant an. Die Front besteht aus mattem Kunststoff, das in einer grau-schwarzen Farbgebung gehalten ist und an das aktuell moderne Soft Touch angelehnt. Wie gewohnt lässt sich die Front einfach abnehmen. Ganz oben sind zwei USB-3.0-Ports und Audio-Ein-/Ausgänge integriert. Der untere Teil ist geschlossen ausgeführt, lediglich an den Seiten ist Meshgitter für die dahinter liegenden Lüfter vorhanden.
Im Deckel können zwei 120/140er verbaut werden, anstelle der genannten Ventilatoren kann auch ein 240-mm-Radiator montiert werden. Trotz der kompakten Abmessungen ist das Carbide 200R also für interne Wasserkühlungen geeignet. Der Rest des Gehäuses besteht aus Stahl und ist im selben matten Farbton gehalten. Die linke Seitenwand weist Bohrungen für zwei weitere 120/140-mm-Lüfter auf. In der Rückseite sind sieben Blenden für die Erweiterungskarten, die mit Rändelschrauben zu entriegeln sind, sowie die Aussparung für das ATX-Netzteil (mit wechselbarem Filter im Boden) im unteren Bereich zu finden. Auch hier ist wieder ein vorinstallierter 120-mm-Lüfter im oberen Bereich für die Luftabfuhr zuständig.
Im Inneren setzt das Carbide-Case den schlichten und funktionellen Charakter der Außenseite konsequent fort. Es ist auch hier komplett in Gehäusefarbe lackiert und weiß mit Größe zu gefallen, wenn es darauf ankommt. Sage und schreibe 43 cm lange Grafikkarten können in dem kleinen Riesen verbaut werden (30 cm bei eingesetztem Drive-Käfig). Zusätzlich hat das 200R noch Platz für drei optische Laufwerke oder andere Peripherie in den 5,25-Zoll-Schächten. Im gegensatz zum 300R lassen sich sogar vier 3,5- und vier 2,5-Zoll-Drives parallel einbauen. Der Einschub hat sich etwas geändert, die Platten werden direkt an ihren Platz geschoben und dann fixiert.
Der ebenfalls lackierte Mainboardtray hat einen sehr großen Ausschnitt speziell für die CPU, um rasch einen neuen Kühlkörper oder Backplates anbringen zu können. Das innovative Kabelmanagement von Corsair bietet eine einfache Möglichkeit, die Kabel hinter dem Mainboard, außerhalb des Luftstroms, zu verlegen und die Optik des Systems nicht zu beeinträchtigen. Auch das Carbide 200R kann begesitern und bietet viele Ausstattungsmerkmale, die man eher in hochpreisigen Cases vorfindet, es ist schlicht und zurückhaltend, gefällt aber mit seinen Features und der hochwertigen Verarbeitung. Das alles zu einem sehr guten Preis. Gamer-Herz, was willst du mehr?
Technische Details:
Maße: 210 x 430 x 497 mm (B x H x T)
Material: Stahl
Gewicht: 6 kg
Farbe: Schwarz
Formfaktor: ATX, Micro-ATX
Lüfter insgesamt möglich:
2x 120 mm (Front)
1x 120 mm (Rückseite)
2x 140/120 mm (Seitenteil)
2x 140/120 mm (Deckel)
1x 140/120 mm (Boden)
Davon vorinstalliert:
1x 120 mm (Front)
1x 120 mm (Rückseite)
Staubfilter: Front, Netzteil
Laufwerksschächte:
3x 5,25 Zoll (extern, werkzeuglos)
4x 3,5 / 2,5 Zoll (intern, werkzeuglos)
Netzteil: 1x Standard ATX (optional)
Erweiterungsslots: 7
I/O Panel:
2x USB 3.0 (interner Anschluss)
1x je Audio In/Out
1x LED
Maximale Grafikkarten-Länge: 430 mm
Maximale CPU-Kühler-Höhe: 160 mm
Further links for

"Carbide 200R Midi-Tower - schwarz"
Videos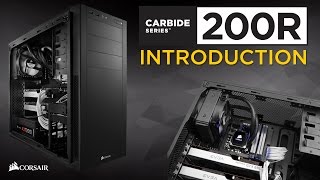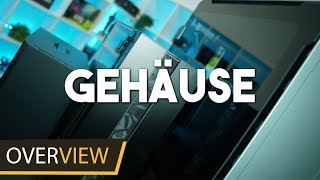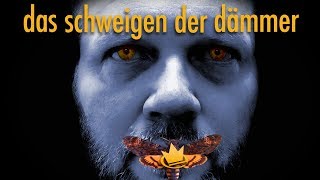 Technical Details
| | |
| --- | --- |
| max. Mainboardformfaktor | ATX |
| Case type | Midi-Tower |
| Form factor | ATX, Micro-ATX |
| Colour | black |
| Primary colour | black |
| Secondary colour | black |
| Width (exact) | 210 |
| Height (exact) | 430 |
| Depth (exact) | 497 |
| Width | 200 - 300 mm |
| Height | 400 - 500 mm |
| Depth | 400 - 500 mm |
| Weight (exact) | 6 kg |
| Weight | 6 to 8 kg (13.2 to 17.6 lbs) |
| Material | steel |
| max. Grafikkarten Länge (exakt) | 430 mm |
| max. Netzteil Länge (exakt) | 160 mm |
| max. Grafikkarten Länge | 400 - 500 mm |
| max. Netzteil Länge | 140 - 199 mm |
| Side panel | with mesh |
| Front Door | Green |
| Position I/O | Front |
| USB 2.0 | 2x |
| USB 3.0 | 2x |
| Audio Out | |
| Audio In | |
| Cardreader | nein |
| Fan controller | no |
| LCD/TFT Display | nein |
| internal 2,5" | 4x |
| internal 3,5" | |
| external 5,25" | 3x |
| Hot-Swap | nein |
| PCI-Slots | 7 |
| HDD Isolation | No |
| Motherboard tray | no |
| Case cable management | yes |
| PSU formfactor | ATX |
| PSU position | Hinten Unten |
| Preinstalled fans | No |
| 120 mm Fans | 8 |
| 140 mm Fans | No |
| Fan colour | black |
| Radiator Mounting | 1x Dual (240mm) |
| Filter | yes |
| Dampening | no |
| Illumination | no |
| Remote control | nein |
| Schlauchdurchführung | nein |
| Serie | Carbide |
| Transport System | nein |