Corsair


Carbide 678C Midi-Tower - weiß Window
Edler Midi-Tower von Corsair
Hartglas-Seitentür
drei vorinstallierte 140-mm-Lüfter
drei entnehmbare Staubfilter
Schalldämmung
inklusive 6x 3,5"- / 3x 2,5" / 5,25"-Datenträger-Slots
Wakü-Support
Item number: GECS-095
EAN: 0840006605607
MPN: CC-9011170-WW
Manufacturer: Corsair
Product information -
Carbide 678C Midi-Tower - weiß Window
Der
Corsair Carbide 678C
ist ein schlicht aussehender, aber besonders funktionaler Midi-Tower mit einer Seitentür aus Temperglas und Schalldämmung an der Vorderseite und am rechten Seitenteil. Außen und innen ist dieses schicke Case in Weiß gehalten akzentuiert durch wenige schwarze Elemente. Die
drei vorinstallierten 140-Millimeter-Lüfter
sorgen bereits ab Werk für einen guten Airflow. Feine Staubfilter sorgen dafür, dass kein Schmutz in den Rechner gelangt. Inzwischen eine Seltenheit: Der
Corsair Carbide 678C
hat Platz für ein externes 5,25-Zoll-Laufwerk. Vertikale PCI-Slots und eine Netzteilabdeckung runden die üppigen Merkmale des Gehäuses ab.
Der Corsair Carbide 678C Midi-Tower im Überblick:
Weißer Midi-Tower mit schlichter Optik und hoher Funktionalität
Temperglastür an der linken Seite
Platz für E-ATX-Mainboards und kleiner
6x 3,5-Zoll- und 3x 2,5-Zoll-Datenträgerslots
Drei 140-mm-Lüfter vorinstalliert, insgesamt neun Lüfter möglich
Schalldämmung am Deckel, an der Vorderseite und an der rechten Seite
Zusätzlicher Platz für Luft- oder Wasserkühlung
Schallgedämmter Innenraum mit viel Platz für Gaming-Hardware
Neben der Möglichkeit eine Hauptplatine bis hin zum E-ATX-Formfaktor zu verbauen, bietet der aufgeräumte Innenraum des
Corsair Carbide 678C
ausreichend Platz für weitere Gaming-Hardware. Insgesamt
neun Datenträger
lassen sich verbauen, sechs 3,5-Zoll- und drei 2,5-Zoll-Laufwerke können komplett werkzeuglos montiert werden. Von den Laufwerkskäfigen für 3,5-Zoll-Laufwerke mit Vibrationsdämpfern legt Corsair vier bei, die auf acht möglichen Positionen verteilt werden können, eben jene zwei unter der Netzteilabdeckung und den sechs Einschüben neben dem Mainboard-Tray. Für die 2,5-Zoll-Laufwerke gibt es an der Rückseite des Mainboard-Trays Platz. Zudem gibt es einen externen Einschub für 5,25-Zoll-Laufwerke, der durch die geöffnete Vordertür zugänglich ist.
Hinsichtlich der größten Hauptkomponenten eines Gaming-PCs bietet der
Corsair Carbide 678C
Platz für
Grafikkarten bis 370 Millimeter Länge
, Netzteile bis 225 Millimeter Länge und CPU-Kühler bis 170 Millimeter Höhe. Grafikkarten können auch vertikal eingebaut werden. Die große Aussparung im Mainboard-Tray ermöglicht die komfortable Montage bzw. Demontage des CPU-Kühlers und erspart somit einigen Frust. Außerdem befinden sich insgesamt drei große Aussparungen im Innenraum des Midi-Towers, welche allesamt für ein optimales Kabelmanagement verwendet werden können. Die
drei vorinstallierten Staubfilter
an Vorderseite, Deckel und Boden bieten optimalen Schutz vor Verschmutzungen der Hardware und lassen sich zum Reinigen sehr leicht entfernen.
Kühlmöglichkeiten im Corsair Carbide 678C
Eine weitere Besonderheit des
Corsair Carbide 678C
ist die Schalldämmung, die dafür sorgt, dass nur wenige Geräusche aus dem Gehäuse nach außen dringen. Sie befindet sich in der Vordertür, am Deckel sowie am rechten Seitenteil. Von den insgesamt acht 140-mm-Lüfterslots sind drei belegt. Ein Lüfter befindet sich vorne, einer am Deckel und ein letzter am einzigen Slot an der Rückseite. An der Vorderseite passt entweder noch ein zweiter 140er hin oder insgesamt drei 120er. Am Deckel haben insgesamt drei 120-mm- oder 140-mm-Lüfter Platz. Am Boden kann noch ein weiterer 140-mm-Lüfter verschraubt werden, verzichtet man auf den dort befindlichen HDD-Käfig lässt sich noch ein weiterer anbringen.
Alternativ bietet der Midi-Tower diverse Einbauslots für Radiatoren, zu denen ein Slot für
maximal 280/360-mm-Radiatoren
in der Front gehören. Die Rückseite kann einen einzelnen 120er Radiator, etwa für Grafikkarten mit Hybrid-Kühler, aufnehmen, während der Deckel einen, bis zu 420 Millimeter großen Wärmetauscher beherbergen kann, wenn auf den 5,25-Zoll-Slot verzichtet wird.
Dezentes Design, viele Funktionen
Die Corsair Entwickler setzen bei der Gestaltung ihrer Tower ganz klar auf ein zeitloses und schlichtes Design, das ohne Zweifel als aufgeräumt bezeichnet werden kann. Das fast komplett in Weiß gehaltene Gehäuse wird durch schwarze Elemente akzentuiert, etwa die Umrandung der Seitentür aus Temperglas, der Lüfterrahmen oder die Blenden der PCI-Slots. Diese spannende Gratwanderung zwischen Style und traditioneller Eleganz gelingt auch beim
Corsair Carbide 678C
mit verblüffender Leichtigkeit.
Das I/O-Panel des Gehäuses befindet sich seitlich im Deckel und verfügt über einen kombinierten Audio-Anschlüsse, je einen Power- und Reset-Knopf, eine Status-LED sowie zwei USB-Ports im 3.0-Standard. Hinzu kommt ein USB-3.1-Port vom Typ C. Zudem gibt es einen Lüfter-Hub mit sechs Steckplätzen, der mit einem entsprechenden Steckplatz am Mainboard verbunden werden kann.
Technische Details:
Maße: 239 x 497 x 549 mm (B x H x T)
Material: Stahl, Kunststoff, Temperglas
Farbe: Weiß, Schwarz
Gewicht: ca. 13,06 kg
Formfaktor: E-ATX, ATX, Micro-ATX, Mini-ITX
Lüfter insgesamt möglich:
3x 120 oder 2x 140 mm (Vorderseite)
3x 120 oder 3x 140 mm (Deckel)
2x 120 oder 140 mm (Boden, mit Verzicht auf den HDD-Käfig)
1x 120 mm (Rückseite)
Davon vorinstalliert:
1x 140 mm (Front)
1x 140 mm (Deckel)
1x 140 mm (Rückseite)
Radiator-Mountings:
1x max. 360/280 mm (Vorderseite)
1x max. 360/420 mm (Deckel)
Filter: Front, Deckel, Netzteil (entnehmbar)
Schalldämmung: Front, Deckel, Seitenteil
Laufwerksschächte:
1x 5,25 Zoll (extern)
3x 2,5 Zoll (intern)
6x 3,5 Zoll (intern)
Netzteil: Standard ATX (optional)
Erweiterungsslots: 7 + 2
I/O-Panel:
1x USB 3.1
2x USB 3.0
1x Audio In/Out
Max. Grafikkartenlänge: 370 mm
Max. Netzteillänge: 225 mm
Max. Höhe CPU-Kühler: 170 mm
Further links for

"Carbide 678C Midi-Tower - weiß Window"
Videos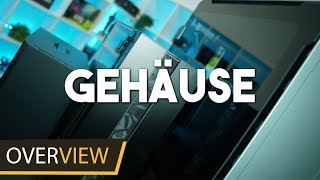 Technical Details
| | |
| --- | --- |
| Case type | Midi-Tower |
| Form factor | E-ATX, ATX, Micro-ATX, White |
| Colour | white |
| Primary colour | white |
| Secondary colour | black |
| Width (exact) | 239 |
| Height (exact) | External |
| Depth (exact) | 549 |
| Width | 200 - 300 mm |
| Height | 400 - 500 mm |
| Depth | 500 - 600 mm |
| Weight (exact) | 13,06 kg |
| Weight | 12 to 14 kg (26.4 to 30.8 lbs) |
| Material | plastic, steel, Tempered Glass / Hartglas |
| max. CPU Kühler Höhe (exakt) | 170 mm |
| max. Grafikkarten Länge (exakt) | 370 mm |
| max. Netzteil Länge (exakt) | 225 mm |
| max. CPU Kühler Höhe | 160 - 179 mm |
| max. Grafikkarten Länge | 300 - 399 mm |
| max. Netzteil Länge | 200 - 249 mm |
| Side panel | with window |
| Front Door | ja |
| Position I/O | Deckel |
| USB 3.0 | 2x |
| USB 3.1 (Typ C) | 1x |
| Audio Out | |
| Cardreader | nein |
| Fan controller | no |
| LCD/TFT Display | nein |
| internal 2,5" | |
| internal 3,5" | 6x |
| external 5,25" | 1x |
| Hot-Swap | nein |
| PCI Slots | 7x, 7x + 2x |
| Motherboard tray | no |
| Case cable management | yes |
| PSU formfactor | ATX |
| PSU position | Hinten Unten |
| Preinstalled fans | 3x 140mm |
| 120 mm Fans | 9 |
| 140 mm Fans | 7 |
| Fan colour | gray, black |
| Radiator Mounting | 1x Triple (360mm), 1x Quad (420mm) |
| Filter | yes |
| Dampening | yes |
| Illumination | no |
| Remote control | nein |
| Schlauchdurchführung | nein |
| Serie | Carbide |
| Transport System | nein |
Awards
The Carbide 678C is a Mid-Tower (Black or White) case that demonstrates fine craftsmanship of Corsair products. The majority of this case is constructed from rolled steel sheet which in combination with tempered glass window bumps the net weight of about 28Lb This is a pretty heavy bare case. Once you start adding your radiators with pumps and power supply this weight will double and you are going to end up with a hefty case. Modding options for this case are very good as you should be able to mount up to a 360mm radiator on the top of the case and place up to 150ml reservoir in the case with ease....

read more...

Pros:

+ Smart stylish with minimalist appearance.
+ Includes 3x 140mm PWM fans.
+ Front I/O panel sports USB 3.1 Gen 2 Type C.
+ Optical drive bay is included.

read more...

Hardware Journal - Corsair Carbide 678C

Pro

+ einfache Montage / Demontage der Seitenwände
+ ab Werk leicht gedämmte Front, Top und Seitenteil
+ einfache Hardware-Montage
+ einfacher, aber strukturierter Innenaufbau
+ 3x 140mm PWM-Lüfter (21,9 db(A) Werksangabe)
+ Platz für AiO-Waküs
+ Lüfter-Hub zur Steuerung via Mainboard
+ schlichte und cleane Optik
+ geringe Geräuschkulisse bei 7V-Betrieb

If you're looking for a solid and well-equipped case that's suitable for both silent builds and higher-end builds with liquid cooling, the Corsair Carbide 678C can be a truly appealing alternative to choose from, but it is an expensive candidate. People who still use 5.25" bays will really appreciate this product. Also, the build quality is great.

read more...

We find something classic, sober, with a lot of charm in this new Carbide 678C. The model designed to be discreet and allow as much to work as to play will seduce its customers.

read more...

The Good

Large hinged side window
Sound-dampening on top, front and side
Room for a 5.25in optical drive
Nine storage bays
USB Type-C as standard
Three bundled 140mm fans and PWM hub

read more...

Pros
+ Available in black or white
+ Looks stylish and elegant
+ Features USB 3.1 Gen2 port
+ Good build quality
+ Flexible storage options
+ Includes PWM fan controller
+ Can house high-end kit
+ Very flexible for liquid coolers
+ Good cooling performance
+ Hinged panels are convenient
+ Optional top panels

read more...

Pro

+ Design
+ Finish
+ Frame
+ Internal space
+ Integration opportunities

read more...