Corsair


Carbide SPEC-OMEGA Midi-Tower, Tempered Glass - schwarz
Stylischer Midi-Tower von Corsair für Gamer
mit Seitenteil aus Tempered Glas
USB 3.0
zwei vorinstallierte Lüftern und LED-Strip
Platz für 360-mm-Radiator
Item number: GECS-076
EAN: 0843591062176
MPN: CC-9011121-WW
Manufacturer: Corsair
Product information -
Carbide SPEC-OMEGA Midi-Tower, Tempered Glass - schwarz
Die Midi-Tower der Carbide SPEC-Series wurden von Corsair speziell für die Anforderungen von Gamern geschaffen. Der in mehreren Farbkombinationen erhältliche
Corsair Carbide SPEC-OMEGA Midi-Tower
vereint eine hohe Hardwarekompatibilität mit einem extrem stylischen Design. Ein 120-mm-Lüfter mit roter LED-Beleuchtung in der Front erzeugt zusammen mit dem Fan in der Rückseite einen guten Airflow, während alternativ Radiatoren für AiO-Wasserkühler verbaut werden können.
Die Features des Corsair Carbide SPEC-OMEGA Midi-Towers:
Extrem stylisches Design für Gamer in Schwarz
Front und Seitenteil aus Tempered Glass
Bis zu 37 cm lange Gaming-Grafikkarten
Platz für einen 360-mm-Radiator in der Front
Vorinstallierter Frontlüfter mit roter LED-Beleuchtung und rotem LED-Strip
Maximal Platz für sechs 120er Fans
Ein Traum für Gamer in schwarz: Der Corsair Carbide SPEC-OMEGA Midi-Tower
Der Corsair Carbide SPEC-OMEGA Midi-Tower ist ein wahr gewordener Traum für Gamer, die ein Case wollen, dass gut aussieht und trotzdem die Hardware aufnehmen kann, die man fürs anspruchsvolle Zocken benötigt. Corsairs Medium-Tower kann bis zu
370 mm lange Grafikkarten
beherbergen und bietet Platz für einen
360-mm-Radiator
in der Front, beispielsweise um den übertakteten High-End-Prozessor per AiO-Wasserkühlung in Zaum halten zu können.
Ein
vorinstallierter 120-mm-Lüfter mit roter< LED-Beleuchtung
befindet sich in der Front und kann um zwei weitere 120er Fans ergänzt werden. Dafür müssen die Lüfter ein wenig nach oben versetzt werden. Zusammen mit dem vorinstallierten Lüfter in der Rückseite erzeugen die beiden Frontlüfter einen exzellenten Airflow. Zwei zusätzliche 120er Fans können im Deckel montiert werden.
Der untere optionale Lüfter liegt auf Höhe des Festplattenkäfigs. Dieser kann werkzeuglos mit zwei
3,5-Zoll-HDDs oder 2,5-Zoll-SSDs
bestückt werden. Selbst bei Montage eines 360er Radiators an der Frontseite muss der Käfig nicht entfernt werden. Zwei zusätzliche SSDs können hinter dem Mainboard-Tray installiert werden. Unter dem Deckel und an der Rückseite können noch bis zu 240 mm große Radiatoren platziert werden.
Das Netzteil wird im Boden auf einer gummierten Ablage eingebaut und darf bis zu 20 cm lang sein. Unter der
PSU befindet sich ein herausnehmbarer Staubfilter
. Über das große Fenster im linken Seitenteil kann ein Blick auf die installierte Hardware geworfen werden. Das
I/O-Panel mit zwei USB-3.0-Ports und den beiden Audio-Anschlüssen
befindet sich im oberen rechten Bereich der Front.
Das futuristische Design des Corsair Carbide SPEC-OMEGA Midi-Towers lässt scharfe Kanten gekonnt mit gehärtetem Glas fusionieren. Der durch das Glas leuchtenden
LED-Lüfter und der LED-Strip
verleihen dem Case einen besonders hohen Coolness-Faktor und machen den Midi-Tower zu einem echten Blickfang. Im Zusammenspiel mit der Hardwarekompatibilität macht das Design den SPEC-OMEGA zu einem herausragenden Midi-Tower.
Technische Details:
Maße: 232 x 516 x 495 mm (B x H x T)
Material: Stahl, Tempered Glass, Kunststoff
Farbe: Schwarz
Gewicht: ca. 7,56 kg
Formfaktor: ATX, Micro-ATX, Mini-ITX
Lüfter:
3x 120 mm / 2x 140mm (Front)
1x 120 mm (Rückseite)
2x 140/120 mm (Deckel)
davon vorinstalliert:
1x 120 mm (Front, rote LED-Beleuchtung)
1x 120 mm (Rückseite)
Radiator-Mountings:
1x max. 360/280 mm (Front)
1x 240 mm (Oberseite)
1x 240 mm (Rückseite)
Filter: Boden (Netzteil, entnehmbar)
Laufwerksschächte:
2x 3,5/2,5 Zoll (intern, werkzeuglos)
3x 2,5 Zoll (intern, teils werkzeuglos)
Netzteil: Standard ATX (optional)
Erweiterungsslots: 7
I/O-Panel:
2x USB 3.0
1x je Audio In/Out
Max. Grafikkartenlänge: 370 mm
Max. Netzteillänge: 200 mm
Max. Höhe CPU-Kühler: 170 mm
Herstellergarantie: 2 Jahre
Further links for

"Carbide SPEC-OMEGA Midi-Tower, Tempered Glass - schwarz"
Videos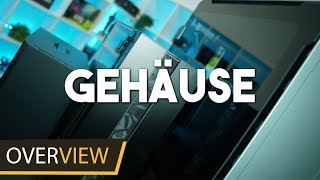 Technical Details
| | |
| --- | --- |
| Case type | Midi-Tower |
| Form factor | ATX, Micro-ATX, White |
| Colour | black |
| Primary colour | black |
| Width (exact) | 232 |
| Height (exact) | 495 |
| Depth (exact) | 516 |
| Width | 200 - 300 mm |
| Height | 400 - 500 mm |
| Depth | 500 - 600 mm |
| Weight (exact) | 7.56 |
| Weight | 6 to 8 kg (13.2 to 17.6 lbs) |
| Material | plastic, steel, Tempered Glass / Hartglas |
| max. CPU Kühler Höhe (exakt) | 170 mm |
| max. Grafikkarten Länge (exakt) | 370 mm |
| max. Netzteil Länge (exakt) | 200 mm |
| max. CPU Kühler Höhe | 160 - 179 mm |
| max. Grafikkarten Länge | 300 - 399 mm |
| max. Netzteil Länge | 200 - 249 mm |
| Side panel | with window |
| Front Door | Green |
| Position I/O | Front |
| USB 3.0 | 2x |
| Audio Out | |
| Audio In | |
| Cardreader | nein |
| Fan controller | no |
| LCD/TFT Display | nein |
| internal 2,5" | 2x |
| internal 3,5" | 2x |
| Hot-Swap | nein |
| PCI Slots | 7x |
| HDD Isolation | No |
| Motherboard tray | no |
| Case cable management | yes |
| PSU formfactor | ATX |
| PSU position | Hinten Unten |
| Preinstalled fans | No |
| 120 mm Fans | 6 |
| 140 mm Fans | 4 |
| Fan colour | black, transparent |
| Radiator Mounting | 2x Dual (240mm), 1x Dual (280mm), 1x Triple (360mm) |
| Filter | yes |
| Dampening | no |
| Illumination | yes |
| Illumination colour | red |
| Remote control | nein |
| Schlauchdurchführung | nein |
| Serie | Carbide |
| Transport System | nein |
Awards
Das Corsair SPEC-OMEGA bietet ein klasse Design und viel Platz für Lüfter und Radiatoren. Abstriche müssen trotzdem gemacht werden.

read more...

Ocaholic - Corsair Carbide SPEC-OMEGA

Pros
+ Kompatibilität zu Wasserkühlungen sowie leistungsstarker Luftkühlung
+ Water cooling
+ Tempered glass
+ LED
+ Staubfilter
+ Platzangebot
+ Qualitativ hochwertige Materialien
+ Attraktiver Preis

Main advantages
+ Modern and attractive design
+ Modern and aggressive design, does not leave indifferent
+ Tempered glass on the main side and front side
+ Allows a triple front and double top radiator
+ Compatible with heat sinks up to 170 mm
+ Allows graphics up to 370 mm

read more...

Summary: Gaming oriented, this Spec-Omega plays the originality card with a marked design. Its angular and asymmetrical lines add character. The backlighting (front panel and fan) highlights its configuration through tempered glass panes and supports a long graphics card, multiple hard disks and SSD. The two 120 mm fans ensure a correct air flow by playing the balance card between noise and cooling. Announced at 110 €, this Spec-Omega has arguments. The most important thing for us remains its unique look. Too bad there's no front filter.

read more...

Pro
+ saubere Verarbeitung
+ ordentliches Platzangebot für einen Midi
+ ausreichend Lüfterplätze und Platz für Radiatoren
+ zwei recht leise Lüfter vorinstalliert
+ cooles Design (inkl. Echtglas-Elemente und Beleuchtung)
+ gutes Kabelmanagement
+ Staubfilter für Netzteil
+ fairer Preis

read more...

The performance/narrowness ratio is good, thanks to the two SP 120's, one of which is LED, well placed and strong enough to evacuate the heat generated by a passive configuration like the one we use. Noise pollution is reduced as we have noted, although a noisy hard disk is heard through the carcass. Despite the design, which is no longer very new, and the good performance offered by this model, it is difficult for us to accept to spend 110€ on this box.

read more...

The SPEC-Omega truly is a funny chassis with very little flaws. As stated though, I would have liked more room for cable routing at the rear and perhaps a PSU cover to hide that power supply and the cables. Other than that it all comes down to taste and your subjective preferences in design. For some the angular design will be hard to swallow, others will very likely love it. Overall the build quality fine and you can quite easily tuck away LCS coolers in there, the front side would be excellent for that with room for up-to 360mm LCS kits.

read more...

+ Distinctive design
+ Great attention to detail
+ Good mix of materials
+ Interesting surface feel of the plastic
+ Great support for liquid cooling
+ Excellent cable-management possibilities
+ Completely tool-less hard drive assembly
+ Plenty of space for large GPUs
+ Two fans included
+ Removable 3.5" HDD cage for thick radiators
+ Front panel detaches completely, including the LED element
+ Dust filter on PSU bay
+ Available in 3 colors

read more...

Pro
+ viele Lüftermöglichkeiten für Kühlung
+ etliche Möglichkeiten für Radiator-Montage
+ geringes Gewicht des Grundgehäuses
+ modulare Datenträgerkäfige & leichte Installation
+ tolles Design mit Beleuchtung

read more...

Positives

+ MATERIALS ARE PRETTY GOOD.
+ TEMPERED GLASS.
+ HARDWARE CAPABILITY.
+ GOOD COOLING AND GREAT POSSIBILITIES TO EXPAND.
+ GOOD PRICE

read more...

PRO
+ cooles Design
+ hochwertige Seitenscheibe aus gehärtetem, getönten Glas
+ 2 Lüfter vormontiert

read more...