Corsair


Cooling Hydro Series H100i Pro Komplett-Wasserkühlung - 240mm
Effiziente High-End-Komplett-Wasserkühlung
mit 240er-Radiator
Doppellüfter-Konfiguration und Corsair Link-Kompatibilität
Item number: WASE-374
EAN: 0843591026512
MPN: CW-9060033-WW
Manufacturer: Corsair
Product information -
Cooling Hydro Series H100i Pro Komplett-Wasserkühlung - 240mm
Corsair
bietet mittlerweile ein breit gefächertes Portfolio an effizienten und leistungsstarken All-In-One-Wasserkühlungen an, vom Einsteigersystem bis hin zu High-End ist alles vertreten. Zu letzterer Gattung zählt ganz klar die
Hydro H100i Pro
. Wesentlicher Vorteil dieser Pro-Version gegenüber dem Vorgänger ist auch die Unterstützung für den
TR4-Sockel für AMDs Threadripper mit einem separat erhältlichen Mounting Bracket Kit
und die geradezu brachiale Kühlleistung trotz verkleinertem Radiator. Und natürlich darf auch die schicke RGB-LED-Beleuchtung nicht fehlen.
Die Features der Corsair Hydro H100i Pro im Überblick:
Zuverlässige AiO mit 240-mm-Radiator
CPU-Kühler mit Kupferboden, Radiator aus Aluminium
Inklusive zwei 120-mm-PWM-Lüfter aus Corsairs ML-Serie
Kompatibel mit Intel 115x, 2011/2066, AMD AM3/AM2, AM4 und TR4
Integrierte RGB-LED-Beleuchtung, steuerbar über iCue-Software
Starke AiO für eine perfekte CPU-Kühlung:
Alle Kompakt-WaKü-Systeme vereint die grundlegende Konstruktion: Sie bestehen aus zwei Teilen - dem Radiator und dem Kühlkörper. Während der Radiator bei der
H100i Pro
an zwei 120er Lüfter-Slots montiert wird - vorzugsweise an der Gehäusefront oder -oberseite - findet der Kühler auf der CPU Platz. Im Gehäuse des Kühlers sind bereits die Pumpe und der Ausgleichsbehälter verbaut. Da es sich um einen geschlossenen Kreislauf handelt, muss das System nicht gewartet werden.
Der Boden des Kühlkörpers nimmt die Abwärme des Prozessors auf und leitet sie dank Kupferbodenplatte effizient an das Wasser weiter. Dieses wird wiederum von der Pumpe Richtung Radiator gepumpt, wo die Kühlflüssigkeit eine feine Lamellenstruktur durchfließt und die Wärme an die durchströmende Luft abgibt. Der Lüfter sorgt wiederum dafür, dass der Radiator ständig von Frischluft versorgt wird. Gegenüber dem Vorgängermodell wurde die
H100i Pro
weiter optimiert und konnte deshalb verkleinert werden. Sie sieht jetzt noch etwas schicker aus und verfügt zudem über ummantelte Schläuche.
Die
H100i Pro
verfügt über zwei sehr leistungsfähige Lüfter aus der Corsair ML Series, genauer: zwei ML 120 Pro. Diese sind für einen hohen statischen Druck optimiert, was für den Betrieb zusammen mit einem Radiator wichtig ist. Dazu bieten speziell angefertigte Flügel in den 120-mm-Lüftern ein besseres Verhältnis zwischen statischem Druck und Geräuschpegel und somit höhere Leistung bei geringerer Geräuschentwicklung als bei gewöhnlichen Lüftern. Es besteht sogar die Möglichkeit, die Lüfterzahl auf maximal vier aufzustocken, die dann in Push-Pull-Konfiguration agieren. Die Lüfter werden per mitgeliefertem Y-Kabel direkt mit der Pumpeneinheit verbunden. Diese erhält ihren Strom über einen zusätzlichen SATA-Stromanschluss.
Von den anderen i-Modellen aus der Corsair-Hydro-Serie bekannt ist das Corsair-Link-Feature - einfach das beigefügte Corsair Link-Kabel an einen USB-Header auf der Hauptplatine anschließen und die kostenlose Corsair Link Dashboard-Software herunterladen. Damit kann die Kühlmitteltemperatur per Anwendung überwacht und die Kühlleistung geregelt werden. Die Software erlaubt darüber hinaus auch die Einstellung von Farbeffekten, da das Corsair-Logo auf der Pumpe mithilfe von RGB-LEDs in allen denkbaren Farben und beispielsweise in Abhängigkeit von der Kühlmitteltemperatur beleuchtet werden kann.
Gerade in kompakten Gehäusen können Tower-Kühler aus Platzgründen meist nicht genutzt werden. Im Falle der
H100i
muss jedoch nur der flache Kühler direkt auf der CPU sitzen. Der Radiator kann unter Beachtung der Schlauchlänge recht frei an einem entsprechenden Einbauplatz verbaut werden.
Das Montagesystem des
H110i Pro
ist für die Sockel 1150, 1151, 1155, 1156, 2011(-3), 2066, AM2(+), AM3(+) und AM4 geeignet. Die werkzeugfreie magnetische Montagehalterungen in modularem Design sorgt für kinderleichte Installation. Wärmeleitpaste ist bereits auf der Kühlerunterseite aufgetragen.
Hinweis: Für die Montage auf AMDs TR4-Sockel für Ryzen Threadripper wird ein separates Mounting Bracket Kit benötigt, das bei Corsair erhältlich ist.
Technische Details:
Radiatorgröße: 240 mm (276 x 27 x 120 mm)
Material: Kupfer (CPU-Kühler), Aluminium (Radiator)
Lüfter: 2x 120 mm (max. 37 dB(A), 2.400 U/min, PWM)
Kompatibilität:
Intel: LGA 1150, 1151, 1155, 1156, 2011(-v3), 2066
AMD: AM2(+), AM3(+), AM4, TR4
Features:
Komplettes Wasserkühlungssystem mit einfacher Installation
Vorgefüllt und wartungsfrei
Hohe Kühlleistung
Zwei ML 120-mm-Lüfter
Corsair Link mit Software-Lüftersteuerung
Hohe Kompatibilität
Further links for

"Cooling Hydro Series H100i Pro Komplett-Wasserkühlung - 240mm"
Videos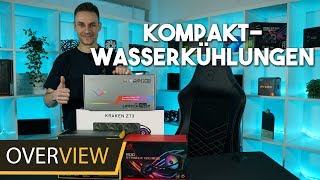 Technical Details
| | |
| --- | --- |
| CPU socket | 1150, 1151, 1155, 1156, 2011, 2011-V3, 2066, AM2, AM3, AM3+, AM4, TR4, sTRX4 |
| Radiator size | 240 mm |
| Radiator height (exact) | 27 mm |
| Radiator height with fan (exact) | 52 mm |
| Radiator height | 20 - 29 mm |
| Radiator height with fan | 50 - 69 mm |
| Illumination | yes |
| Illumination colour | RGB (selectable) |
| Included fans | 2x |
| Rotor diameter | 120 mm |
| Fan colour | gray, black |
| Fan connector | 4 Pin (PWM) |
| Pump connector | 3 Pin (voltage control), SATA (power) |
| Max noise level | 35 - 39 dB(A) |
| CPU cooler type | AiO liquid cooler |
Awards
HardwareLuxx - Hersteller des Jahres 2019 - CPU-Wasserkühler und Custom-Wasserkühler

Für eine alternative Kühlung mittels AiO- oder Full-Custom-Wasserkühlung ist Corsair derzeit der beliebteste Hersteller.