Corsair


Cooling Hydro Series H55 Komplett-Wasserkühlung - 120mm
Socket Compatibility: 2011 / 1366 / 1150 / 1155 / 1156 / AM2 / AM3 / FM1
Item number: WASE-163
EAN: 0843591034470
MPN: CW-9060010-WW
Manufacturer: Corsair
Product information -
Cooling Hydro Series H55 Komplett-Wasserkühlung - 120mm
Nachdem Corsair mit der H50 erfolgreich seinen Einstand im Bereich leistungsfähiger Kühllösungen feiern konnte und mit weiteren AIO-Wasserkühlungen das Portfolio erweitert hat, folgt mit der H55 der überarbeitete und in einigen Details, wie etwa dem Schlauchsystem, verbesserte Nachfolger, der noch besser kühlen und zugleich leiser arbeiten soll.
Das System besteht aus einer grundlegenden Konstruktion: Gefertigt aus zwei Teilen - dem Radiator und dem Kühlkörper. Während der Radiator an einem 120er Lüfter-Slot montiert wird - vorzugsweise an der Gehäuserückseite - findet der Kühler auf der CPU Platz. Im Gehäuse des Kühlers sind bereits die Pumpe und der Ausgleichbehälter verbaut. Da es sich um einen geschlossenen Kreislauf handelt, muss das System nicht gewartet werden.
Der Boden des Kühlkörpers nimmt die Abwärme des Prozessors auf und leitet sie dank Kupfer effizient an das Wasser weiter. Dieses wird wiederum von der Pumpe Richtung Radiator gepumpt, wo die Kühlflüssigkeit eine feine Lamellenstruktur durchfließt und die Wärme an die durchströmende Luft abgibt. Der Lüfter sorgt wiederum dafür, dass der Radiator ständig von Frischluft versorgt wird.
Um die Kühlleistung der H55 gegenüber der H50 zu steigern, durchströmt das Wasser über der CPU ein gefräste Struktur mit feinen Kanälen. Diese vergrößern die Oberfläche zur Wärmeabgabe an das Wasser und erhöhen damit die Kühlleistung. Zusätzlich sind die Schläuche nun aus Gummi und bieten eine höhere Flexibilität bei gleichbleibend geringer Verdampfung von Kühlflüssigkeit. Der Kühlblock mit integrierter Pumpe ist zudem deutlich flacher gestaltet als noch bei H50, was für eine noch flexiblere Raumaufteilung sorgt.
Gerade in kompakten Gehäusen können Tower-Luftkühler aus Platzgründen meist nicht genutzt werden. Im Falle der H55 muss jedoch nur der flache Kühler direkt auf der CPU sitzen. Der Radiator kann unter Beachtung der Schlauchlänge recht frei platziert werden. Das Montagesystem der H55 ist für die Sockel 1150, 1155, 1156, 1366, 2011, AM2(+), AM3(+) und FM1 sowie FM2(+) geeignet.
Hinweis:
Ein passendes Bracket für die Montage auf dem Sockel AM4 liegt dem Kit
nicht
bei. Über die Webseite des Herstellers kann es als Umrüst-Kit für AM4-Sockel jedoch kostenfrei nachbestellt werden.
Technische Details:
Radiator: 120 mm
Maße: 152 x 120 x 27 mm (B x H x T)
Lüfter: 120 mm (30,32 dB(A), 1.700 U/min, 96 m³/h)
Kompatibilität: Sockel 1150, 1155, 1156, 1366, 2011, AM2, AM2+, AM3, AM3+, AM4 (optional), FM1, FM2, FM2+
Features:
Komplettes Wasserkühlungssystem mit einfacher Installation
Vorgefüllt und wartungsfrei
Hohe Kühlleistung
Hohe Kompatibilität
Further links for

"Cooling Hydro Series H55 Komplett-Wasserkühlung - 120mm"
Videos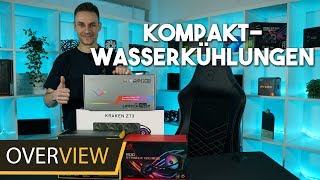 Technical Details
| | |
| --- | --- |
| CPU socket | 1150, 1155, 1156, 1366, 2011, 2011-V3, 2066, AM2, AM3, AM3+, AM4, FM1 |
| Radiator size | 120 mm |
| Radiator height (exact) | 27 mm |
| Radiator height with fan (exact) | 52 mm |
| Radiator height | 20 - 29 mm |
| Radiator height with fan | 50 - 69 mm |
| Illumination | no |
| Included fans | 1x |
| Rotor diameter | 120 mm |
| Fan colour | black |
| Fan connector | 3 Pin |
| Pump connector | 3 Pin (voltage control) |
| Max noise level | 30 - 34 dB(A) |
| CPU cooler type | AiO liquid cooler |
Awards
The Corsair H55 Silver gets, because it actually cooler for normal use is an alternative to air cooling.

read more...