Corsair


Cooling Hydro Series H60 High Performance Komplett-Wasserkühlung - 120mm
Kompakte All-in-One-Wasserkühlung von Corsair
120er-Slim-Radiator mit 120-mm-Lüfter
extrem flache Pumpeneinheit
kompatibel mit AMD- und Intel-Sockeln
Item number: WASE-308
EAN: 0843591026543
MPN: CW-9060036-WW
Manufacturer: Corsair
Product information -
Cooling Hydro Series H60 High Performance Komplett-Wasserkühlung - 120mm
Mit der
Cooling Hydro Series H60
präsentiert
Corsair
eine kompakte Komplett-Wasserkühlung mit 120-mm-Radiator und 120-mm-Lüfter, die nicht nur hervorragende Kühlleistung, sondern auch ein
attraktives Preis-/Leistungsverhältnis
mit sich bringt. Sie lässt sich sehr leicht auf moderne AMD- oder Intel-Sockel montieren und ist daher der ideale Einstieg in den Bereich der Wasserkühlung. Aufgrund ihres kompakten Desings lässt sich die
H60
vor allem sehr gut in Gehäusen verbauen, die wenig Platz zur Verfügung stellen.
Die Corsair Cooling Hydro Series H60 Komplett-Wasserkühlung im Überblick:
Kompakte Komplett-Wasserkühlung von Corsair
Flache Pumpeneinheit mit Auflagefläche aus Kupfer
120-mm-Slim-Radiator mit integriertem Reservoir
Magnetische Montage-Halterungen
Leistungsstarker 120-mm-Lüfter
Wärmeleitpaste bereits aufgetragen
Kompatibel zu modernen AMD- und Intel-Sockeln
Kompakte AiO-Wasserkühlung mit attraktivem Preis-Leistungsverhältnis
Alle Kompakt-Wakü-Systeme vereint die grundlegende Konstruktion: Sie bestehen aus zwei Teilen - dem Radiator und dem Kühlkörper. Während der Radiator bei der H60 an einem 120er Lüfter-Slot montiert wird - vorzugsweise an der Gehäuserückseite - findet der Kühler auf der CPU Platz. Die Besonderheit bei der
H60
ist jedoch, dass sich der Ausgleichsbehälter direkt am Radiator befindet und nicht wie bei AiOs üblich, direkt am Kühlblock. Dadurch wird die
Pumpeneinheit besonders flach
und lässt sich daher auch komfortabel in Systemen mit wenig Platz verbauen.
Der Boden des Kühlkörpers nimmt die Abwärme des Prozessors auf und leitet sie dank Kupfer schnell an die Kühlflüssigkeit weiter. Dieses wird wiederum von der Pumpe Richtung Radiator gepumpt, wo die Kühlflüssigkeit eine feine Lamellenstruktur durchfließt und die Wärme an die durchströmende Luft abgibt. Der Lüfter sorgt wiederum dafür, dass der Radiator ständig von Frischluft versorgt wird. Bei
Hydro Series H65
kommt ein
besonders flacher Slim-Radiator
zum Einsatz.
Das leistungsfähige System mit Kühlmittel für hochleistungsfähige Prozessoren braucht keine komplexen Leitungsanschlüsse. Der
Hydro Series H65
ist ein vorgefülltes geschlossenes System, das
niemals neu befüllt
werden muss. Speziell angefertigte Flügel im 120-mm-Lüfter bieten ein besseres Verhältnis zwischen statischem Druck und Geräuschpegel und somit höhere Leistung bei geringerer Geräuschentwicklung.
Gerade in kompakten Gehäusen können Tower-Luftkühler aus Platzgründen meist nicht genutzt werden. Im Falle der
H60
muss jedoch nur der flache Kühler direkt auf der CPU sitzen. Der Radiator kann unter Beachtung der Schlauchlänge recht frei platziert werden. Das modulare Design erleichtert die Installation und ist mit Intel- und AMD-Prozessoren kompatibel. Das Montagesystem der
H60
ist für die Intel-Sockel 115x, 1366, 2011(V3), 2066 sowie die AMD-Sockel AM2(+), AM3(+), AM4, FM1 und FM2(+) geeignet.
Technische Details:
Maße (Radiator): 152 x 120 x 27 mm (L x B x H)
Maße (Lüfter): 120 x 120 x 25 mm (L x B x H)
Lüftergeschwindigkeit: 2.000 U/Min
Luftdurchsatz: 91,7 m³/h
Lüfterdruck: 2,36 mmH2O
Geräuschpegel (Lüfter): 30,85 dB(A)
Anschlüsse:
4-Pin-Anschluss (Pumpe)
3-Pin-Anschluss (Lüfter)
Kompatibilität (Sockel):
Intel (115x, 1366, 2011(V3), 2066)
AMD (AM2(+), AM3(+), AM4, FM1, FM2(+))
Further links for

"Cooling Hydro Series H60 High Performance Komplett-Wasserkühlung - 120mm"
Videos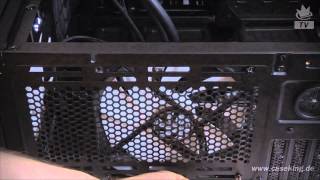 Technical Details
| | |
| --- | --- |
| CPU socket | 1150, 1151, 1155, 1156, 1366, 2011, 2011-V3, 2066, AM2, AM3, AM3+, AM4, FM1, FM2, FM2+ |
| Radiator size | 120 mm |
| Radiator height (exact) | 27 mm |
| Radiator height with fan (exact) | 52 mm |
| Radiator height | 20 - 29 mm |
| Radiator height with fan | 50 - 69 mm |
| Illumination | no |
| Included fans | 1x |
| Rotor diameter | 120 mm |
| Fan colour | gray, black |
| Fan connector | 3 Pin |
| Pump connector | 4 Pin (PWM control) |
| Max noise level | 30 - 34 dB(A) |
| CPU cooler type | AiO liquid cooler |
| Warranty | 5 years |
Awards
HardwareLuxx - Hersteller des Jahres 2019 - CPU-Wasserkühler und Custom-Wasserkühler

Für eine alternative Kühlung mittels AiO- oder Full-Custom-Wasserkühlung ist Corsair derzeit der beliebteste Hersteller.