Corsair


Dark Core RGB SE Qi Wireless Gaming Maus - schwarz
Drahtlose Gaming-Maus von Corsair
Übertragung per 2,4 GHz Funknetz oder Bluetooth
aufladbar über Qi
optischer Sensor mit 16.000 DPI
Rechtshänder-Layout
3-Zonen-RGB-Beleuchtung
9 Tasten
Item number: GAMO-734
EAN: 0843591021210
MPN: CH-9315111-EU
Manufacturer: Corsair
Product information -
Dark Core RGB SE Qi Wireless Gaming Maus - schwarz
Die drahtlose
Dark Core RGB SE Qi Wireless Gaming Maus von Corsair
richtet sich speziell an die zockende Community. Niedrige Latenzzeiten werden über die Verbindung per Funknetz im 2.4 GHz Bereich oder dem modernen Bluetooth 4.0 erzielt. Zudem lässt sich die DPI-Zahl an sämtliche Oberflächen punktgenau anpassen. Mit ihrem Design macht die
Dark Core RGB SE
auch in Sachen Ergonomie einen deutlichen Schritt nach vorne. Mit ihrer anpassbaren RGB-Beleuchtung gibt die Maus auch optisch einiges her. Das Besondere an dieser Maus ist jedoch die Möglichkeit, sie über per Qi drahtlos aufzuladen.
Die Dark Core RGB SE Qi Wireless Gaming Maus im Überblick:
Drahtlose Gaming Maus von Corsair
Verbindung wahlweise per 2,4 GHz Funknetz oder Bluetooth 4.0
Abfragerate von einer Millisekunde
Bis zu 16.000 DPI
24 Stunden Akkulaufzeit, aufladbar per Qi-Schnittstelle oder USB-Kabel
Neun programmierbare Tasten
Langlebige Switches von Omron
Stylische 3-Zonen RGB-Beleuchtung
Optimierte drahtlose Maus für Gamer
Zu hohe Latenzzeiten bei drahtlosen Mäusen gehören mit der
Dark Core RGB SE Qi Wireless Gaming Maus von Corsair
definitiv der Vergangenheit an. Per DIP-Schalter an der Unterseite lässt sich die Datenübertragung wahlweise per
Funk oder Bluetooth 4.0
aktivieren. Ein beigelegter USB-Dongle sorgt für einen optimalen Empfang im 2,4-GHz-Funknetz. Die optimierten Verbindungen sorgen für eine niedrige
Abfragerate von einer Millisekunde
. Alternativ lässt sich die Maus auch über das ebenfalls beiliegende USB-Kabel betreiben und gleichzeitig aufladen. Alternativ lässt sich die Maus über die universale
Qi-Schnittstelle
aufladen. Corsair bietet beispielsweise das bei Caseking erhältliche Mousepad Gaming MM1000 Qi mit Qi-Fläche an. Einfach die Maus beim Zocken oder in den Zockerpausen darauflegen und schon wird der Akku wieder aufgeladen.
Der Akku der
Dark Core RGB SE Qi Wireless Gaming Maus von Corsair
hält mit einer Laufzeit von 24 Stunden ohnehin nur exzessiven Gaming-Sessions nicht stand. Drei seitlich platzierte LEDs warnen vor zu niedrigem Akkustand. Die hochwertigen
Omron-Switches
sorgen dafür, dass mit der Maus bis zu 50 Millionen Gegner plattgemacht werden können. Das USB-Kabel ist komplett abnehmbar und stört deshalb im normalen Betrieb nicht. Damit die Maus mit seinem
optischen Sensor
bei jedem Spielstil einwandfrei funktioniert, lässt sich die
DPI-Zahl
in Einerschritten von 100 auf bis zu 16.000 hochschrauben. In der Software kann die Maus noch genauer auf ein Mauspad oder eine Schreibtischoberfläche kalibriert werden. Großflächige Glides sorgen zusätzlich für eine optimale Genauigkeit und Bedienung.
In der CUE-Software von Corsair (Corsair Utility Engine) können auch komplexe Makros für alle
neun programmierbare Tasten
erstellt und zugeordnet werden. Dort lassen sich auch die Farbe und Effekte aller
drei RGB-Beleuchtungszonen
individuell konfigurieren und als Profil auf der Maus abspeichern, um sie später über die Profil-Taste in der Mitte der Maus auszuwählen. Auch die DPI-Zahl lässt sich über seitliche Tasten herauf- oder herunterschalten. Die Maus ist für verschiedene
Griffstile wie Claw oder Palm
geeignet. Der linke seitliche Griff ist per Magnet befestigt und lässt sich bei Bedarf auswechseln. Ein Zweiter liegt der
Dark Core RGB SE Qi Wireless Gaming Maus von Corsair
bei.
Technische Details:
Maße: 126,8 x 43,2 x 89,2 mm (L x H x T)
Gewicht: 128 g
Farbe: Schwarz
Layout: Rechtshändige Bedienung
Tasten: 9
Programmierbare Tasten: 9
Sensortyp: Optisch
Auflösung: 100 - 16.000 DPI
Anschlüsse:
2,4 GHz Funk
Bluetooth 4.0
USB 2.0
Stromversorgung: USB, Qi
Abtastrate: 1 ms
Kabel: abnehmbar
Kabellänge: 1,8 m, geflochtenes Faserkabel
Beleuchtung: 3-Zonen RGB-LED
Further links for

"Dark Core RGB SE Qi Wireless Gaming Maus - schwarz"
Videos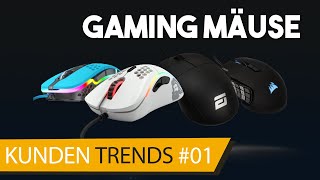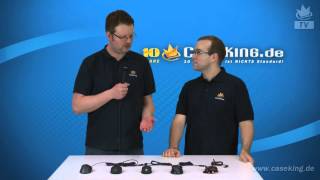 Technical Details
| | |
| --- | --- |
| Form Factor | right-handed |
| Number of Buttons | more than 6 |
| Sensor | optical |
| Sensor Model | Pixart PMW 3367 |
| DPI Adjustment | yes |
| DPI max. | 16 000 DPI |
| Cable length | 170 to 189 cm |
| Connectivity | USB, Bluetooth, Wireless |
| Primary colour | black |
| Illumination | yes |
| Illumination colour | RGB (selectable) |
| Adjustable weight | no |
| Weight in g | 100 - 200 g |
| Makro Support | yes |
Awards
The Bottom Line: Corsair was the first to our labs with a wired, wireless, or Bluetooth connectable mouse. Not only that, but it is a well thought out design with comfort in mind as well as the bling factor. The Dark Core RGB SE may not be a perfect fit for us, yet many will love this optical sensor gaming mouse.



read more...