Corsair


Dominator Platinum RGB Series, DDR4-3000, CL15 - 64 GB Quad-Kit
DDR4-Arbeitsspeicher für Overclocker & Modder von Corsair
64-GB-Quad-Channel-Kit (4x 16 GB)
3.000 MHz Takt & 1,35 Volt Spannung
gestestete Latenzen von CL 15-17-17-35
Aluminium-Heatspreader in Schwarz
adressierbare RGB-LED-Beleuchtung
für Intel-Chipsätze
Item number: MECS-339
EAN: 0840006607427
MPN: CMT64GX4M4C3000C15
Manufacturer: Corsair
Product information -
Dominator Platinum RGB Series, DDR4-3000, CL15 - 64 GB Quad-Kit
Die
Corsair-Dominator-Platinum-RGB
-Serie baut auf dem großen Erfolg der Vorgängerserien und der Erfahrung aus 25 Jahren auf. Jedes Modul bietet eine besonders stylische RGB-LED-Beleuchtung mit zwölf strahlend hellen, einzeln ansteuerbaren
CAPELLIX-RGB-LEDs
.
Corsair
nutzt bei dieser Serie ausschließlich handverlesene Speicherchips, die strengsten Qualitätskriterien gerecht werden. Jedes Modul wird dabei auf Stabilität und Performance getestet, wodurch bestmögliche Leistung garantiert werden kann.
Die
Corsair-Dominator-Platinum-RGB
-Speichermodule sind die eine ausgezeichnete Wahl für PC-Gamer, Performance-Workstations, Power-User und alle anderen, die die neueste und beste Technik in ihrem System verbauen möchten. Neben der brachialen Power der Riegel sind sie auch optisch mit ihrem schwarzen PCB absolute Leckerbissen. Die hochgradig effektiven Aluminium-Heatspreader sind von enormer Gütequalität und dank ihrer adressierbaren RGB-LED-Beleuchtung für Modder ausgesprochen interessant.
Der Corsair Dominator Platinum RGB Series Arbeitsspeicher im Überblick:
Vier RAM-Riegel mit jeweils 16 GB Kapazität (64 GB insgesamt)
3.000 MHz Takt mit getesteten Latenzen von CL 15-17-17-35
Effizienter Aluminium-Heatspreader in Schwarz
Energiesparender 1,35-Volt-Betrieb & geringe Wärmeentwicklung
Stylische RGB-LED-Beleuchtung
Overclocking- und Modding-RAM mit coolem Design
Bei den hier als Quad-Kit angebotenen Riegeln aus Corsairs
Dominator-Platinum-RGB-Serie
handelt es sich um sehr leistungsfähigen und zuverlässigen RAM, den
Corsair
gezielt für Overclocker und Hardcore-Gamer entwickelt hat. Dank
XMP-2.0
-Profil taktet der Speicher automatisch auf die maximal möglichen Overclocking-Werte für höchste Performance und bestmögliche Stabilität. Dank der großflächigen Heatspreader mit patentierter
Dual-Path DHX-Kühltechnologie
bleibt dieses
insgesamt 64 GB
große
Quad-Kit
auch bei Taktfrequenz von
3.000 MHz
und getesteten Latenzen von
CL 15-17-17-35
bei
1,35 Volt
Spannung immer kühl.
Stylische RGB-LED-Beleuchtung
Die ansprechend gestalteten
Heatspreader aus schwarz anodisiertem Aluminium
verfügen an ihrer oberen Kante über eine Lichtleiste mit
zwölf individuell adressierbaren CAPELLIX-RGB-LEDs
. Diese bieten eine höhere Helligkeit, eine längere Lebensdauer und einen geringeren Energieverbrauch als konventionelle LEDs. Die Zierleiste aus schwarz anodisiertem Aluminium unterteilt die Oberkante der Arbeitsspeicherriegel in je 10 Quadrate und den Dominator-Schriftzug in der Mitte.
Die Leuchtdioden decken ein großes Farbspektrum ab und können mit verschiedenen Effekten belegt werden. Dabei lassen sich die Module über die
Corsair-iCUE-Software
komplett nach den Wünschen des Nutzers konfigurieren und außerdem mit weiteren Corsair-Produkten synchronisieren.
Technische Details:
Gesamthöhe: 55 mm
Speichertyp: DDR4
Kapazität: 64 GB / 4x 16 GB (Quad-Channel)
Farbe: Schwarz (PCB, Heatspreader)
Takt: 3.000 MHz (manuelle Konfiguration oder per XMP 2.0)
Getestete Latenzen: CL 15-17-17-35
Spannung: 1,35 V (manuelle Konfiguration oder per XMP 2.0)
SPD Takt: 2.133 MHz (automatische Konfiguration)
SPD Spannung: 1,2 V (automatische Konfiguration)
LED-Beleuchtung: RGB
Kompatibilität: Intel (X299 / 300er / 200er / 100er Serie)
Herstellergarantie: 2 Jahre Mindestgarantie
Further links for

"Dominator Platinum RGB Series, DDR4-3000, CL15 - 64 GB Quad-Kit"
Videos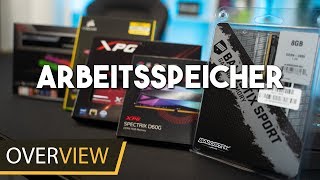 Technical Details
| | |
| --- | --- |
| Memory type | DDR4 |
| Number of modules | 4 |
| Memory size | 64 GB |
| Speed in MHz | 3000 |
| Latency | CL 15-17-17-35 |
| Voltage | 1,35 |
| Illumination | yes |
| Illumination colour | RGB (selectable) |
| Primary colour | black |
| Modulhöhe | 55 mm |
Awards
Pro`s

- Great software
- Lighting is bright and unique
- Blacked out heatspreader looks great
- Available in any speed or capacity you need

read more...