Corsair


GLAIVE RGB Gaming Maus - Aluminium, schwarz
Komfortable Gaming-Maus von Corsair
optischer PWM 3367-Sensor mit 16.000 DPI
6 programmierbaren Buttons
drei austauschbaren magnetischen Daumengriffen
Drei-Zonen-Beleuchtung mit 16,8 Millionen Farben
Item number: GAMO-713
EAN: 0843591096119
MPN: CH-9302111-EU
Manufacturer: Corsair
Product information -
GLAIVE RGB Gaming Maus - Aluminium, schwarz
Corsair beschert uns regelmäßig Top-Produkte aus den Bereichen Arbeitsspeicher, Gehäuse, Kühl-Systeme oder auch Netzteile. Mit der Corsair GLAIVE RGB Gaming Maus, welche drei austauschbare Daumengriffe anbietet, ist es im Peripherie-Segment nicht anders. Edel anmutendes Design, über alle Zweifel erhabene Verarbeitungsqualität und moderne, innovative Technik im Inneren. Die hohe Funktionsvielfalt, die ergonomischen Anpassungsmöglichkeiten und die 6 konfigurierbaren Tasten lassen keine Wünsche offen und bieten dem Nutzer ein Gaming-Erlebnis sondergleichen. Mit diesem Nager halten Zocker das passende Werkzeug für präzise Kontrolle in der Hand.
Die Corsair GLAIVE RGB Gaming Maus im Überblick:
Perfekte Gaming-Maus mit hoher Flexibilität
Einzigartiges Design in Schwarz mit Aluminium-Rahmen
PixArt PMW 3367-Sensor mit 100 - 16.000 DPI
3-Zonen-RGB-Beleuchtung
Insgesamt 6 frei programmierbare Tasten
OnBoard-Speicher zur treiberlosen Nutzung der fünf Profile
CUE-Software sorgt für umfangreiche Konfigurationsmöglichkeiten
Die perfekte Maus, anpassbar für jeden Handgriff
Die eindrucksvolle Maus verwendet einen leistungsstarken optischen PixArt PMW 3367-Sensor mit bis zu 16.000 DPI für extrem präzises Tracking. Durch eine genaue Einstellung zwischen 100 und 16.000 DPI in 1-DPI-Schritten, wird Gamern die optimale Zielgenauigkeit ermöglicht. So wird jedes Gefecht, möge es auch noch so schwer sein, dank blitzschneller Reaktionsfähigkeit, erfolgreich überstanden. Ebenso eine hohe Präzision bieten die Omron-Schalter mit einer Lebensdauer von mindestens 50 Millionen Klicks.
Die ergonomisch konturierte Form der Maus lässt sich an den Spielstil und die Handhaltung des Benutzers anpassen. Egal ob ein breiter Palm-Grip oder Claw-Grip bevorzugt wird, die Corsair GLAIVE RGB unterstützt beides. Die linke Seite der Maus beinhaltet eine magnetische Halterung für einen Daumengriff. Zur Wahl stehen geschwungene Kurven, ein gummierter Griff sowie eine breite Daumenauflage.
Optisch kann sich die GLAIVE RGB ohne Zweifel sehen lassen. Dank 3-Zonen-RGB-Beleuchtung lassen sich Logo, Seitenleiste und Vorderseite der Maus mit 16,8 Millionen Farben komplett individuell konfigurieren. Die Lichteffekte können praktisch unbegrenzt angepasst werden. Auch eine Synchronisierung mit einer RGB-Tastatur von Corsair ist möglich.
Die mitgelieferte CUE-Software (Corsair Utility Engine) bietet dem Nutzer komplette Freiheit über die Konfiguration der Maus. Somit lassen sich nicht nur einfache Maus- oder Tastaturbefehl, sondern auch komplexe Makros auf die sechs Maus-Tasten legen. Das praktische daran: Die fünf Profile mit Einstellungen der Tastenbelegung und Beleuchtung werden direkt auf der Maus gespeichert, somit kann die Maus ohne Installation der CUE-Software direkt an jedem PC genutzt werden.
Technische Details:
Maße: 125,8 x 91,5 x 44,6 mm (L x B x H)
Gewicht: 122 g
Farbe: Schwarz
Layout: Rechtshänder-Bedienung
Tasten: 6
Daumenablagen: 3, austauschbar
Sensor: PixArt PWM 3367 (optisch)
Auflösung: 100 - 16.000 DPI
Anschluss: USB
USB-Signalrate: 1.000 Hz Polling Rate
Kabellänge: 1,8 m langes, geflochtenes Faserkabel
Beleuchtung: 3-Zonen RGB-LED-Hintergrundbeleuchtung
Further links for

"GLAIVE RGB Gaming Maus - Aluminium, schwarz"
Videos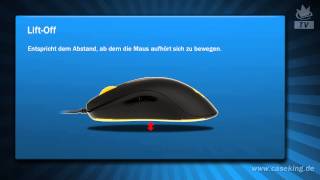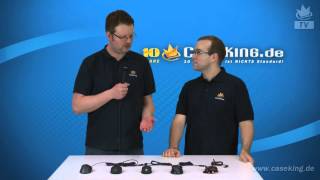 Technical Details
| | |
| --- | --- |
| Form Factor | right-handed |
| Number of Buttons | 6 |
| Sensor | optical |
| Sensor Model | Pixart PMW 3367 |
| DPI Adjustment | yes |
| DPI max. | 16 000 DPI |
| Cable length | 170 to 189 cm |
| Connectivity | USB |
| Primary colour | black |
| Illumination | yes |
| Illumination colour | RGB (selectable) |
| Adjustable weight | no |
| Weight in g | 100 - 200 g |
| Makro Support | yes |
Awards
The +

Manufacturing quality
Getting Started
personalization
Interchangeable Thumb Grips

read more...

The Glaive is an excellent gaming mouse. We tested it on MOBA with the biggest thumb side extensions, it's a real pleasure, the buttons are not operated by accident. On the FPS, the second simpler surface was preferred so that the thumb could touch the mat to stop the mouse net when fast sniper shots for example; The buttons here are closer to the thumb for faster actions.

read more...

PRO

+ Effective Transformation System
+ no exaggeration Weight
+ Excellent optical sensor
+ Good mechanical
+ Price

read more...

Subjectively, I think it's one of the more attractive mice, and whether you like or not like it, it is difficult to deny that Corsair here quite put down a brutal-looking mouse. And once you have a strong desire mouse fits a more serious look at mi as well, and the performance just perfectly fine we can best draw some attention to the appearance.

read more...

Pro:
+ sehr guter optischer 16.000DPI-Sensor
+ angenehme Oberfläche und gute Schalter
+ sehr gute Gleiteigenschaften + leichtes Kabel
+ niedrige Lift-Off-Distanz
+ 3-Zonen-RGB-Beleuchtung
+ umfangreiche Software

read more...

Ocaholic - Corsair Glaive RGB

Corsair hat mit der Glaive RGB ein solides Produkt geschaffen. Besonders hervorzuheben sind Verarbeitungsqualität sowie auch die angenehm in der Hand liegende Form und die auswechselbaren Daumenteile. Ebenso überzeugen die Gleitpads, die wohl dimensioniert sind. Auch an den unterschiedlichen Oberflächen gibt es nichts zu beanstanden.

Als ich das Datenblatt und die Produktfotos der Corsair Glaive RGB gesehen habe, wusste ich, dass hinter dem neuen Nager viel Potential stecken würde. Der Hersteller hat bei der Materialwahl und den verbauten Komponenten aus dem Vollen geschöpft. Sei es nun der Einsatz von Metall, die langlebigen Mikroschalter oder der zurzeit hochauflösendsten Sensor auf dem Markt. Die größte Überraschung ist die Ergonomie. Bereits die Position der Tasten sowie die eigentliche Gehäuseform sorgen für einen komfortablen Griff. Der Gedanke wurde mit den austauschbaren Daumenablagen zu Ende gedacht. Man braucht sich nicht auf eine Form festzulegen, sondern es wird einem die Wahl überlassen. Alleine schon dieser Aspekt berechtigt die Maus, in die engere Auswahl genommen zu werden.

read more...

Pros
+ Comfortable shape
+ Interchangeable thumb grips
+ Good sensor performance (below 8,000 DPI)
+ Build quality
+ Appealing design
+ Excellent software
+ OMRON switches feel great

read more...

The overall feel of the mouse is good as well as it is comfortable, I also feel that people with slightly above average large hands will like the mouse really well as it is a hint bulky. No biggy if you have small hands, but it is something I noticed a couple of times. The hardware of the mouse is excellent, the design of the mouse is good and comfortable, and you get a mouse with mucho software options, enough buttons that are programmable, it has cool looks and even has an adjustable weight system.

read more...

Pros

+ Very comfy shape.
+ Interchangeable thumb grips.
+ Soft-touch finish looks and feels good.
+ 3-zone RGB lighting.
+ CUE is as good as ever.
+ Custom PMW 3367 offers very fine control and tracks perfectly.

read more...

Pro

+ hochwertige Verarbeitung
+ langlebige Omron-Switches (50 Mio. Klicks)
+ präziser Sensor
+ langes und flexibles Datenkabel
+ liegt gut in der Hand (Rechtshänder)
+ austauschbare Seitenteile (anpassbare Ergonomie)
+ hohe Gleitfähigkeit
+ übersichtliche Software
+ Profile, Makros
+ Onboard Speicher
+ anpassbare RGB-Beleuchtung
+ Unterlagen-Analyse (Software)
+ fairer Preis

read more...

Vorteile:

+ Ansprechende Materialwahl
+ Gute Software
+ Guter Sensor (PMW3367 von Corsair/Pixart)
+ Prinzipiell gut umgesetzte RGB-Beleuchtung

read more...

Positive Aspekte der Corsair Glaive RGB:

+ optischer Sensor mit extremen Kenndaten und überzeugender Performance
+ präzise und besonders langlebige Omron-Switches unter den Haupttasten, Tasten und Mausrad überzeugen generell
+ fünf DPI-Stufen konfigurier- und aufrufbar, DPI-Anzeige
+ drei Daumenauflagen zur Auswahl
+ mächtige und produktübergreifende Software

read more...

It is rare we like a mouse this much! Corsair's Glaive RGB is full of features, the comfort level is way up there, its accuracy is superb, and the price is much less than we expected. The Glaive RGB Gaming mouse is something we suggest everyone, at least, try out!

read more...

Corsair's Glaive is a very functional mouse with a minimalistic look to it. Hooked in with their outstanding CUE software, this mouse is a solid and reliable purchase.

read more...

The Glaive surprised me at every turn. It truly is a dream mouse with all the features you could ask for. While something like a mouse is an extremely personal item, with about a million factors deciding whether it will be a good fit for you personally, no gamer can deny this mouse has all the tools needed to handle the role and suit your needs. The Glaive is extremely comfortable and I can not stress enough how precise the PMW3367 sensor is, even before using the surface calibration utility. The LED placement is just right, not too much, not too little. Being able to change up the grips means almost certainly you can find a grip that is perfect for your style. In the style department, the Glaive is kinda modest and extreme at the same time. Same goes for the feel and agility. Corsiar has outdone themselves with the Glaive RGB.

read more...